Be There
February + March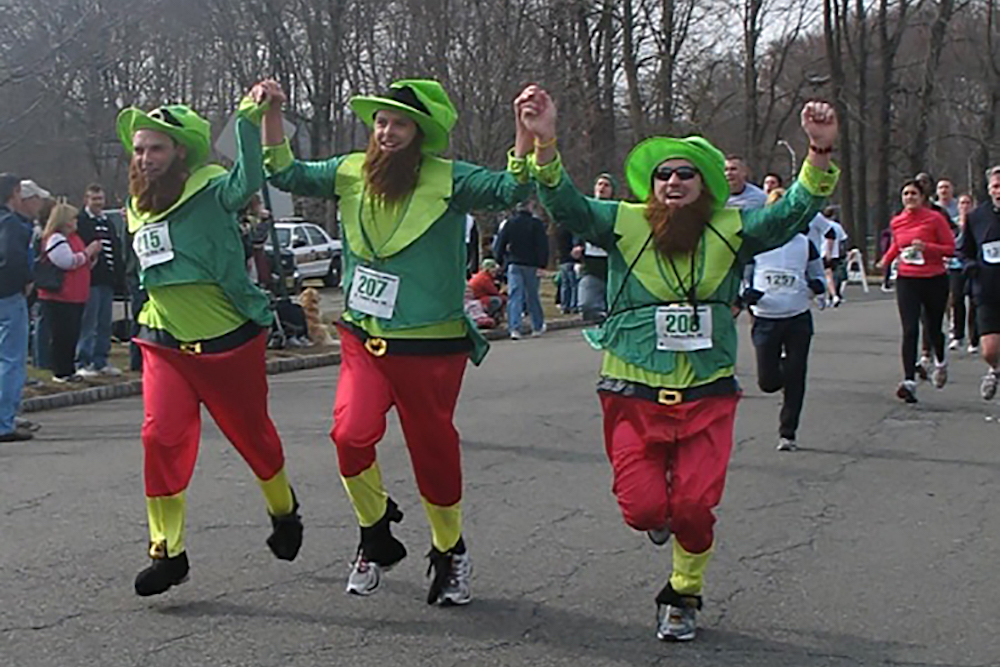 FEB 20 If your big day is approaching, you'll want to stop by the Elegant Bridal's WEDDING EXPO, from 7–10 p.m. at the Richfield Regency in Verona. During the show, you'll have the chance to explore the Regency's grounds and try various food samples. You'll also have the opportunity to meet with top wedding vendors and win a honeymoon giveaway! Admission: FREE. For more info, visit elegantbridal.com.
MARCH 9 Celebrate all things Ireland at the MORRIS COUNTY ST. PATRICK'S DAY PARADE, from 12-2 p.m. The parade kicks off at 200 South St. in Morristown. Head to morristown-nj.org for details.
MARCH 10 MORRISTOWN MOVES, the annual fitness crawl to benefit the American Cancer Society's Relay For Life of Morris County, takes place from 8 a.m.–4 p.m. Various exercise studios participate by offering classes such as yoga, Pilates, cross fit and more! All classes are FREE after the $25 registration. Proceeds go directly to Relay For Life. Visit eventbrite.com for more information.
MARCH 10 Here's a DIY project that won't leave you tired and dirty. THE BENEFICIAL COFFEE SUGER BODY SCRUB WORKSHOP, from 3–5 p.m. at the Eclectic Chic Boutique in Montclair will make you feel energized and leave your skin smooth. Participants will make a nourishing body scrub using sugar and J. Lexi Beneficial Coffee. Tickets: $40. Visit montclaircenter.com for details.
MARCH 15,16,17 Whether you're looking for unique gifts, limited edition jewelry or one of a kind crafts, you'll want to stop by the 29TH ANNUAL SPRING CRAFT MORRISTOWN at Morristown National Guard Armory. Collectors, art enthusiasts and shoppers alike can meet more than 1,000 artists and crafters. Hours are Friday: 4–8 p.m., Saturday: 10 a.m.–6 p.m., Sunday: 11 a.m.–5 p.m. For details, visit artrider.com.
MARCH 16 There are 210 calories in a pint of Guinness, so before you celebrate St. Patrick's Day consider participating in the AERIE PHARMACEUTICALS ST. PADDY'S DAY 5K.The race begins at 10 a.m. at Ginty Field in Morris Township. Visit resources.grundychamber.com for more information. Register at superheroracing.com/events/st-paddys-day-5k/.
MARCH 21 If you have a taste for whiskey, you're sure to enjoy WHISKY GUILD'S NJ CLASSIC: WHISKEY & SCOTCH TASTING at The Madison Hotel, Morristown, from 7–9:30 p.m. Celebrate the world's finest whiskey distillers while mingling with other connoisseurs. Attendees will have the chance to sample various scotches, bourbons, ryes and American, Japanese and Irish whiskies. Tickets start at $97, which also includes a buffet dinner and dessert. For more info, visit eventbrite.com.
MAR 31 If you're reminiscing about vintage vinyl records or nostalgic holiday trinkets, stop by the ANTIQUES AND COLLECTIBLES MARKETS at Meyersville Grange, Gillette. Shop custom creations like Native American jewelry and your favorite childhood comics. Downstairs, you can visit the café and treat yourself to soups, desserts, and beverages. Visit njvendors.com for more info.