Beach Bag Must-Haves
Six essential items you must have in your beach bag when you hit the beach for vacation this summer!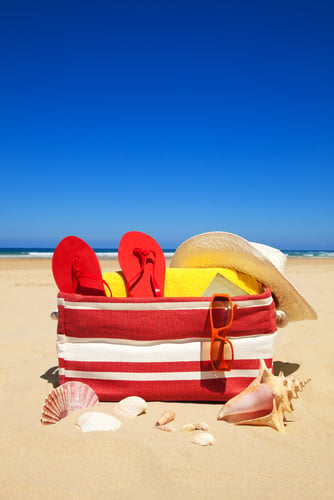 When heading to the beach this summer don't forget to pack these "6 essential items" in your beach bag!
1) SUNSCREEN/LIP BALM: We all know that burning ball of fire can do much damage to our skin and health so let's not forget to apply our sunscreen – repeatedly. Although the best sun protection we could get is to be covered in clothing from head to toe, that's not exactly doable for certain activities in the scorching heat. Answers vary when asked which sunscreen is the best to use, but as long as you wear it and it works, you should be in good shape! You can search for these items locally in Monmouth County at:
Ulta: 2130 State Route 35, Holmdel (732) 796-9300 (http://www.ulta.com/)
Sephora: 3710 Us Highway 9, Freehold (732) 780-4232 (http://sephora.com/)
2) HAT/SUNGLASSES: Sorry, more sun protection accessories, but a must-have to protect your face and eyes. Although squinting can help, this combination is less straining on the eyes, helps avoid future wrinkles, and they both come in handy for people watching! Plus, they make your beach-look chic. Shop locally in Monmouth County to find your stylish beach look at:
Jenna & Molly: 24 Centennial Drive at Pier Village, Long Branch (732) 222-7766 (http://jennaandmolly.com/)
Jenna & Molly Undercover: 12 Centennial Drive at Pier Village, Long Branch (732) 222-4900
Nirvana Traders Inc: 66 Centennial Dr, Long Branch (732) 222-7004 (http://www.shopnirvana.com/)
21 White Street, Red Bank (732) 530-3334 (http://www.shopnirvana.com/)
The Bee: 84 Ocean Avenue at Pier Village, Long Branch (732) 923-0505
(http://www.thebeestores.com/stores.php
)

3) BOOK/NOOK/MAGAZINE: Reading materials always come in handy at the beach. It is a great place to sit back, relax, and dive into whatever reading material of choice, whether it is a novel or some juicy celebrity gossip! Navigate locally in Monmouth County to find your book haven at:
River Road Books: 759 River Road, Fair Haven (732) 747-9455 (http://www.riverroadbooks.net/index.html)
Atlantic Books: 78 Ocean Avenue, at Pier Village, Long Branch (732) 571-4300 (www.atlanticbooks.us)
TP News Cafe: 92 Ocean Ave at Pier Village, Long Branch (732) 923-1504

4) SNACK/DRINK: Once you've unpacked, settled in, and got everything situated, you don't want to have to go back to the house for a bite to eat. Always bring along something to nibble and sip on. Fruit is a very refreshing choice. So bite into that juicy piece of watermelon and breathe in the fresh ocean air. And remember, it is important to stay hydrated in the sweltering heat! Pick-up a tasty treat/beverage locally in Monmouth County at:
Sickles Market: 1 Harrison Ave, Little Silver (732) 741-9563 (http://sicklesmarket.com/)
Delicious Orchards: 320 New Jersey 34, Colts Neck (732) 462-1989
(http://www.deliciousorchardsnj.com/welcome/index.php)
Dearborn: 2170 New Jersey 35, Holmdel, (732) 264-0466 (http://www.dearbornmarket.com/)
5) RADIO/IPOD: It's always nice to take in the scenic coastal line and tap your feet along to the beat on the smooth, warm sand. As long as your not blasting your summer tunes too loud, you shouldn't have to worry about disturbing your neighbors.

6) TOWEL/TISSUES: Although most of the time the sun will dry you off in a matter of seconds (again pointing out just how strong it is!) it's always nice to have a towel to soak up the extra drops. It also comes in handy when you want to tan your back because you can lay it down on the toasty sand and lie on your stomach. The tissues help with the runny nose once you get out of the salty water. You could always just wipe your nose on your towel but then again that option is not for everyone!

Hope you have a big beach bag because there are a lot of essentials for your trip to the beach this summer!