Beach-House Bingo
A designer's color-splashed Asbury Park home hits the jackpot by daring to be different.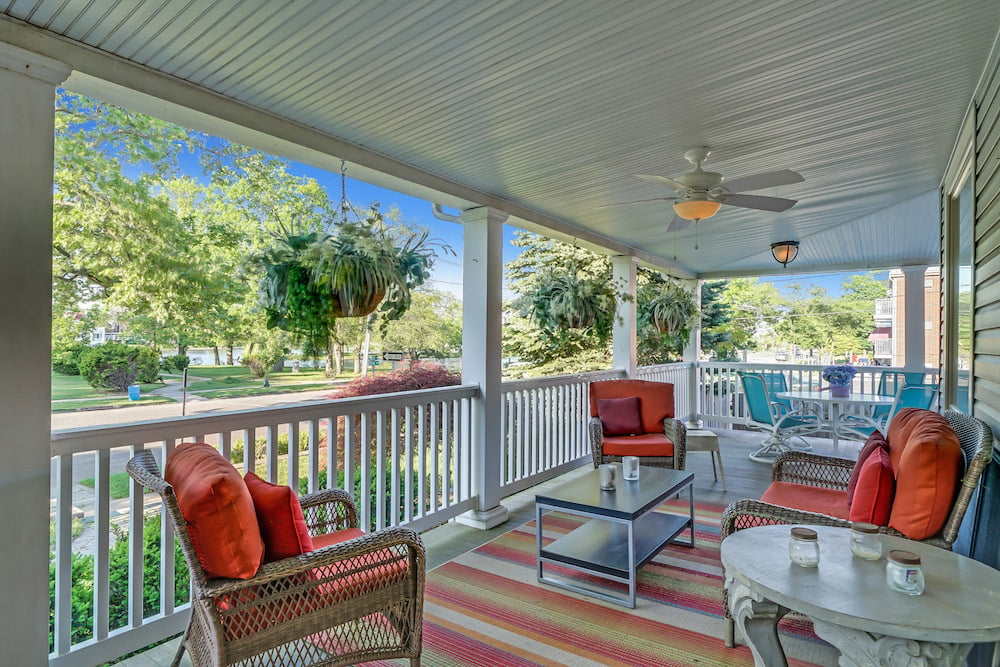 SURE, IT'S FIVE BLOCKS FROM ASBURY Park's beach, but if you're expecting that same-old seaside motif (you know, sandy hues and lots of shells), this decorating story is a delightful twist. Designer Jon Martinez and his partner, James MacDonald, made it their mission to find innovative ways to decorate their four-bedroom colonial so it didn't look like every other home on the block.
"It was just an open plan, and we wanted to keep it big, bright and colorful—not your typical beach house," says Martinez, who likes this shore town's new energy so much it's also the location of his design firm, B&G Home Interiors.
With their real-estate purchase four years ago, these former Millington residents had just what they wanted: the luxury of moving into a renovated house that needed only a designer's touch. It's not every day you find a 1910 house in turnkey shape, beckoning like a blank canvas. They kicked off their redo with the big Southern-style front porch, a living room with generous views of Sunset Lake and an equally vista-endowed master bedroom—and simply took their time.
And just what happens when a designer is unleashed on his year-round residence with talent, a dream and no deadline pressure? With a mixture of collectibles such as the two Chinese guardian lions (aka foo dogs) stationed on the floral media cabinet, the couple escaped cookie-cutter style and pulled off a transitional modern look that fits anywhere. In fact, Martinez says, "If you took my house and put it in the suburbs, it would relate to wherever you were."
As for the color story, key to this redesign, the designer affectionately calls it "Beach House Color Splash" to reflect how they tapped into the rainbow to deliver maximum cheer. Here are brilliant hues inspired by an accent pillow with pops of navy blue and Kelly green. With the navy, it was nautical enough to reflect the shore yet hardly a predictable combo.
But you don't have to walk inside to experience your first burst of color. The home itself is gray with white trim, but one of its highlights is the spacious, railed front porch, where orange cushions on wicker chairs and a striped accent rug in bright orange, tan and white create the perfect setting for drinking in the serenity of Sunset Lake—or that iced tea in your hand. Not afraid to mix and match, the homeowners kept the porch cheerful with turquoise chairs around the circular table, because what's better than breakfast over-looking the lake? It's a refreshing look for a porch formerly devoid of furniture, fans or lighting, and surrounded by "tattered" landscaping.
Although the setting abounds in tranquility, this remodel came with a special kind of pressure. Martinez is, after all, a designer, and folks would expect his home to reflect his talents to a T. "Being in the profession, I have to be more selective, so everything has a rhythm," he admits. Still the pair didn't forget that a house is meant to be lived in. "With the leather-topped coffee table you can pop up your feet, and on the blue sectional every-one faces an outside window, so everyone has a view," Martinez says.
As you might have guessed from the Chinese lions, the living room is an eclectic mixture of cultures, collectibles, textures and shapes—a place where abstract art is at home in black, Japanese-inspired frames. One of his favorites is a cream table comprising many circles; it's topped with a retro lamp and stationed between two armchairs. To maximize the panoramic vi plants, further connecting the eye to the natural splendor before them. But first things first; they had to refinish the cherry herringbone floors and paint over the khaki walls.
The second-floor landing was yet another opportunity to showcase treasures collected over the years on a mirrored shelf below a 19th century lithograph. "I wanted to play with geometry," says Martinez of the pyramid and other elements displayed.
The color scheme continues in the bedroom with navy, white and green, but it just might be the almost wall-to-ew, Martinez and MacDonald went with green draperies—and live wall windows that grab your attention first. Even the bamboo fretwork headboard is open so as not to spoil the vista. "We went with blackout curtains, so we can sleep and not get a sunburn during the day," he quips. When open, the curtains simply tuck behind the headboard, allowing an unencumbered view of the stars or sun.
After making a splash with their bright beach house, these homeowners encourage others to be a little daring too. "You have to have a good eye for scale and proportion—and take chances," says Martinez.