Beating Flay Was No Fluke
No wonder this Verona restaurant's proprietor bested a famous chef on TV. Her dinners are winners.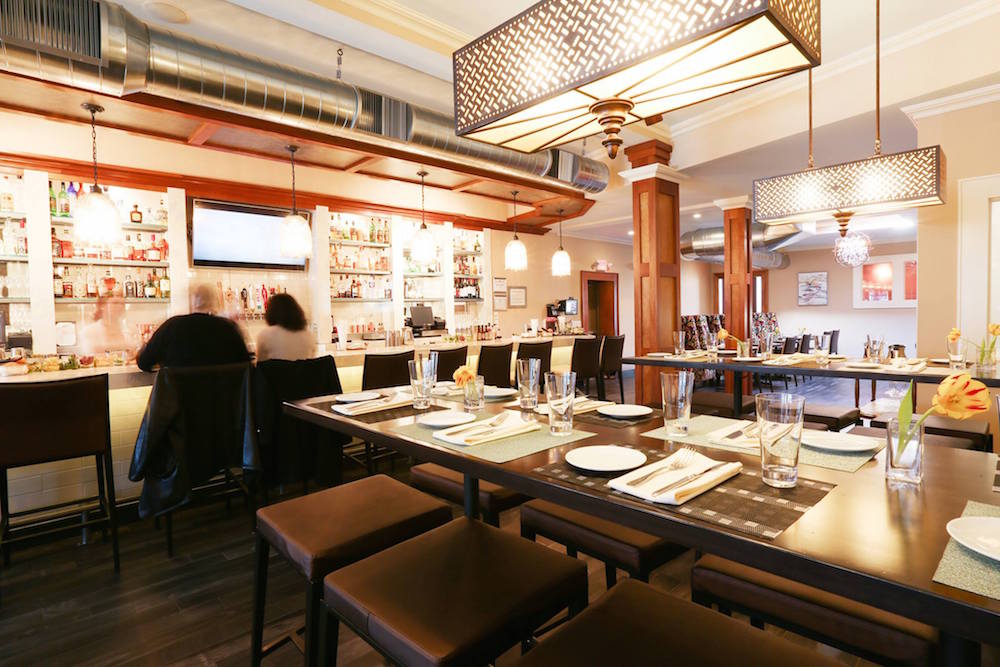 These days, portion size is often inversely proportional to a meal's quality. But that couldn't be further from the truth at Ariane Kitchen & Bar in Verona. With seasonal menus of comfort food and palate-pleasing flavor combinations, this restaurant serves generously—and you're grateful for every bite.
Chef and proprietor Ariane Duarte, who was in the kitchen cooking for us on the night we visited, was a competitor on Top Chef in 2009 and went on to out-cook famed chef Bobby Flay on a special Food Network show some years later. Duarte previously owned CulinAriane, a BYO in Montclair. She opened Ariane in 2014 with partner John MacEvoy, proprietor of the popular Verona Inn just two blocks down Bloomfield Avenue.
The plain exterior belies a spacious interior fronted by a full bar and a few rows of raised pub tables that seat about eight. At the rear of the room is a dining area punctuated with a row of modern-looking, richly colored upholstered wingback chairs. We were seated on this side of the space at a wooden two-seater topped with woven placemats.
Our charming server, Courtney, swiftly retrieved our two requested glasses of pinot grigio and relayed the night's specials. Shortly thereafter, a basket of three small croissants with a pat of butter arrived at the table. The croissants were incredible—a flaky, firm shell and soft, buttery goodness inside. When the trio disappeared, Courtney asked if we wanted more. We said no, but our faces must've been saying the opposite: Another basket magically appeared.
My companion immediately expressed her pleasure with the menu offerings, particularly the starters, and chose for herself the pretzel salad. After much internal debate, I went with the oysters. Neither of us was disappointed when the appetizer course arrived.
True to its name, the salad was topped with pretzel chunks that were perfectly crunchy on the outside and soft on the inside, if a bit oversalted. Served on a bed of kale with Gruyere cheese and apples, the salad was lightly dressed with a grain mustard vinaigrette. My plate held six cornmeal-crusted oysters, served on the half shell on a pillow of airy horseradish cream, a lovely flavor combination.
For my main course, I selected the AKB burger—a perfectly medium-rare patty of American Kobe beef and a healthy slab of fried green tomato topped with cheddar, pickled shallots and a harissa aioli on a sesame bun. The flavors blended wonderfully on the palate, and the lightly seasoned, thick-cut fries and homemade ketchup were the perfect accompaniment. The portion was so large, I just had to take half home. My dining partner couldn't wait to try the juniper-cured porterhouse pork chop, which our server called the best thing on the menu. A beast of a chop if I ever saw one, it was served to order medium-well and the meat was juicy despite the size of the cut. The Brussels sprouts came a bit scorched on the outside but with just the right amount of crunch, and the cheddar grits were creamy. The apple butter bacon onion jam (say that three times fast!) perfectly finished the plate. For a side, we split the Gruyere mac and cheese, which Courtney proclaimed to be the best she's ever had. Smooth and incredibly cheesy, it had a pleasantly smoky taste.
We stopped halfway through generously portioned entrées in anticipation of sampling the dessert menu. We each quickly found a favorite. I had the deliciously creamy dark chocolate panna cotta topped with malted whipped cream and slightly bitter cocoa bits; my companion couldn't resist the Meyer lemon curd, served atop crushed vanilla wafer and topped with a meringue she likened to "eating a lollipop with Fluff."
The menu pricing is reasonable for food of this caliber and plate size. Ariane's top-notch cuisine, décor and servers perfectly harmonize for a pleasant dining experience. It's worth a repeat trip
Ariane Kitchen & Bar, 706 Bloomfield Ave., Verona, 973.744.0533; arianekb.com