Beating the Odds
Surviving three bouts of ovarian cancer is almost unheard of, but that's what this West Orange grandmother did.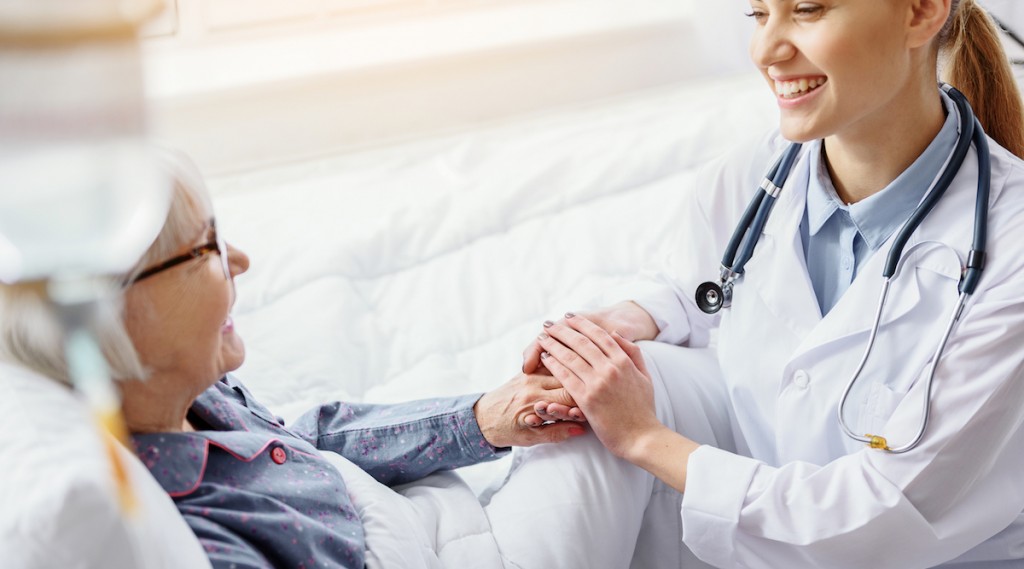 OVARIAN CANCER IS A DANGEROUS disease. Surviving one battle with this aggressive cancer is hard enough, and fighting through one recurrence is even more challenging. But if the cancer pays a third visit, the chances of survival are exceedingly slim. That's what makes Linda Shoobe's story truly remarkable.

Shoobe, 77, is a widowed mother of two and grandmother of three, who lives in West Orange. In 2008, a routine gynecologic exam discovered suspicious growths on her ovaries that turned out to be Stage 3 cancer. She had no symptoms before the exam, which is not unusual for this type of cancer. She was referred to Thad R. Denehy, M.D., a surgeon specializing in gynecologic oncology at Saint Barnabas Medical Center. He removed both of her ovaries, her uterus, her cervix and a portion of the right side of her bowels, where the cancer had spread, and there was no remaining cancer. "She had a huge surgery, and she did well," says Dr. Denehy. That was followed by chemotherapy, delivered under the care of Jennifer A. Wagmiller, M.D., a hematology and medical oncology specialist at Saint Barnabas Medical Center.

The cancer reappeared on the left side of the pelvis about two and a half years later. "That is pretty routine," Dr. Wagmiller says. "Unfortunately, most Stage 3 cancers will recur. It's just the nature of cancer."
Dr. Denehy adds that it is rare for a patient to survive after a recurrence of ovarian cancer. In January 2011, he removed all of the new malignant tissue from the left side of Shoobe's pelvis and colon, leaving her cancer-free. Then she underwent another round of chemotherapy.
Sadly, that still wasn't enough to rid her of the disease, and in 2012 she faced the daunting prospect of going through the battle again. The odds were tough, and her doctors did not sugarcoat them. "They didn't say, 'Don't worry, everything will be fine,' because that was not the outlook," Shoobe recalls.
"But they were hopeful, and I had hope that I was going to get better." She understood that at the very least there was a risk of complications.
In August 2012, she was treated with radiation on the left side of her pelvis. Three months later, serious complications developed which required additional surgeries and different treatments.
Shoobe has now been cancer-free for six years. The rarity of that happening cannot be overstated. "It is very unlikely you get two recurrences and get cured of this disease," Dr. Denehy says. "She had radical surgery by me twice, lots of chemo, then radiation, then all the complications you can have from all this, and she was able to get through it all, which is wonderful."

"She really went through a lot to get to these remissions," Dr. Wagmiller says. "At this point, it has stuck—thank goodness."
Her case is rare, they both say. "When her cancer recurred a second time, she fell into a small group of women who are usually incurable. But by following this very aggressive treatment plan, we hoped we could treat her," Dr. Wagmiller says. "She went through a tough, tough treatment, three different surgeons, a radiation oncologist, me and a long recovery. Thank God it was worth it. She has no evidence of cancer, which is miraculous. We all hedge around saying anybody is cured, but six years in remission is so rare, she is cured as much as anybody can be cured."
Only a facility like Saint Barnabas Medical Center has the expertise to pull off such a miracle, Dr. Denehy says. "We have the people who can take care of these complex issues. Her case required challenging and intense treatments, and she beat the cancer, which is essentially unheard of. She's out six years now, that's a long time. It's something to celebrate."
Shoobe is celebrating by playing a lot, both with her grandchildren and with her card-playing partners in passionate bridge games. "I have wonderful friends who are like my family," she says. "I have three wonderful grandchildren. Two are in the area—they both play hockey, so they are very busy. The other is in upstate New York. I don't see her often but we text every day."
Shoobe still takes oral medication daily and continues to see Dr. Denehy and Dr. Wagmiller once a year. "The doctors are wonderful," she says. "They saved my life—what else can I say?" It has been 10 years since her initial diagnosis, and she hopes that 10 years is a kind of marker. "With ovarian cancer you never say you are cured," she says, "but for right now, and hopefully for however many years I have left, things will be as they are now, and I am extremely grateful."
TO LEARN MORE ABOUT THE CANCER CARE AT SAINT BARNABAS MEDICAL CENTER, CALL 973.322.2929, OR VISIT RWJBH.ORG/SBMCCANCER. TO SHARE THIS ARTICLE WITH A FRIEND OR TO RECOMMEND IT ON YOUR FACEBOOK PAGE, VISIT MSXHEALTHANDLIFE.COM.