Better Bariatric Care
Surgery Center receives national praise for patient safety and high-quality care.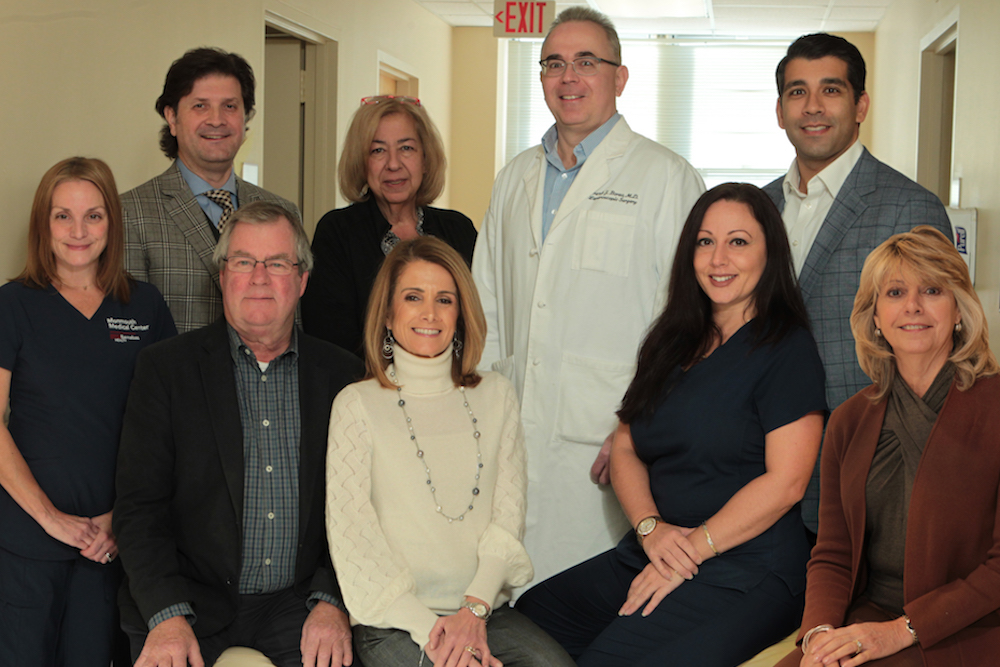 Patients seeking surgical treatment for obesity and its related conditions have a high-quality choice for receiving care at a nationally accredited program that meets the highest standards for patient safety and quality in the greater Monmouth County area. The Bariatric Surgery Center at Monmouth Medical Center (MMC) has been reaccredited as a Comprehensive Center by the Metabolic and Bariatric Surgery Accreditation and Quality Improvement Program (MBSAQIP), a joint Quality Program of the American College of Surgeons (ACS) and the American Society for Metabolic and Bariatric Surgery (ASMBS).
The MBSAQIP Standards—Optimal Resources for Metabolic and Bariatric Surgery—ensure that metabolic and bariatric patients receive multidisciplinary medical care, which improves patient outcomes and long-term success. MBSAQIP-Accredited centers offer pre- and postoperative care designed specifically for patients with obesity.
The MBSAQIP Comprehensive Center designation recognizes surgical programs with a demonstrated track record of exceptional patient outcomes in bariatric surgery. MMC is in its 20th year of performing bariatric surgery and has once again received the designation for the maximum three-year term, reserved for applicants who exceed the requirements for full approval. To earn a Center of Excellence classification, the medical center underwent a site inspection during which all aspects of the program's surgical processes were closely examined and data on health outcomes was collected.
"Our outstanding quality of care, low complication rate and high level of surgical experience distinguish our bariatric surgery program," says bariatric surgeon Frank Borao, M.D., FACS, FASMBS, director of minimally invasive esophageal and gastric surgery. According to the MBSAQIP, centers are given this designation if they "can demonstrate an ongoing commitment to excellence in the care of bariatric surgical patients at the highest levels of the medical staff."
MBSAQIP is the largest society for this specialty in the world. The vision of the society is to improve public health and well-being by lessening the burden of obesity and related diseases throughout the world.
Recognized as a serious disease that compromises quality of life and increases the risk of death, morbid obesity is characterized by individuals having a body mass index (BMI) greater than 40 which equates to about 80 pounds overweight for a female and 100 pounds overweight for a male. Severe obesity also can lead to life-threatening diseases including diabetes, hypertension and pulmonary compromise.
"Surgeons reviewed by MBSAQIP must have performed enough cases with successful outcomes to merit the designation," says Dr. Borao. "It is an honor to have our program recognized—it's proof we have stellar staff and surgeons in our facility." To achieve MBSAQIP Center of Excellence designation, a facility must also show that they have a program that provides cross-functional team support to bariatric surgery patients.
In addition to bariatric surgery, MMC offers a multidisciplinary comprehensive program to weight loss, which was factored into the analysis by the MBSAQIP. Led by experienced bariatric surgeons, MMC's bariatric surgery program provides a coordinated and supportive approach to the decision to pursue weight loss surgery. The program features extensive education and patient support before, during and after weight loss surgery.
"Monmouth Medical Center is the leader in minimally invasive surgery, was one of the first in New Jersey to perform laparoscopic gastric bypass and is among the highest experienced centers in the tri-state area," Dr. Borao says. "Monmouth offered the first Bariatric Surgery Center in the region, and our surgeons have vast experience and have compiled the lowest complication rate in New Jersey for bariatric surgery, and one of the lowest in the nation, at less than 1 percent. Because of their level of skill, Monmouth has been recognized as one of the most outstanding bariatric surgery centers in the state."
To learn more about the bariatric surgery options offered at Monmouth Medical Center, or for a schedule of free new patient lectures, call 888.724.7123.