Better Breast Cancer
3 things to know about the treatment of a key cancer.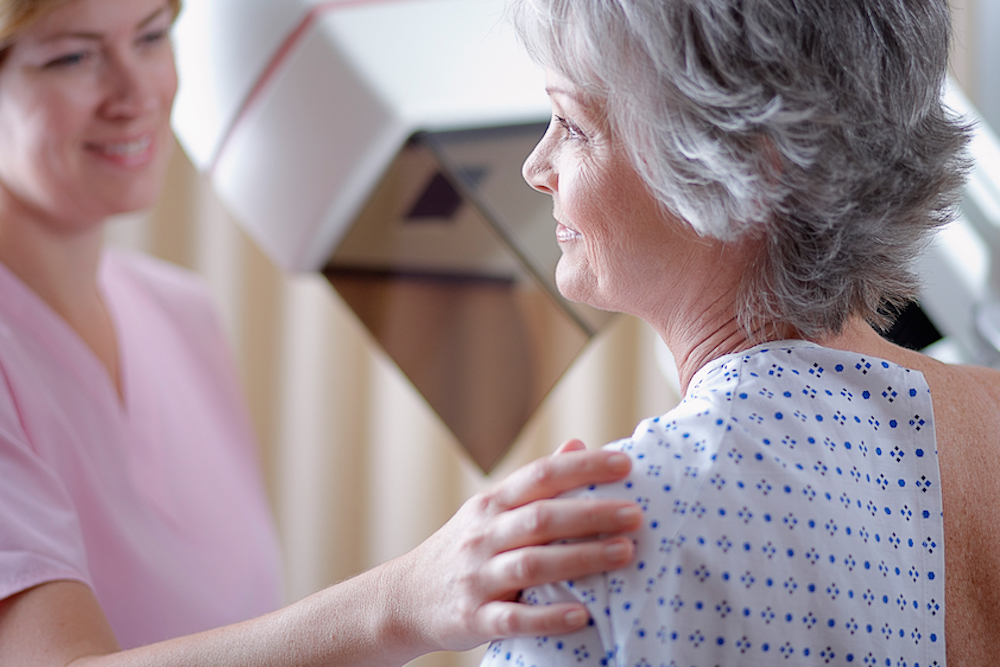 DESPITE DECLINING DEATH RATES, BREAST CANCER STILL claims the lives of more than 40,000 American women each year. And according to the Centers for Disease Control and Prevention, there were 242,476 new cases of breast cancer in 2015, the last year for which complete incidence data are available. Saint Barnabas Medical Center, an RWJBarnabas Health (RWJBH) facility, cares for more women with breast cancer than any other hospital in the area. Its patients have peace of mind knowing there is a team of surgical oncologists, medical oncologists, radiation oncologists, plastic surgeons, patient navigators, genetic counselors and psychosocial support ready to meet their needs. Here are three things you should know about the care delivered by our team.
1. It's more personalized. "Our multidisciplinary team puts a treatment program together that is geared to the individual patient and the biology of her specific cancer," says M. Michele Blackwood, M.D., medical director, Breast Surgery, northern regional director of Breast Services for RWJBarnabas Health, and a member of Barnabas Health Medical Group. "The members of our team work together to bring the appropriate technology and expertise to each patient."
Says Dr. Blackwood: "Our relationship with Rutgers Cancer Institute of New Jersey, the state's only National Cancer Institute-designated comprehensive cancer center, provides Saint Barnabas Medical Center with access to the latest clinical trials. This assures patients the best of all worlds: the personal, high-touch practices we all like, and with the benefit of the best and brightest in knowledge and technology."
2. It's more precise. In one of the most exciting advances in cancer care, malignant cells can now be studied at the molecular level to determine the right medicines, the right surgery or the right combination of the two to completely cure that cancer. Says the doctor: "That's where we're going to win the war on cancer."
3. It's more future-oriented. Genetic testing now makes it possible to focus on tomorrow as well as today. Information the Breast Center can provide to a patient may impact her family's welfare for many years. "If a patient has a genetic mutation that we find," says Dr. Blackwood, "we can actually prevent some cancers in the generations to come. That's a huge legacy to leave behind."
The Breast Center at Barnabas Health Ambulatory Care Center provides comprehensive screening, evaluation and treatment. Thus it furnishes all of the services needed for early detection and diagnosis of breast cancer and other breast diseases. Screening recommendations are shaped by knowledgeable professionals based on the individual's history; for most women that will mean annual screening mammography starting at age 40.
"Patients who have difficulty in their struggle against breast cancer take a piece of our heart and our soul," says Dr. Blackwood. "We never want anyone not to thrive after their cancer care and cancer surgery. We'll take care of you, we'll take care of your family, and we'll make sure we offer you the best care possible."
YOU'RE NOT ALONE
According to the Breast Cancer Foundation, if you're a breast cancer survivor in the United States, you belong to an exclusive club—with 3.3 million members.
TO SCHEDULE AN APPOINTMENT WITH THE CENTER FOR BREAST HEALTH AND DISEASE MANAGEMENT, CALL 973.322.7020. TO SHARE THIS ARTICLE WITH A FRIEND OR TO RECOMMEND IT ON YOUR FACEBOOK PAGE, VISIT MSXHEALTHANDLIFE.COM.