Better Health After 40
A family physician explains the regular screenings that can protect you.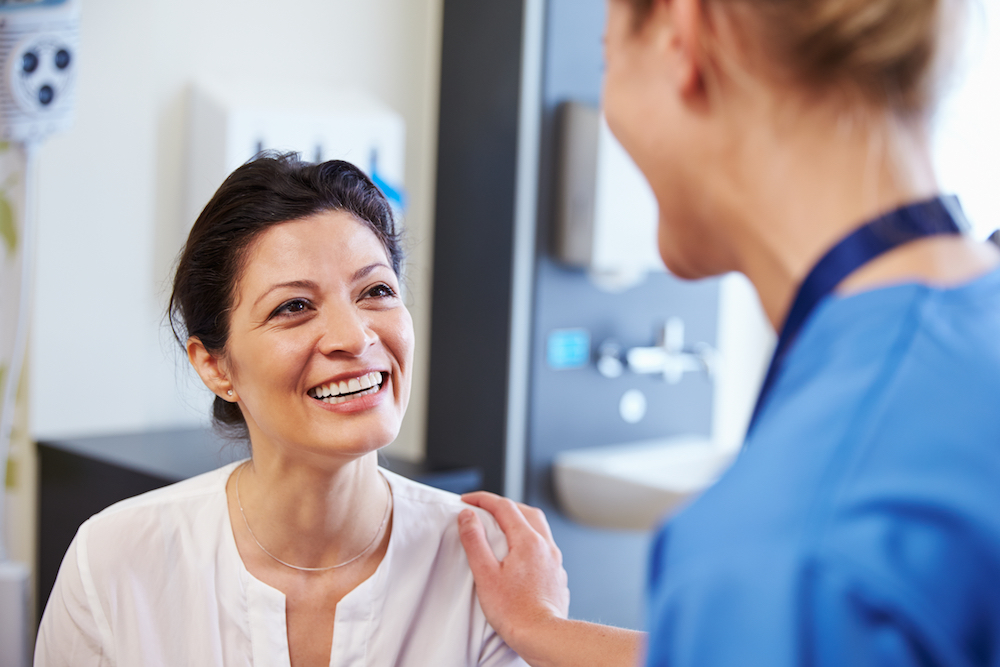 "IT'S ALL ABOUT PREVENTION, DETECTION AND TREATMENT OF NEW MEDICAL CONDITIONS IN THEIR EARLY STAGES. IN MY WORLD WE CAN OFTEN ADDRESS THESE THINGS BEFORE THEY WREAK HAVOC." —MARIA GARCIA, M.D.
BEN FRANKLIN WASN'T A DOCTOR, BUT HE sure sounded like one when he wrote, "An ounce of prevention is worth a pound of cure." There is perhaps no greater truism in medicine. The best way to stay healthy is to prevent disease in the first place or to find it early, when it is easiest to treat.
That's why it's so important to follow the time-and research-tested guidelines for prevention, screening and detection, especially once you hit age 40. Why 40? "In women, there are a lot of hormonal changes happening as they get into middle age, and those affect many aspects of health," says Maria Garcia, M.D., a family physician affiliated with Saint Barnabas Medical Center and Barnabas Health Medical Group. "The same is true with men. Metabolism slows, and you can't lose weight like you used to. Age 40 is a good time to start getting checked regularly."
BETTER SCREENED THAN SORRY
Several screenings are recommended for both men and women between the ages of 40 and 64, according to the U.S. National Library of Medicine. Yearly physical checkups are a good idea, even if you are feeling well. At these checkups, and depending on your health history and family history, you should have your blood pressure and cholesterol checked. Blood-sugar levels also should be checked regularly to screen for diabetes. "Diabetes and prediabetes are rampant now, and you may have one of them and not know it, especially if there is a family history," Dr. Garcia says.
A weight check is also in order. Being overweight or obese can increase your risk for a number of health problems, from high blood pressure to some forms of cancer. Your doctor will calculate your body mass index, a formula that takes into account both your height and weight. "Knowing that number, we can advise you if you need to take steps to get it down," she says.
Generally, colorectal cancer screening should start at age 50, but ask your provider at age 40 if you should start sooner. You should be screened earlier if you have a strong family history of colon cancer or polyps. Screening also may be considered if you have risk factors, such as a history of inflammatory bowel disease or polyps.
If you are between ages 50 and 75, you should be screened for colorectal cancer. There are several screening tests available, from a fecal occult blood (stool-based) test, which can be done every year, to a colonoscopy, which is recommended every 10 years, or more often if there are other risk factors.
GETTING THOSE SHOTS
Immunizations don't end when you leave high school. Everyone should get a flu shot every year. You should have a tetanusdiphtheria and acellular pertussis (Tdap) vaccine once as part of your tetanusdiphtheria vaccines if you did not receive it previously as an adolescent. You should have a tetanus-diphtheria booster every 10 years. Vaccines to prevent pneumonia and shingles are also important after age 50.
Osteoporosis screening may be in order between ages 50 and 70 if you have risk factors for this bone-damaging disease, such as long-term steroid use, low body weight, smoking, heavy alcohol use or a family history of osteoporosis.
Guidelines also recommend you see a dentist once or twice every year for an exam and cleaning. Your dentist can determine if you need more frequent visits. And be sure to have an eye exam every two to four years from ages 40 to 54 and every one to three years from ages 55 to 64. Your provider may recommend more frequent eye exams if you have vision problems or risk for glaucoma. If you have diabetes, you should have an eye exam and a foot exam at least every year, because diabetes can cause damage to the nerves and blood vessels in those areas of your body.
Both men and women should have their skin checked for signs of skin cancer, especially if they have had skin cancer before, have close relatives with skin cancer or have a weakened immune system.
One of the newest recommendations is for adults ages 55 to 80 who currently smoke or have a history of smoking equivalent to smoking a pack a day for 30 years. Those adults should be screened for lung cancer with low-dose computed tomography (CT).
TIPS FOR EACH GENDER
Women need to have a mammogram every one to two years beginning at age 40. There is some controversy about when to begin mammograms, Dr. Garcia says. "I was taught to start around 40, or earlier if there is a first-degree relative who had breast cancer. Now, some guidelines say to begin at age 50, but I say get a baseline at 40. You don't necessarily repeat it every year." Likewise, she recommends getting pelvic exams and Pap tests as your doctor advises.
Prostate screening in men is also somewhat confusing, she says. "There are no tried-and-true guidelines set in concrete," Dr. Garcia says. "But 50 is generally when to start." African-American men and those with a family history of prostate cancer in a first-degree relative younger than age 65 should discuss screening at age 45.
All of this may seem like a lot to do, but remember what old Ben Franklin said. "It's all about prevention, detection and treatment of new medical conditions in their early stages," Dr. Garcia says. "In my world, we can often address these things before they wreak havoc."
FOR AN APPOINTMENT WITH MARIA GARCIA, M.D., CALL 908.233.8571. TO SHARE THIS ARTICLE WITH A FRIEND OR TO RECOMMEND IT ON YOUR FACEBOOK PAGE, VISIT MSXHEALTHANDLIFE.COM.