Better Treatment for Uterine Growths
A new procedure removes women's troublesome fibroids and polyps more safely and more efficiently.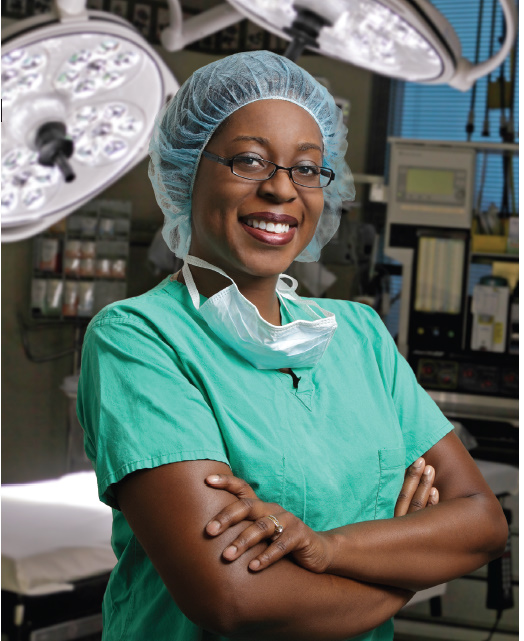 For women, uterine fibroids and polyps can cause painful symptoms. In many cases they need to be surgically removed, and until recently that often meant using an electrical current to break up the unwanted tissue. Now, say obstetrician/ gynecologists, there's a better way.
It's called the Truclear Operative Hysteroscopy System. Performed at Saint Peter's Healthcare System's CARES Surgicenter, it uses a small blade inserted through a tube called a hysteroscope to simultaneously cut and remove tissue.
"The Truclear is quicker than the traditional method—a few minutes as opposed to 15 or more," says Saint Peter's obstetrician/ gynecologist Uzoma Owunna, M.D.
Besides its speed, Truclear has another advantage—it lowers the risk of injuring surrounding tissue, says Ranjana Arora, M.D., another obstetrician/gynecologist at Saint Peter's. "If a fibroid is growing deep into the uterine wall, this greatly reduces the risk of perforating the uterus," she says. She has also noticed that there tends to be less bleeding after the procedure than there is with the electrical method.
And the new approach is more efficient. "With other methods you can't always remove the growth entirely, but with this one, the 'before' and 'after' pictures are amazing," says Dr. Owunna. "I love using it because I know the uterine cavity is completely clean when I'm done. I know I got the complete specimen."
Both doctors say Truclear was very easy to learn and they now use it on nearly all their polyp and fibroid cases. (Fibroids more than 5 centimeters in size are too large for the system to handle.)
"We are delighted to be able to offer our patients technology designed to reduce time in the operating room while improving outcomes," says Frank A. Mazzagatti, Ph.D., the CARES Surgicenter's executive director. "It allows them to recover and return to their daily activities more quickly."
WHEN TO SEE YOUR DOCTOR
Consult a physician if you experience any of these symptoms:
UTERINE FIBROIDS
• heavy or painful periods or bleeding
between periods
• feeling "full" in the lower abdomen
• frequent urination
• pain during sex
• lower back pain
• reproductive problems, such as infertility,
multiple miscarriages or early labor
UTERINE POLYPS
• irregular menstrual bleeding—for
example, having frequent, unpredictable
periods of variable length and heaviness
• bleeding between menstrual periods
• excessively heavy menstrual periods
• vaginal bleeding after menopause
• infertility
Sources: Mayo Foundation, National Institutes of Health
---
Related Read: Fighting Prostate Cancer with the Cyberknife