Beware of Those Rays
Genetically, skin cancer plays favorites—but we all need to use precautions in the sun.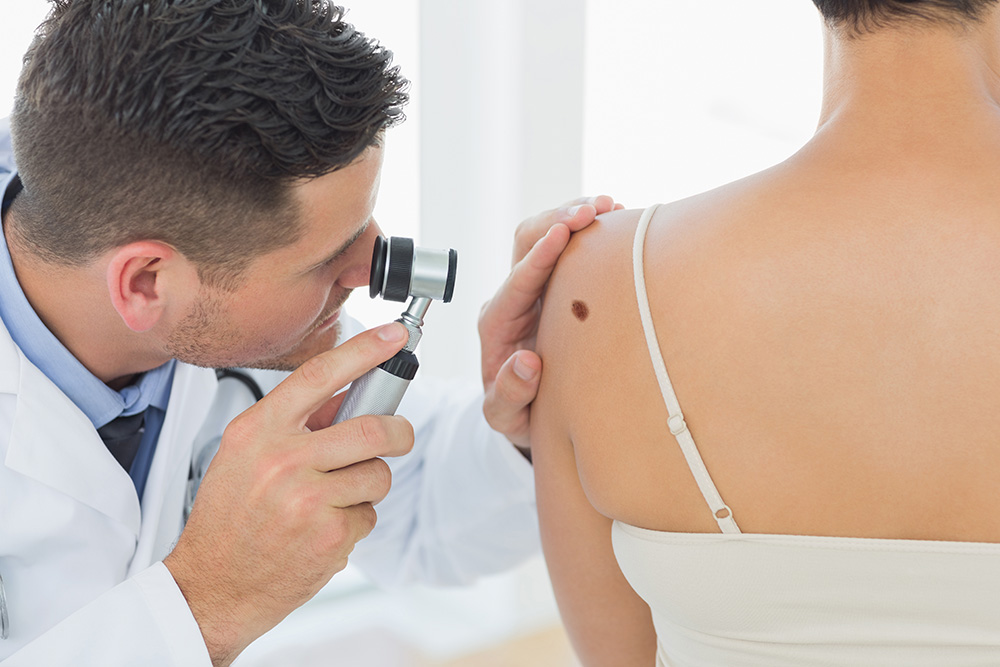 If you were to pick a perfect candidate to get skin cancer, it might be Courtney Smeltzer. With red hair, light-colored eyes, fair skin and a history of minor lesions and sunburns as a child, she gets a check next to just about every risk factor known. She has even tried to tan using tanning beds on special occasions, such as before her senior prom. Add all that up, and it's no surprise that in 2014 she got the call she had begun to dread: a suspicious mole on her right thigh had been confirmed as melanoma.
She had spotted the mole that fall and had the lesion biopsied around the Christmas holiday. "I had many biopsies before, and I have had basal cell cancers removed, but this was the first time it was melanoma," says Smeltzer, 24, who has been seeing Rachael Hartman, M.D., a dermatologist affiliated with Saint Barnabas Medical Center, for skin checks every six months since her teens. "Dr. Hartman called me right before New Year's Eve and said I needed surgery ASAP. It was scary because I know it's a fairly aggressive cancer that can spread."
A native of Scotch Plains, Smeltzer now lives in Philadelphia while attending graduate school in physical therapy at Thomas Jefferson University. Dr. Hartman recommended that she contact Franz Smith, M.D., a board-certified surgeon in complex general surgical oncology at Saint Barnabas Medical Center. "Dr. Smith explained everything in detail," Smeltzer says. "My biggest concern was that the cancer was spreading, but he assured me it was stage 1, and the likelihood of it spreading was small."
She had the tumor removed in early January 2015. "Dr. Smith was very accommodating," she says. "He knew I had to go back to school, so he fit me into his schedule." The pathology report showed that the cancer had been contained. Dr. Smith removed a deep layer of tissue almost to her thigh muscle. "I still have a u-shaped dent in my leg that is just starting to fill in now," she says.
Surgery is the "gold standard" of treatment to clear the disease and remove tumors completely, Dr. Smith says, and to reduce the risk of recurrence or spreading. "Melanoma can spread to the lymph system, lungs and brain," he says. "It is an extremely aggressive cancer, responsible for the majority of skin-cancer deaths. Thankfully, Courtney's was caught early."
Many skin cancer patients are not so lucky. An estimated 10,130 deaths will be attributed to melanoma in 2016, according to the American Academy of Dermatology. On average, one American dies from melanoma every hour. Young women are at especially high risk, Dr. Smith says. Melanoma is the second most common form of cancer in females age 15–29, according to the AAD, and it is increasing faster in females age 15–29 than in males of the same age group.
Although there was nothing Smeltzer could do about her genetic risk factors, she could have avoided one danger: tanning beds. "Multiple studies have demonstrated that tanning beds lead to increases in all kinds of skin cancer, including melanoma," Dr. Smith says. "The use of tanning beds has increased significantly nationwide, and it has also been reported that New Jersey has one of the largest numbers of beds per capita in the U.S. Using these beds before age 30 can increase melanoma risk by 75 percent, and the more you use them, the higher the risk."
Smeltzer has learned her lesson. "I stay away from tanning beds now," she reports. "Never again. I thought using one just once in a while would be fine—now I know that's not true." She stays out of the sun as much as possible and is more diligent about using and reapplying sunscreen whenever she goes outside. That's not always fun, she admits. "At my age it's hard," she says. "My friends all sit outside and tan, and I can't go or have to sit in the shade. Sometimes I can't do the same things they do, like go to the beach."
But she is willing to make that trade to protect her skin—and her life. As Dr. Smith advises her—and, in fact, everyone: "a tan is not worth the risk."
To find out more about Dr. Smith or the Melanoma Program at Saint Barnabas Medical Center, please call 973.322.6506 or visit barnabashealth.org/sbmc.