Big Sky's the Limit
Skip the crowds and come to Montana, where America's largest ski area offers perfect powder, breathtaking vistas and the flavor of the West.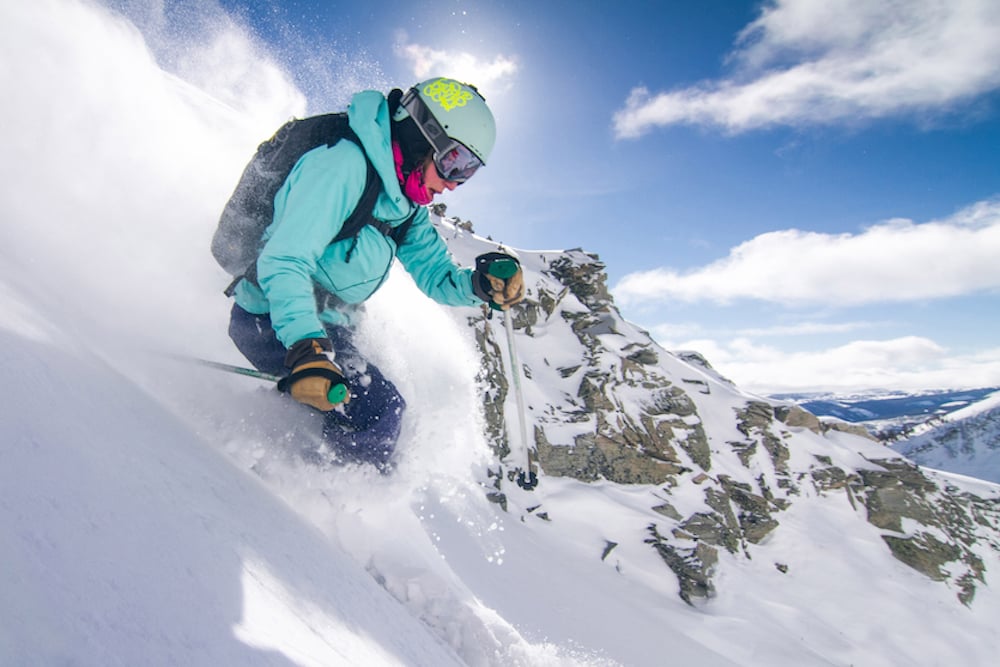 I'm not exaggerating when I tell you I can smell the adrenaline in the tiny tram at Big Sky Resort, which is rapidly ascending a sheer rock face to the 11,166-foot summit of Lone Mountain. Crammed inside with me are a dozen pumpedup skiers, gazing out at the seemingly limitless expanse of peaks and the vast sky that gives sprawling Montana its nickname—"the Big Sky country"—and names this resort as well. Big Sky Resort, which was opened in 1973 by the legendary NBC newsman Chet Huntley, is directly below. On the mountain's north side is Moonlight Basin, a real-estate-development-turned-ski-resort that merged with Big Sky a few years ago. Like most of the other skiers and boarders on this tram, I've been happily skiing between the two, which is easy enough because they are connected. Michigan-based Boyne Resorts, which operates them both, added even more terrain when it acquired a private ski area on Spirit Mountain. With these properties combined, the new Big Sky Resort offers 5,800 acres of terrain, nudging ahead of Vail's 5,289 to become the largest ski area in America.
"It's blowing a little hard up here," says a guy wearing enough gear to ascend Everest as we step out of the gondola. A little hard? I'm being blown backwards on my skis. The wind actually clocks at 80 miles per hour, but I won't learn that until I ski down Marx, one of Big Sky's famous Dictator Chutes. That's dictators as in Castro, Lenin and Marx (an honorary dictator, I guess). I am sweating bullets as I ski down the thick, wind-blasted powder on Marx, which turns out to be steeper than anything I've ever wanted to ski. How steep? Let's put it this way: If I fell, I'd probably end up in Utah.
But later I also cruise my way into corduroy bliss. Well-heeled doctors, lawyers and corporate chiefs from Minneapolis and Chicago are enjoying the exceptionally long and wellgroomed runs and the absence of crowds at both Big Sky and Moonlight Basin. Nearly 40 percent of the terrain is ideal for beginners and intermediates.
Big Sky Resort lies about an hour's drive south of Bozeman, which is well served by major airlines. Yet this is not Colorado. There are no crowds or lift lines here, despite the fact that the Big Sky area has some of the most extraordinary natural attractions in the lower 48 states. Yellowstone National Park is a few miles down the road from the ski resort. The Gallatin and Madison rivers, nirvana for the fly-fishing set, are within casting distance. And the skiing is as good as it gets: On a typical day, when you jump on a high-speed quad there will be empty chairs ahead of and behind you. You can ski more in a morning here than you can all day at another resort where you have to wait in line for 20 minutes after every run. The numbers tell the story: Big Sky draws about 370,000 skiers a year, while Vail gets 1.7 million. You will have no trouble fi nding a place to sit at lunch. Dinner is fun, not a mob scene with Type As jostling for reservations.
The ski village offers a welcome bustle, and there's an activity center where non-Alpine sports like tubing, zip-lining and snowshoeing are offered. There are bars and restaurants here, though if you're used to Vail or Aspen the vibe seems pretty sedate and cowboy-flavored. Places like Scissorbills Saloon and the Cabin Bar & Grill invite you to tuck into hearty steaks and Montana elk. Lodging choices run the gamut, but condo-style accommodations rule. The Lodge at Big Sky and The Summit at Big Sky both offer condos at the mountain's base, as does the Big Sky Resort Village Center, which is a bit more upscale.
I prefer staying over at Moonlight Basin, where lodgings are a bevy of newly built homes, condos, town homes and cabins, all with a strict Western stone-and-timber aesthetic. My favorite is the Cowboy Heaven luxury suites, where it can be hard to leave one's 860-square-foot, twobedroom. There are handsome leather chairs, drop-dead views of the Spanish Peaks range and a private alfresco hot tub. Just outside Big Sky Resort is the legendary Buck's T-4 Lodge, a rambling but comfortable place with a slight roadhouse feel, with log walls, stone fi replaces and trophy heads. The star attraction here is the restaurant, arguably the area's best, and a wine cellar that has been winning Wine Spectator awards for two decades. A destination for those who love cross-country skiing is Lone Mountain Ranch, one of the greatest dedicated Nordic resorts in the United States. Even if you're not staying there, it's a treat to enjoy an evening sleigh ride followed by a threecourse dinner in the candlelit lodge.
There's another great skiing option nearby, but it's only available to member-residents. It's the Yellowstone Club, which owns the 9,860- foot Pioneer Mountain, with more than 2,000 skiable acres. Then there's the other Yellowstone, the park, easily accessible to all of us.
This national treasure gets just 3 percent of its 4.1 million tourists in wintertime. From Big Sky, you can arrange to head into the park with an out-fitter on a snow coach tour to see bison and elk herds and observe the geysers steaming in the winter cold.
The park welcomes cross-country skiers, snowshoers and snowmobilers. There are tracks set for cross-country skiers, and the park's unplowed roads and trails are fair game for those on snowshoes. There are also miles of backcountry wilderness to explore, but unless you're an experienced backcountry skier or snowshoer, contact one of the park's nearly two dozen licensed guides to take you safely into the wild. Snowmobilers will also need to go with a registered company.
Whether you take your skiing straight or pair it with these other activities, don't come to Big Sky for a scene, or to be seen. Come for true Montana hospitality and a chance to try Wild West skiing in the biggest mountain complex in the United States.