Birth Right
Nothing can make having a baby a completely tranquil experience, but inspired design can help.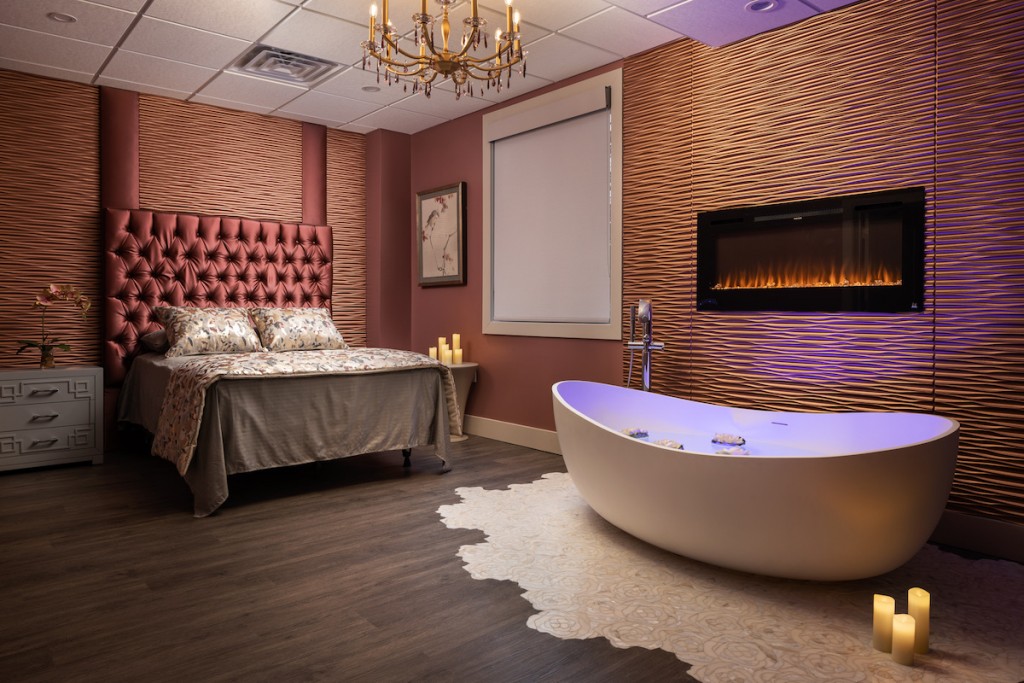 Spa-like serenity is always a welcome retreat, yet perhaps nowhere is the calming power of design tested more than at a birthing center.
Can a place where labor pains happen really have comfort at its essential spirit? That was the challenge put before Anna Maria Mannarino, owner of an eponymous Holmdel-based design firm, as she met with Clara Surowitz, M.D., ob/gyn, at Monmouth Medical Center's cafeteria between deliveries back in 2019.
The vision for the medical director's own expected "new arrival"—Tru ̄ Birth Center in Lakewood—was clear that first day. "The design was meant to have the look and feel of a luxury boutique hotel or spa," says Mannarino, with a "very specific color palette" of deep rose, Bordeaux and aubergine.
Construction was completed this March with a sustainable design that stayed true to its mission, and already 31 babies have entered the world in this lap of luxury. A sense of serenity flows throughout the birth center from the reception desk, where a dogwood wallcovering basks in LED lighting, to the abstract-art-adorned family room/kitchen, where Dad and crew can unwind on a modern Italian sectional before a large-screen TV.
The hallway conveys drama with shimmering, rose-gold architectural panels and remote-control candles set in the recessed niches. The trickling sound of the hallway's wall-mounted, lotus-flower waterfall permeates into the birthing suites, each abounding with spa-like comfort. With an electric wall fireplace and luxe bed complete with a tufted, satin-like headboard (shhh! It's easy-to-sterilize Scalamandré vinyl), both birthing rooms tastefully downplay their medical functionality, as intended.
Each birthing room also has its own organic-shaped tub with peony marble mosaic tile from Artistic Tile cut into espresso-gray-toned vinyl floors like a blanket of flowers, says Mannarino. Elegance extends to the Carrara-marble-effect bathroom in each suite with a threshold-less shower for safety. And for Dad, there's a leather recliner, of course.
"That calm environment maximizes the likelihood of the best medical outcome for Mom and baby," says Dr. Surowitz. "That's my goal, and that's why we went to such lengths to design it this way."
Text by Donna Rolando
Design by Mannarino Designs
Photography by Mike Van Tassell