Bluff City BBQ
Find the soul of Memphis in the heart of Montclair.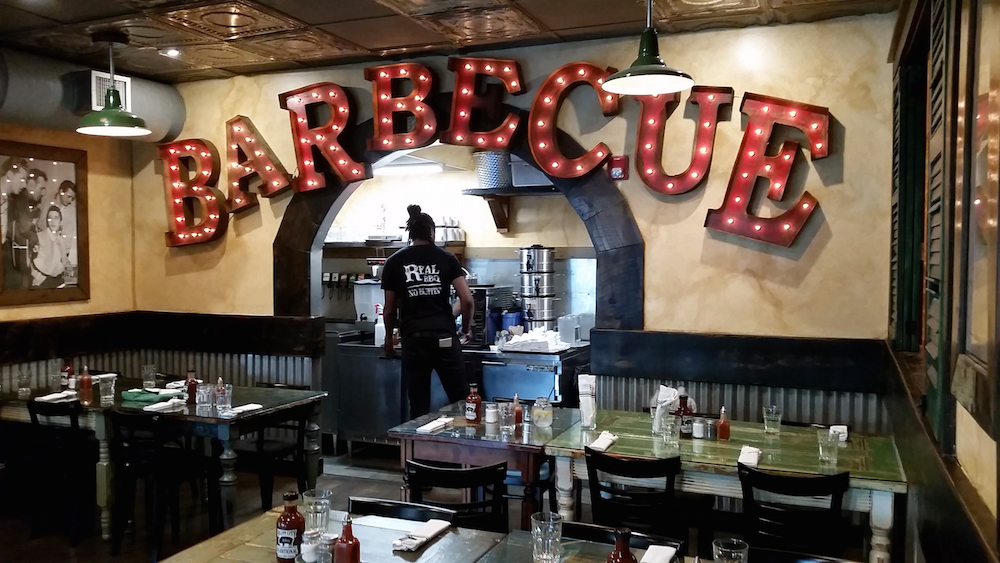 WHEN IN THE MOOD FOR A SUMMERTIME COOKOUT, I TOSS a couple of steaks, burgers and hot dogs on the backyard grill to share with family and friends. But when the taste for barbecue strikes, I leave it to a joint like Bluff City BBQ in Montclair to replicate the Southern comfort flavor that I crave.
I visited Bluff City on a recent sultry evening to celebrate the eve of summer. The restaurant is located on a quiet side street off of busy Bloomfield Avenue, giving it a homey, neighborhood-type feeling. Inside Bluff City, which is named after a small Tennessee town, you're welcomed by rustic decor (many tabletops are repurposed doors) and friendly staff. It was easy to make ourselves at home.
For our meal, I started with an order of BBQ Bluff City wings. A small silver tray held about eight pieces, each lightly glazed with a signature sauce. Bluff City BBQ sauce is a mix of tangy vinegar, sweet brown sugar and other secret ingredients. (Good luck getting the whole recipe from owner Scott Hermo, who keeps it well-guarded.) Each table has a bottle of the sauce, along with salt, pepper and hot sauce, but the wings didn't require an extra drop. My dining companion ordered shrimp and grits, which were served in a sauce with Andouille sausage, tomato, onion and peppers. It was a memorable plate—the grits were piping hot with a crispy outer layer and, unlike many restaurants, Bluff City doesn't skimp on the shrimp. Another bonus: The tails are removed, making the dish easier to enjoy.
With so many meats on the menu, choosing a main course could've been difficult. Luckily, the BBQ Sampler gives a great overview of the offerings. Served on another silver tray, it comes with four ribs and heaps of brisket and pulled pork. While many might argue that falloff- the-bone ribs are actually overcooked, the meat of Bluff City's ribs fell right off and were the most tender I've ever tried. Like the wings, the ribs are lightly brushed with sauce (unlike true Memphis-style ribs, which are dry) to give them an extra flavor punch and color. The brisket, however, is seasoned with only a trace amount of salt and pepper. Though the meat was tender, I found myself using a lot of extra sauce to get the right taste.
My friend was floored by her choice, buttermilk fried chicken. The four large pieces had just enough breading to give each bite a generous crunch, and the garlic honey glaze made her tastebuds dance. Thankfully she gave me a drumstick to sample, and I agreed with her assessment.
To accompany our dishes, we ordered two soul-food classics— mac and cheese and collard greens. Neither of the two were knockouts (the former was too soupy and the latter was a tad bitter), which made us second guess our selections. We agreed to order the Brussels sprouts and buttered mushrooms next time.
And there will certainly be a next time—the barbecue and service are too good to enjoy just once. Speaking of service, we received two unobtrusive and laughter-filled visits by management. One of the jokes was about our stuffed bellies and whether we left room for dessert. We did, but only for the red velvet cake to share. Like our side dishes, the three-tiered cake likely won't win any competitions; it's the sideshow in a place where the barbecue rules. And that's no bluff.
Bluff City BBQ, 21 Midland Ave., Montclair, 973.744.4657; bluffcitybbqnj. com