Bottle Hill Tavern
The historic eatery returns with a refreshed look, menu.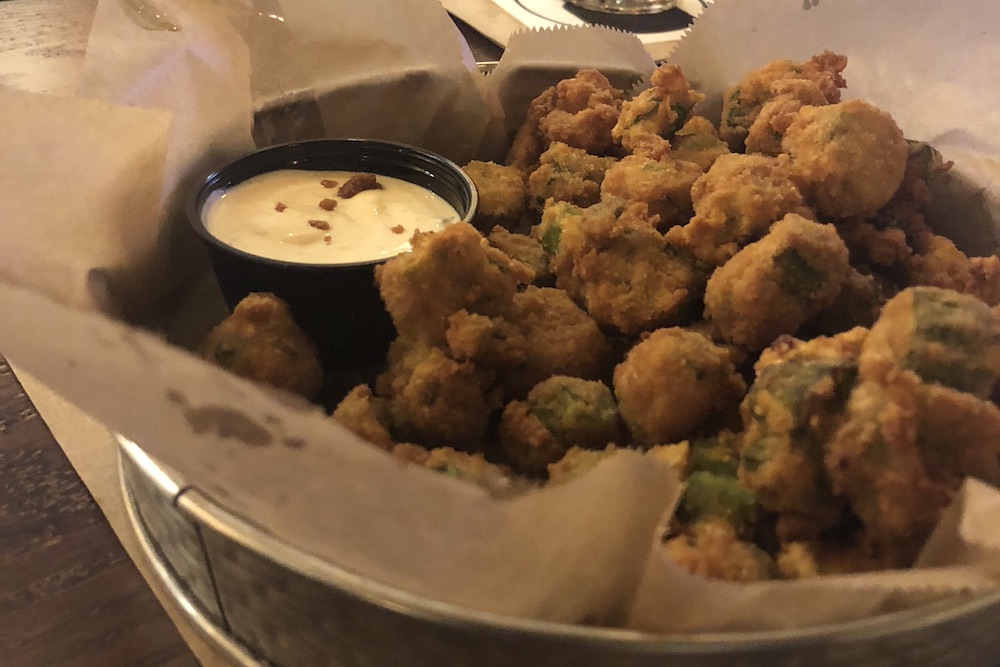 THERE'S A LOT OF PRIDE BEHIND BOTTLE Hill Tavern—the name and the establishment. Though the business has changed ownership and location a handful of times since its founding around 1812, it has been the spot to enjoy pub-style fare—for locals and those passing through the area. The latest iteration opened this summer, after a quartet of new owners took over the former Poor Herbie's (the tavern had been operating under this moniker since 1992) last December, renovated the interior and brought the familiar name back to Madison.
If you can score a table (or wait about 20 minutes for one), you'll immediately get swept up by the rustic décor and the lively vibe. Depending on the night, moving from the front door to the dining room can be a tight squeeze as small groups gather and mingle in every available space. But there are a limited number of tables, so the bar is a clear option to sit for a meal, which is what my friend and I (as well as two other couples) did during a busy Saturday.
Save for the high noise level, it was a pleasure sitting at the bar and being served by our bartender, Becky, who gave us full attention while still pouring drinks for other customers. Our beverage order was easy: a glass of red wine for my friend and a Spaten Oktoberfest brew for me. Both drinks paired nicely with our appetizers, two crab cakes and a plate of fried okra. The crab cakes only shot par: Each was fried evenly, but the carb-to-crab ratio was somewhat off keel, as the cake was seemingly filled with extra breading—or lacked an appropriate amount of crabmeat. The okra came out on top, each morsel a refreshing blast of the hot and chewy veggie. A zesty Rémoulade added just the right amount of extra flavor to the app.
Bottle Hill's entrée selection features typical pub grub, from specialty and build-your-own burgers to pulled pork sandwiches and cheesesteaks; however, our taste buds craved something other than bar food. My friend sought a healthier plate, opting for the Power Salad—a full-size dish filled with romaine, kale, quinoa, dried cranberries, walnuts, apples, crumbled goat cheese and an overly generous portion of grilled chicken (which she added). The colorful presentation and the mesh of fresh flavors, particularly the creamy goat cheese, earned two thumbs up.
While my friend wanted a heart-healthy meal, I had one thing on my mind: Thanksgiving. I called for the fresh roast turkey dinner, a platter topped with a heaping pile of juicy breast and thigh meat covered with savory gravy and cranberry sauce on the side. I can only wish that my next holiday bird is as tender and moist as this meat. Spoiler alert: While getting through about half of the plate, we (my friend couldn't resist taking a few forkfuls) uncovered mounds of homemade stuffing that had been hidden beneath the meat. Not listed on the menu as an accompaniment, the stuffing was a pleasant—and delicious—surprise. Though this dinner comes with two sides (I had selected roasted Brussels sprouts and mac 'n cheese), the stuffing was more than enough.
Filled to the brim with carbs and meat, we regretfully passed on dessert. That was an unfortunate revelation because sweets—a banana pudding jar, carrot cake and homemade apple pie with ice cream, among others—were each moderately priced at $5. Next time, we vowed. Because as crowded and loud as Bottle Hill Tavern can get, the welcoming staff and tasty food make it worthy of another visit.
Bottle Hill Tavern, 13 Waverly Pl., Madison, 973.949.6060; thebottlehilltavern.co