Brain Surgery with Pinpoint Accuracy
A technology called "stealth" helps neurosurgeons locate tumors more precisely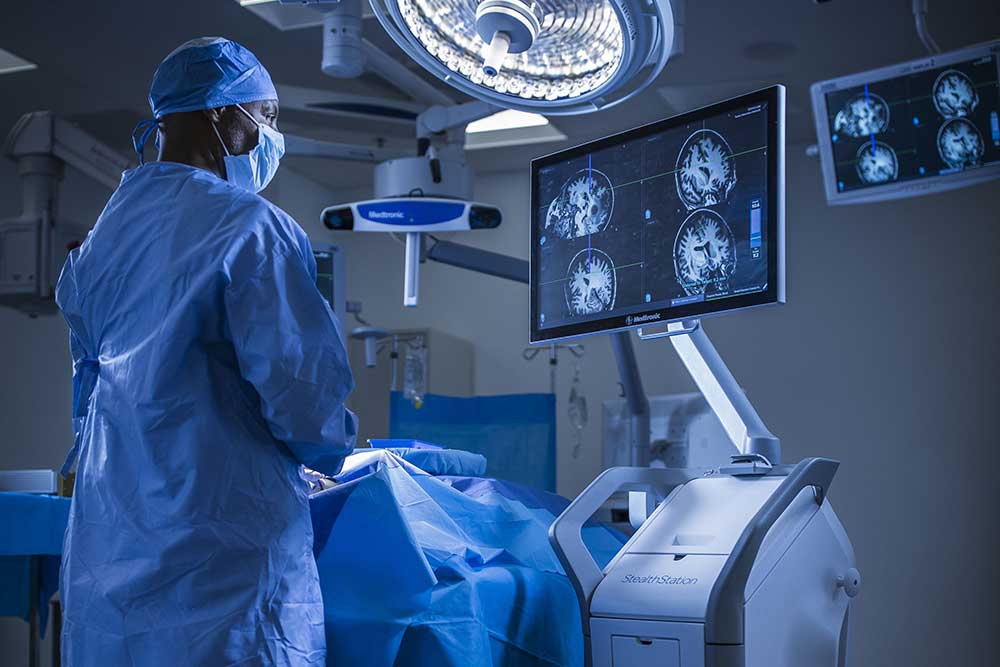 Few medical procedures are as delicate as brain surgery. Precision is paramount, particularly when it comes to removing a tumor, in order to avoid damage to any surrounding brain tissue. Now a new system, available at Saint Barnabas Medical Center, offers the very latest way to pinpoint the exact location of a tumor inside the human skull.
It is called the Medtronic StealthStation S8, and it uploads magnetic resonance imaging (MRI) scans, processes them through computer software and guides the neurosurgeon to the exact location on the skull through which to operate. This precision means the surgeon can make smaller incisions in the skull and cut a smaller hole in the brain's own covering to remove the tumor.
This "Stealth" technology uses what the manufacturer calls "a combination of hardware, software, tracking algorithms, image data merging and specialized instruments." The result? Patients are at lower risk for complications, recover more quickly and can leave the hospital in remarkably short order.
This summer Otakar Hubschmann, M.D., chairman of the Department of Neurosurgery, became one of the first surgeons at the medical center to use the new system. "I operated on a Saturday, removing a tumor about the size of a lime," he recalls. "The patient went home Sunday evening perfectly fine, with no issues."
Until such "brain mapping" technology came online, surgeons had to cut an inverted U-shaped flap in the scalp, then drill multiple holes and remove a small portion of the skull to see exactly where the tumor was. The Stealth computer matches the uploaded MRI with the patient's skull on the surgical bed, and the software calculates the location of the tumor and shines an infrared pointer to the point on the skull where the surgeon can best gain access. Dr. Hubschmann needs a much smaller incision, instead of the much larger curved cut, and he reports that this smaller cut heals more rapidly, with less scarring. He drills just one hole in the skull instead of four and makes a small cut in the brain covering. He calls it minimally invasive, minimal access surgery. "What used to take eight hours of surgery is now done in about an hour," he says.
Besides providing advanced patient care, the new systems are helping to train the neurosurgeons of tomorrow. Saint Barnabas Medical Center is one of just two in New Jersey to offer an accredited neurosurgery residency program. "This is a very difficult accreditation," says Dr. Hubschmann, the program's director. "Hospitals need to have the latest technology to train surgeons. I have been doing neurosurgery for over 30 years, and the improvement in technology is unbelievable."
For a Saint Barnabas Medical Center Neurosurgen please call 1.888.724.7123 or go to RWJBH.ORG/SBMC. to share this article with a friend or to recommend it to your facebook page, visit MSXHEALTHANDLIFE.COM.