BRAUN'S TAVERN & DINING ROOM
THIS NEW AMERICAN BISTRO IS AN ODE TO BLOOMFIELD'S PAST.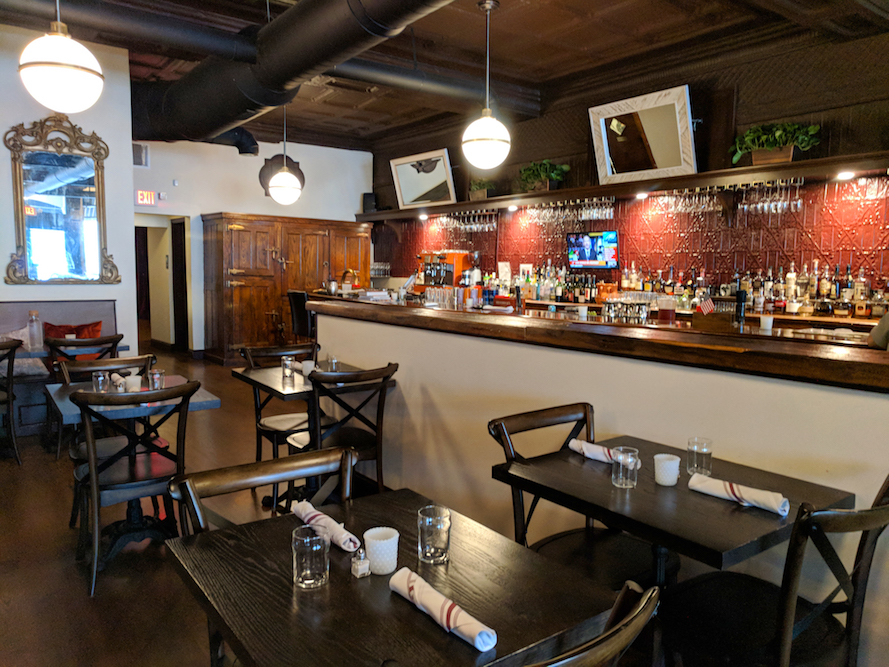 THE RESTAURANT LANDSCAPE IN Bloomfield took a hit when the local Satis Bistro closed earlier this year, losing a classic European bistro menu that pleased many North Jersey foodies. But thankfully that void was only temporary, as owner Michael Fiorianti quickly replaced his old eatery this spring with his latest project, Braun's Tavern & Dining Room.
The name might not ring a bell but it's a nod to the lounge that occupied the space during the Prohibition era. And there are plenty of relics from the early 1900s found inside the modern, New American restaurant: Many of the building's original ceiling beams and tiles as well as the bar backsplash have been preserved (the 40- foot bar itself has been updated), while centuryold photographs depicting sparsely-populated Bloomfield main streets adorn the walls.
What's new here is the food, and we quickly learned that by glancing at Braun's menu, which emphasizes house-made items and farm-fresh ingredients. Appetizers like the brat in a blanket and the kale and chicory Caesar salad were tempting, but my friend and I picked a pair more to our liking. We started with the sherry braised oxtail and foie gras terrine, a hearty plate made for a discerning palate. The soft oxtail meat and generous portion of foie gras—a rich duck liver—is served with a shallot marmalade and pickled cauliflower. Each component on the platter was delicious alone, but they were a delight for taste buds when spread together on the accompanying croutons. Our second app, maitake mushroom tempura, also scored big in presentation and taste—the crispy 'shrooms got a major flavor boost from the truffled fontina sauce.
Like the apps, a blend of familiar and exotic selections fills the entrée menu. From strip steaks and schnitzel to roasted chicken and steamed PEI mussels, Braun's offers something for everyone. Plus there are veggie burgers, pasta dishes and more for non-carnivores. But for our table for two, we said bring on the meat! Craving the distinct character and flavor of lamb, I ordered the lamb burger. Not only was the thick patty cooked to the perfect temperature, it had an extra kick (thanks to a spicy rub and zesty aioli sauce) and a toasty sesame-seeded brioche bun—both of which hit the spot.
Though my friend wasn't seeking comfort food when we first arrived at the restaurant, she couldn't resist the pot roast. A satisfied smile after every bite of the moist, tender brisket confirmed she made the right choice and verified the kitchen's mastery of the dish, which is served with sides of carrots, caramelized onion, mashed potatoes and sweet gravy. Our server, Nicole, later noted that the pot roast garnered some of the highest praises from previous diners.
Our bellies already full of meat, my friend and I were guilty of gluttony, and we went for two after-dinner treats. The apple strudel, complete with maple walnut compote and a scoop of vanilla ice cream, reminded my half-Swiss companion of classic versions served in Switzerland and throughout Europe. Our second confection was the Irish car bomb, a parental-guidance-required dessert made with Guinness-soaked chocolate cake, Irish cream mascarpone and bourbon-infused caramel parfait. This heavy-duty dish has the knockout flavor and alcoholic punch that'll make you want to skip the drink menu.
The revival of Braun's Tavern gives downtown Bloomfield a chef-driven, casual spot for neighbors and area residents to enjoy. And they will enjoy: The restaurant's plethora of choices and fine culinary craftsmanship guarantees it.
—Darius Amos
Braun's Tavern & Dining Room, 289 Glenwood Ave., Bloomfield, 973.743.1097, braunstavern.com