Breath of Fresh Air
Doctors discovered Mattie Thigpen's lung cancer at an early stage. After surgery and treatment, the Oceanport resident is now breathing easy.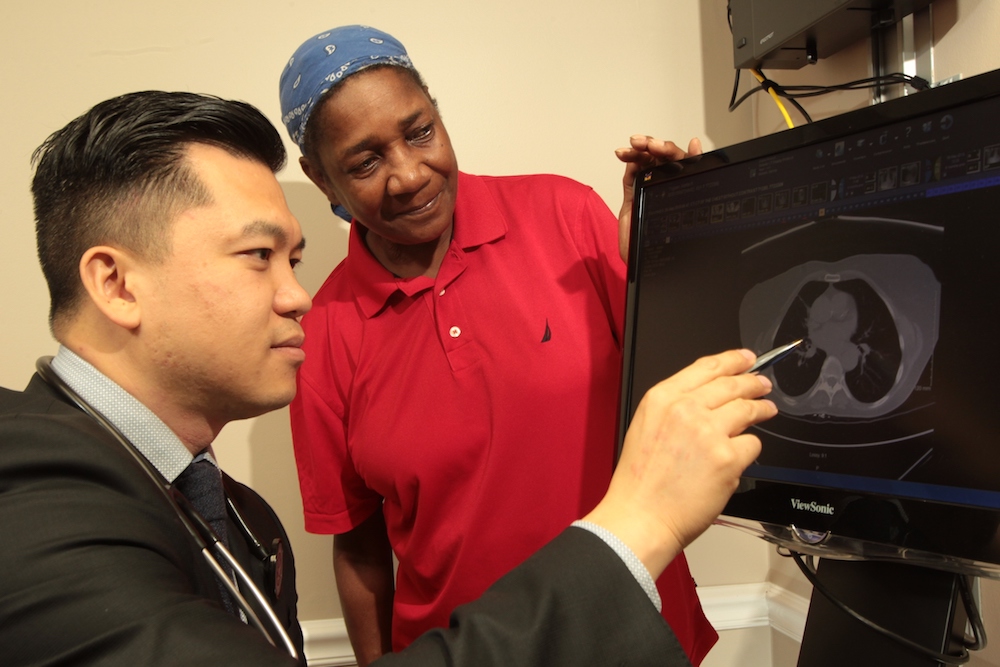 AFTER SMOKING FOR MORE THAN HALF of her life, 65-year-old Mattie Thigpen of Oceanport quit cold turkey—but her decision didn't come without the care and assistance of Monmouth Medical Center (MMC) and its Lung Cancer Screening Program.
A smoker for 35 years, Thigpen was referred to MMC last year, and a low-dose CT scan revealed a nodule on one of her lungs. She continued through the screening program—which includes everything from smoking cessation services and access to comprehensive cancer care—but by January the nodule had increased in size. That's when she was referred to Andrew Nguyen, M.D., thoracic surgeon. A series of diagnostic tests revealed Thigpen had very early stage lung cancer, and on May 2, Dr. Nguyen successfully performed a robotic lobectomy. With robotic surgery offering the benefits of small incisions, less postoperative pain and a quicker recovery, she was able to go home after only a few days in the hospital.
A local FoodBank volunteer, Thigpen says she felt completely well in about three weeks, after the procedure. Follow-up tests on Thigpen's lymph nodes confirmed that the cancer had not spread and no further treatment would be needed. (But she will continue to be monitored regularly.)
According to Dr. Nguyen, Thigpen's story underscores the importance of lung cancer screening for people with a history of smoking. (Tobacco is associated with 87 percent of the incidences of cancer of the lung, trachea and bronchus). She is grateful for the screening and that doctors treated her cancer immediately: Lung cancer survival rates exceed 70 percent when treatment begins at an early stage, and oftentimes symptoms do not occur until advanced stages.
During Lung Cancer Awareness Month in November, MMC is encouraging others to learn from Thigpen's experience and reach out to the program for care. Offered in partnership with the Rutgers Cancer Institute of New Jersey, the screening program offers low-dose CT scans, a dedicated advanced practice nurse (APN) who provides individualized care, centralized scheduling and insurance pre-authorization support, and an expert team of radiologists, pulmonologists, thoracic surgeons, medical and radiation oncologists and other clinicians.
For those interested in lung cancer screening, the cost is now covered by Medicare and Medicaid for individuals at high risk meeting these criteria based on age and smoking history.
WHO QUALIFIES FOR LUNG CANCER SCREENINGS?
Ages 55 to 80 years
A tobacco smoking history of at least 30 pack years (Pack years = packs per day X years smoked)
A current or former smoker who has quit within the past 15 years, has no symptoms of lung cancer and has not had a chest CT scan in the past 12 months