Bright Futures
MMC partners on innovative job-training program for students with disabilities.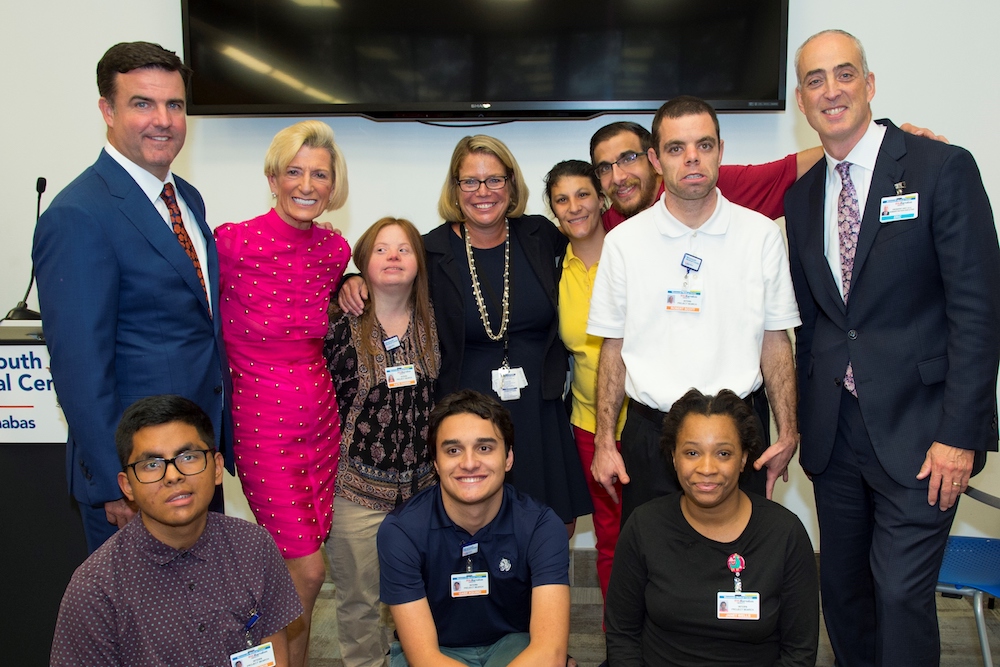 Monmouth Medical Center held a kick-off reception on Oct. 10 to celebrate Project SEARCH, a job-training program for Monmouth County high school students and young adults with disabilities.
Project SEARCH, which combines classroom instruction, career exploration and hands-on training at a host worksite, is coordinated by Family Resource Associates in collaboration with the New Jersey Division of Developmental Disabilities, the New Jersey Division of Vocational Rehabilitation Services and New Jersey Travel Independence Program (NJTIP) at Rutgers University. Monmouth Medical Center (MMC), an RWJBarnabas Health facility and a teaching hospital in Long Branch, is the program's fi rst host facility in Monmouth County.
Interns accepted into the program report to MMC instead of their home school district classroom for the entire academic year and rotate through a number of jobs. The program began in September and will last through the 2019-20 school year.
Since its inception, Project SEARCH has grown from a single program site to a large and continuously expanding international network of locations where the primary objective is to secure competitive employment for people with disabilities.
"At Monmouth Medical Center, we are committed to not only serving patients who need medical treatment but also to helping people thrive in their communities by investing in education, employment, housing and nutrition," says MMC President and CEO Eric Carney. "We are proud to join our sister RWJBarnabas Health hospital Jersey City Medical Center, which served as a Project SEARCH host facility earlier this year."
Project SEARCH's combination of instruction and immersion in the workplace is helping to prepare these young adults with disabilities with real-world job skills and provides an opportunity to explore careers. Through the program, eight interns have the opportunity to develop important skills that can help them fi nd employment by learning about jobs in various areas, including Med Surg, OR, Pediatrics, Materials Management, Food Services, Patient Transport, Health Information Management and Volunteer Services.
The goal for each student intern upon completion of the program is competitive employment, and 70 percent of Project SEARCH interns who complete their training fi nd long-term meaningful employment in a variety of career paths. The program's evidence-based model for success involves an extensive period of training, career exploration, combined with continuous feedback from instructors, skills trainers and employers.
To learn more, contact Family Resource Associates at frainc.org or email employability@frainc.org.