Bringing AI to Reality
Doctors at Monmouth Medical Center are exploring how artificial intelligence can improve diagnoses from radiology imaging.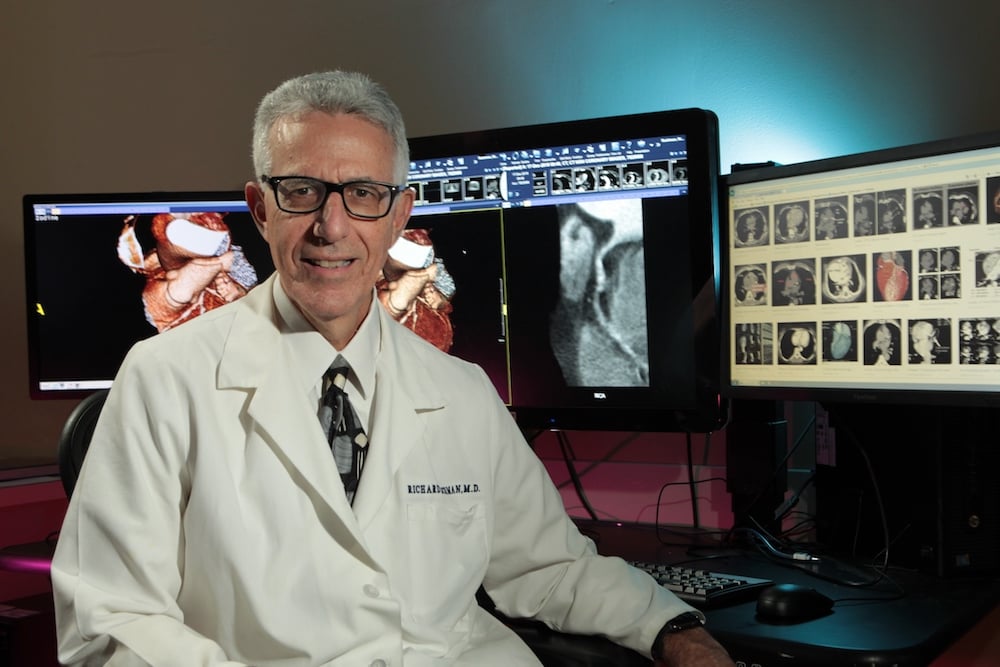 ARTIFICIAL INTELLIGENCE (AI) IS ONE OF the biggest buzz-phrases in most industries, including health care, and Monmouth Medical Center (MMC) is at the center of this exciting development in data analytics. RWJBarnabas Health is exploring the utility of artificial intelligence solutions in diagnostic radiology procedures and improving outcomes for patients. The research, which is being piloted at MMC, is focusing on a host of diagnostic imaging areas to identify various conditions faster through routine screening. Coronary artery calcification, a marker of heart disease, is one of these indicators under review.
"There is a big push right now, in medicine in general and radiology in particular, to incorporate AI into the practice of radiology," says Richard B. Ruchman, M.D., chairman and program director, Department of Diagnostic Imaging, Monmouth Medical Center. "AI is a broad subject, but basically we are trying to use AI to look at imaging studies and draw information out of them to bring to the radiologist's attention," adds Dr. Ruchman, who is co-directing the pilot study with Stanley Lu, M.D., director of the Department of Neuroradiology at MMC.
AI is being employed in two types of screening tests. The first is called opportunistic screening. "That means imaging studies are ordered for a host of reasons, and while the referring physician often has one diagnosis in mind, there is significant additional information in the images," Dr. Ruchman says. "AI can extract that information to make additional diagnoses."
For example, if a referrer orders a computed tomography (CT) scan to look for cancerous nodules in the lungs, the scan is also taking an image of the heart. The AI algorithm can look at how much calcium has built up in the coronary arteries and alert the physician if it warrants closer attention.
The second category is triage. For example, the AI algorithm can interrogate all of the head CTs from the Emergency Department and bring an abnormal one to the radiologist's immediate attention.
The first phase of the pilot program, on existing imaging scans, has shown that the AI algorithm does indeed work well. In the next phase of the research study, all new patients who undergo a routine CT scan to detect lung nodules caused by smoking will also be screened for coronary calcium. The AI will offer both opportunistic—it finds calcification—and triage—those with the most calcium and thus the highest risk will be flagged for quick review. This phase will take a year and a lot of investigators, Dr. Ruchman says.
MMC is also testing algorithms to detect fatty liver disease, emphysema, osteoporosis and intracerebral hemorrhage, and will soon start a trial using AI and mammography. AI can play a large role in improving health care, Dr. Ruchman says. "AI can assist the radiologist in providing actionable and significant diagnostic information. We believe there are meaningful benefits to understanding and discovering how artificial intelligence solutions can increase the effectiveness of our current processes and improve patient outcomes."