Bryan Shumaker, D.D.S.
Beautiful Aesthetic Smiles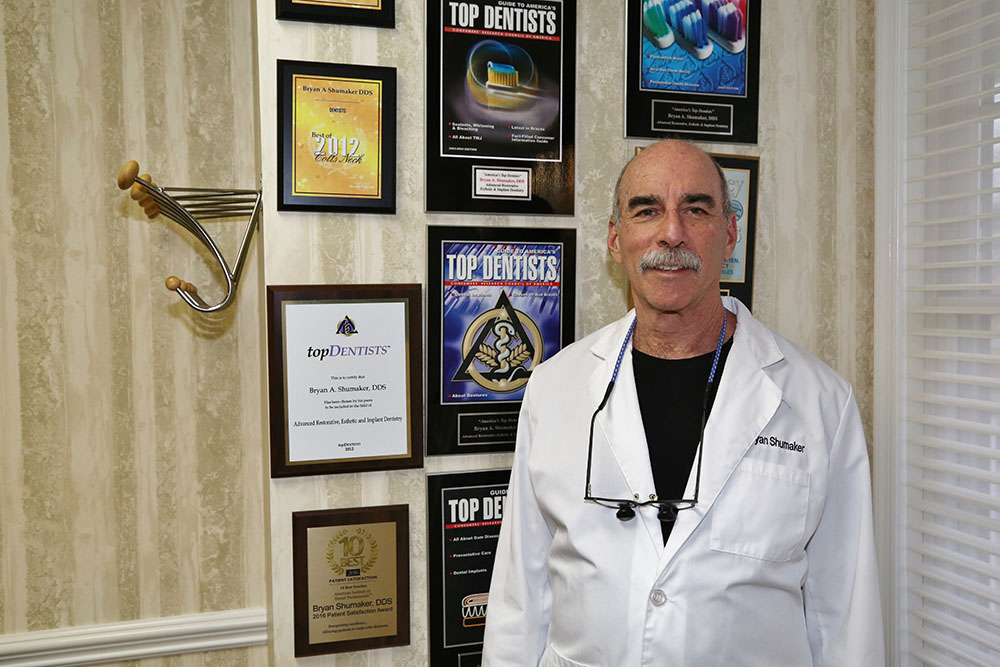 FOR 35 YEARS, Dr. Bryan Shumaker has provided personal dental care in Colts Neck to patients of all ages. His success comes largely from his belief in a "health-centered" model of treatment, encouraging patients to address dental problems in their early stages. This often results in better results and a less expensive cost in the long run.
Dr. Shumaker has a skill set few other dentists have because he continually participates in the highest level of hands-on training with the country's best leading dental clinicians. With his combined unique training, technical expertise and artistic talents, Dr. Shumaker has an ease about him that immediately calms down the most anxious dental patient.
Dr. Shumaker's office reflects a relaxed approach to treatment, from the physical surroundings to the caring attitude of his staff. He frequently receives referrals from patients, many of whom have been with him for decades. Dr. Shumaker performs procedures including porcelain crowns and veneers in addition to routine oral care. A frequent Top Dentist in New Jersey, Dr. Shumaker often says his real reward is when a patient can smile, yawn and eat without worrying about their teeth. He's earned the trust and gratitude of the dentist-shy patient, and, of the specialists who seek the best cosmetic and restorative dental treatment for their patients.
361 Kings Hwy. E., Middletown, NJ 07748 • 732.671.1110 • redbarndental.com