Building the Hospital of Tomorrow
In its 150th anniversary year, Saint Barnabas Medical Center looks to the future with an ambitious new construction project.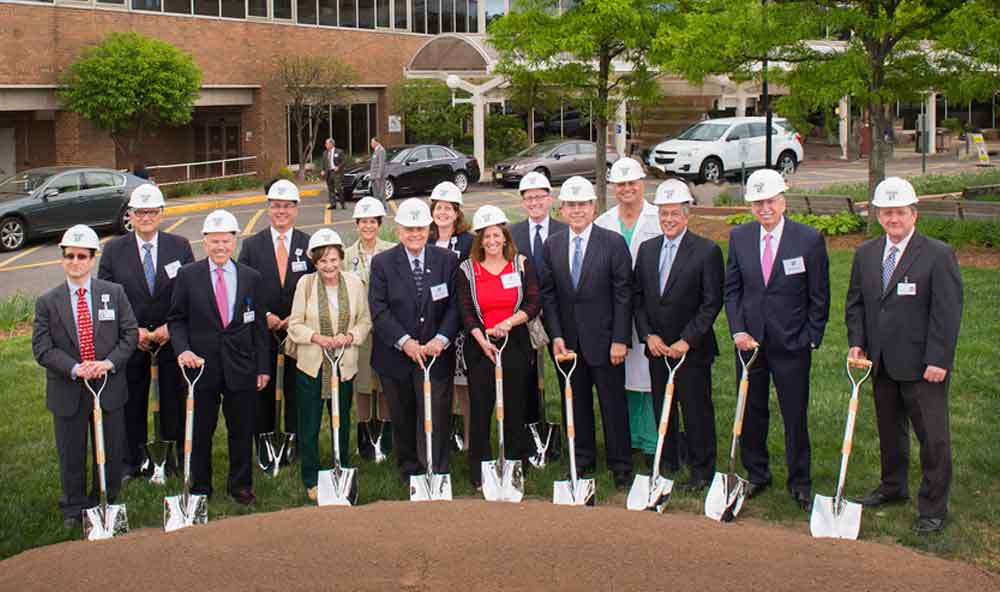 How should a hospital be designed to serve patients best? That's been a hot question lately as "evidence-based design" has become popular in health care facility construction. It's a question the leaders of Saint Barnabas Medical Center have answered with an audacious $250 million building plan that will transform the hospital.
Ground was broken in May for the five-story Cooperman Family Pavilion. It will be created with natural materials, soothing colors and abundant natural light, and it will provide the most advanced medical technology as well as spaces to promote privacy and healing. Drawing on the latest findings about how a facility's design can best promote healing, the new pavilion will feature curb-free showers to prevent falls, acoustic materials to lessen noise and hybrid operating suites that let surgeons switch easily from minimally invasive procedures to "open" ones. After all, doctors who treat patients follow the methods that have been proven most effective. Why shouldn't architects do the same?
At the May groundbreaking ceremony, John F. Bonamo, M.D., chief medical officer of Barnabas Health and former chief executive officer of Saint Barnabas Medical Center, explained that the ambitious project was inspired partly by a $17 million donation from the estate of the late philanthropist Eric F. Ross, who died at age 91 in 2010 after a career in manufacturing vinyls and plastics.
"The Ross donation got us thinking," said Dr. Bonamo. "What do we really need to prepare this medical center for the next 50 years in health care? We need private rooms. We need more parking. We need to add more greenery to the area. We need bigger operating rooms. We provide the best neonatal care in the country; we need to make the Neonatal Intensive Care Unit five times larger. We need a bigger lobby and more space. This is what we need."
Dr. Bonamo told how he and others at the hospital shared their vision with philanthropists Leon and Toby Cooperman. Remembering the excellent care their family had received during three surgical procedures at the medical center, the Coopermans responded with $25 million, the largest donation to Saint Barnabas Medical Center ever.
"Forty-seven years ago we came to this great community, and we really want to give back whenever we can," Leon Cooperman told those gathered outside the hospital for the ceremony. "We worked very hard, we have been very lucky and we have been very successful. And we are adhering to the advice of Andrew Carnegie, who said, 'He who dies rich dies disgraced.' Our intention is to support worthy institutions in New Jersey and globally that make for a better life for individuals. I can't think of any organization more deserving of financial support than Saint Barnabas."
Like Ross and like Carnegie himself, Cooperman came from humble origins. A plumber's son from the South Bronx, he worked his way through Hunter College to become the first member of his family to earn a B.A., then received an M.B.A. at Columbia University's School of Business. He went to work for Goldman Sachs & Co., where he eventually became a general partner and founded the company's asset management business before moving on to launch his own investment fi rm, Omega Advisors.
At the May ceremony, Cooperman was thanked for his generosity by Dr. Bonamo and by Barnabas Health President and CEO Barry H. Ostrowsky, who declared: "This project will provide a state-of-the-art facility with the kind of medical care this community deserves."
The 241,000-square-foot pavilion is expected to be completed in 2017. And its lobby, reflecting the earlier donation, will be named for Eric F. and Lore Ross.
Dr. Bonamo also noted one key fact about the evidence-based design of the new pavilion: Not all of the evidence came from the published papers of design pros, as Saint Barnabas doctors, nurses and patients also gave recommendations that were incorporated in the building's features.
The doctor noted that this is an anniversary year for the medical center, adding: "This project at Barnabas Health's flagship hospital will make sure we continue to provide advanced, patient-centered care for the people in our communities for another 150 years."
What the new pavilion will provide
These are among the key features of the new Cooperman Family Pavilion, which is being designed by the award-winning architectural firm Francis Cauffman:
Three new nursing units—medical/surgical, orthopedics and oncology—will create a total of 114 single-patient rooms. Each spacious patient room will feature large windows, a desk and sleeping and storage space for the patient's family. Studies show that single-patient rooms reduce anxiety, encourage communication among patients, doctors and families, and reduce hospital-associated infections. The new patient rooms will allow the hospital to turn existing hospital beds into singlepatient rooms, helping it make the transition to all single-patient rooms.
A 37,000-square-foot Neonatal Intensive Care Unit will be five times larger than the current NICU. The re-envisioned unit will accommodate advanced technology and provide families with enhanced privacy through the creation of 48 individual patient bays, all with retractable privacy walls.
A West Wing with four new operating suites will be nearly twice the size of existing ORs. The new 700-square-foot ORs are designed to accommodate the latest minimally invasive surgical technology, allowing surgeons to perform a range of procedures. A new Interventional Radiology Suite will allow surgeons to diagnose and treat myriad medical conditions. The additional ORs will bring the hospital's total to 22.
A new parking garage will allow the medical center to replace some of the existing parking space with gardens, and patients will have views of the garden out of their windows. Studies have shown that scenes of nature promote healing and reduce anxiety, even reducing blood pressure.
A two-story, light-filled lobby will provide a clear and welcoming arrival point and will be the heart of the transformed Saint Barnabas Medical Center. Patients will arrive and leave from the lobby and be able to easily find their way to any part of the hospital. The lobby is designed to be modern yet comforting, with curvilinear forms and abundant scenes of nature.
To find out more about services available for you or your family at Saint Barnabas Medical Center, please call 1.888.724.7123 or visit barnabashealth.org/sbmc.