Burke's Works
Local celebrity chef and restaurateur David Burke blends art and science to create irresistibly innovative food. Here he shares some recipes for signature dishes you can experiment with at home.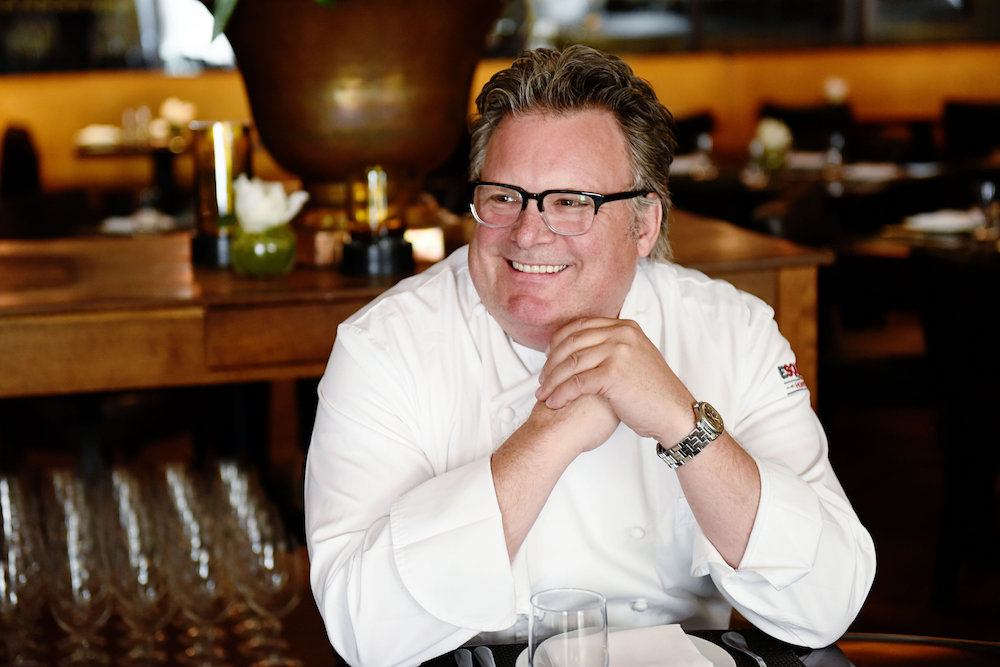 The storied clubhouse at the Orange Lawn Tennis Club might be 140 years old, but the menu at the new restaurant now housed within couldn't be more modern. James Beard award-winning chef David Burke opened an eponymous eatery at the South Orange club this spring. Burke is poised to have a big year. He also recently launched Ventanas in Fort Lee and Drifthouse by David Burke in Sea Bright. This New Jersey dining scene takeover is a sizable addition to his existing portfolio of restaurants in New York City, Saratoga Springs, N.Y., and Washington, D.C. Equal parts foodie, artist, scientist and savvy entrepreneur, Burke has big plans for his brand of innovative, and by some accounts, downright whimsical cuisine in Essex County. Here, the chef shares with Morris/Essex Health & Life recipes for an appetizer, main course and dessert. Don't feel like cooking? Enjoy these dishes at David Burke at Orange Lawn.

OCTOPUS AND CHORIZO KEBAB
Yields: 6 to 8 servings
INGREDIENTS
4 lbs. octopus, cleaned and tenderized
1 onion, chopped
1 carrot, chopped
2 celery stalks, chopped
2 Tbs. olive oil, plus more to coat sauce pan
2 cups white wine
water to cover
1 head of garlic, chopped, plus 2 cloves, crushed
4 bay leaves
½ lb. chorizo
1 cup olives
1 cup Peppadew peppers
1 cup scallions
chili flakes to taste
Peel from 1 lemon
DIRECTIONS
In a medium-sized saucepot (large enough to fit 4 lbs. of octopus), sweat vegetables with 2 Tbs. of olive oil for approximately 6—8 minutes on medium heat. Add octopus, white wine, water to cover, garlic and bay leaves. Cover and cook on low heat for 1.5 hours or until tender (pokes easily with a fork).
Remove octopus from the pot, discard water, cool the octopus in refrigerator for about 20-30 minutes. Once chilled, cut octopus into ó inch pieces then place on skewer with sliced . inch thick chorizo, olive, peppadew and scallions.
Grill kebabs for approximately 2—3 minutes on each side. Or, coat a sauté pan with olive oil. Once hot, add skewers with 2-4 crushed garlic cloves, chili flakes (amount depends on preferred level of heat) and the peels from 1 lemon. Roll kabobs in sauté pan for about 4-6 minutes. Plate and serve.

HONEY ROASTED DUCK
Yields: 6 to 8 servings
INGREDIENTS
For the marinade:
1

½

cup orange marmalade
1 cup orange juice
4 cups water
2 tsp. white vinegar

½

Tbs. cracked black pepper
5 Tbs. ketchup
1 tsp. green peppercorns
For the duck:
2 4-pound Long Island ducks, thoroughly rinsed and patted dry

½

inch piece ginger, peeled and crushed
1 Tbs. peanut oil

½

cup minced shallots
2 tsp. garlic, minced
1 tsp. fresh ginger, minced
1 small onion, julienned
1 cup celery, julienned
1 cup carrots, julienned

½

cup sliced shiitake mushroom caps
2 Tbs. scallions, chopped including some of the green part
1 cup snow peas
4 sprigs of thyme
Coarse salt and freshly ground black pepper to taste
DIRECTIONS
To make the marinade, combine all ingredients into a saucepot. Heat to simmer and whisk together. Remove from the stove and add 4 sprigs of thyme. Cool in refrigerator. Once cool, pour into a deep, nonreactive container large enough to hold the 2 ducks. Add duck and marinate in refrigerator for at least 12 hours.
Preheat the oven to 325 degrees.
Remove the ducks from the marinade and place them on a wire rack in a roasting pan. Cover with aluminum foil and place in the preheated oven. Roast the ducks for 1 hour, or until the skin is crisp and an instant-read thermometer inserted into the thickest part reads 165 degrees. If the skin is not crisping, lift off the aluminum foil for the last 15 minutes of roasting.
Place the marinade in a small saucepan over medium heat and bring it to a boil. Immediately remove it from the heat and set aside. About 15 minutes before the ducks are ready, prepare the stir-fry. Heat the oil in a large wok over medium-high heat. Add the shallots and minced garlic and allow them to sweat for about 4 minutes, or until the vegetables are translucent. Add the minced ginger and sauté it for about 2 minutes, or just until the ginger has softened slightly. Add the onion, celery, and carrots and stir-fry them for 2 minutes. Raise the heat to high and add the mushrooms and chicken stock. Stirfry vigorously to help the liquid evaporate. Add about 1/4 cup of the reserved marinade and again stir-fry vigorously to deglaze the pan. Stir in the snow peas and remove the mixture from the heat. Stir in the chopped scallions along with salt and pepper to taste.
Using a chef's knife, cut the duck into eight pieces: 2 thighs, 2 legs, and the 2 breasts cut in half. Place a mound of the stir-fried vegetables into the center of each of six dinner plates. Place a piece of duck on top of the vegetables. Drizzle some of the reserved marinade around the edge of the plate and serve immediately.

CHEESECAKE LOLLIPOP TREE
Yields: 45 pops
INGREDIENTS
For the cheesecake:
3 packages (8 oz. each) cream cheese, softened
1 cup sugar
1 cup sour cream
3 Tbs. shortening
1 tsp. vanilla extract
3 large eggs, lightly beaten
45 lollipop sticks (4 inches long)
For the toppings:
12 oz white, milk or dark chocolate, depending on preference
1 cup graham cracker crumbs
white baking chips
grated coconut
grated chocolate
assorted sprinkles
chopped nuts
DIRECTIONS
Heat cream cheese, sugar, shortening and sour cream in a small saucepot over low heat. Once cream cheese mixture is melted, add vanilla. Remove from the heat and temper in egg yolk. Pour mixture into lollipop mold and refrigerate. If you do not have a mold, cool in a container until firm, then roll into balls.
Once cooled and solid, insert lollipop sticks. Melt the chocolate in microwave. Dip lollipops in melted chocolate or roll in graham crackers, shaved chocolate, nuts or other assorted toppings.