Butternut Squash Soup
Simple but perfect butternut squash soup recipe.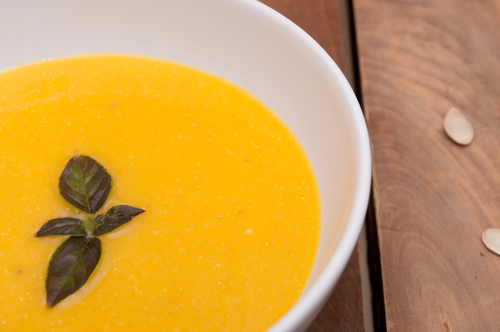 Easy and delicious, this soup is best during the fall and winter when squash is sweet and plentiful. Without any shortcuts, you can make this simple butternut squash soup with very little hands-on time in less than an hour. You can add some variety to this soup in a hundred different ways, from sprinkling it with cinnamon and brown sugar to spiking it with apple brandy and cayenne pepper. Serves 8.
INGREDIENTS
1 sweet onion, finely chopped
3 pounds butternut squash, peeled, seeded and cut into thumb-sized chunks
3 Tbsp good-quality butter
4 cups low-sodium chicken broth
2 sprigs thyme
1 cup heavy cream
Salt and pepper to taste
DIRECTIONS
Melt the butter in a soup pot over medium-low heat.

Add the chopped onion and saute for about 5 minutes.

Stir in the chicken broth, squash and thyme.

Bring heat up to simmer and then cover and cook for about 20 minutes (until squash is tender).

Remove thyme and use an immersion blender to puree until smooth (or remove from pot and puree soup in a blender).

After the soup reaches a smooth consistency, stir in the cream and bring the soup up to slow simmer.

Adjust thickness with broth or water as needed.

Immediately remove from heat.

Season with salt and pepper to taste.