Buzz
Our guide to new ideas, tips, trends and things we love in our county.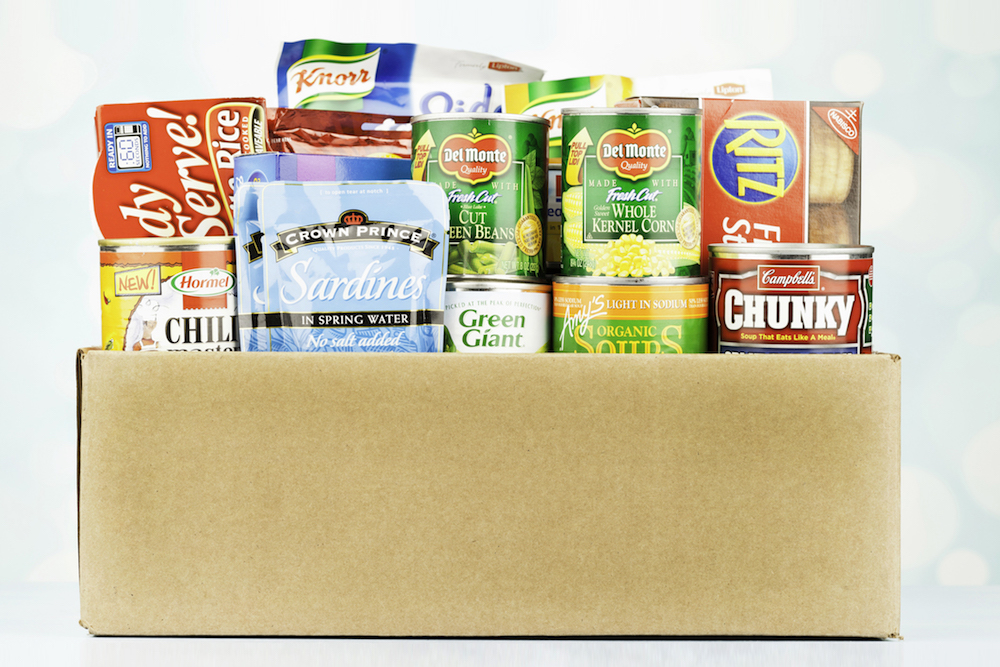 EAT, DRINK AND GIVE BACK
You've got food on the brain this Thanksgiving season, so why not help feed hungry neighbors? You can donate nonperishable items to one of the numerous food pantries and drop-off centers around Monmouth County. Here are a few of note:
BRADLEY FOOD PANTRY The almost 40-year-old pantry happily accepts donations of money, time or "shelf-stable food," with a particular need for pasta, beans, cereal, toiletries and diapers. Drop-offs are from Monday to Thursday from 10 a.m. to noon, or Thursdays from 6 p.m. to 7 p.m., and donations go toward those in need in mid-Monmouth shore towns.
Bradley Food Pantry, 605 4th Ave., Bradley Beach, 732.775.0161, bradleyfoodpantry.org
FULFILL With locations in Monmouth and Ocean counties, Fulfi ll is always in need of non-perishable food items, especially stuff like pancake mixes, canned tuna, canned veggies, soups, peanut butter and jelly and the like. You can volunteer to help pack bags or drop off items during business hours, which are Monday-Friday, 8 a.m. to 4 p.m.
Fulfill, 3300 Rte. 66, Neptune City, 732.918.2600, fulfi llnj.org
LUNCHBREAK This not-for-profit organization gladly accepts donations of non-perishable foods, as well as fresh produce and herbs. They also take seasonal clothing, toiletries and household items as well as business and special occasion attire. Drop-off hours are from 9 a.m. to 12:30 p.m. Monday-Friday, or on Saturdays from 9 a.m. to 12 p.m.
LunchBreak, 121 Drs. James Parker Blvd., Red Bank, 732.747.8577, lunchbreak.org

A MONMOUTH COUNTY FIRST
Welcome to the future, ladies and gents. NJ Transit recently applied to purchase three autonomous, self-driving shuttle buses—they resemble a monorail, are electric-powered, carry no more than 15 passengers and drive no faster than 15 miles per hour. And should NJ Transit get approved for the grant, the buses will be taken for their fi rst practice run in Fort Monmouth in Tinton Falls. If all goes well, these buses will then drive along fixed routes on public roads within the secluded, closed-off Fort Monmouth property (which was formerly used as a U.S. Army base) and then hopefully make their way to other streets and areas around New Jersey. As with most new technologies there are still many unknowns associated with these self-driving vehicles—for instance, how will one pay for their ride if there's no driver to collect fare?—but nonetheless, we're excited to see how it all transpires.
REDUCE, REUSE, RECYCLE
Red Bank may have recently banned single-use plastic bags, but Bradley Beach is taking its own approach to helping the environment—by recycling plastic bags curbside. The Shore town is the fi rst in New Jersey to have residents conveniently recycle plastic bags, fi lm and wrap by using special bins and a collection vehicle provided by SC Johnson. The pilot program began on Nov. 13 and runs until November 2020. How can you take part? Residents are being asked to put clean, dry plastic items into a plastic bag, tie the top of it and put the bag in the provided bin. Then place the bin next to your recycling bin on the date of collection, and let the Bradley Beach Department of Public Works do the rest!
KUDOS
MAKING NJ PROUD
The price is really right for one lucky The Price Is Right contestant. Mike Stouber of Freehold won a whopping $263,000 in cash and prizes in an episode that aired on CBS late last month, breaking the record for the most money ever won on the long-running daytime game show. The bulk of Stouber's winnings came during the "Plinko" portion of the game, where he won about $200K. He also went home with a luxurious trip to Fiji, a Nissan Sentra and an extra $30K or so in bonus prizes. Stouber's wife is urging her newly-rich husband to invest the money and use it to make a few minor improvements on their home, though if he had his way, he'd be a bit more frivolous with his purchases. "I'd probably buy a Ferrari," he told The New York Post. Well, Mike, as you wish!
IT 'S AN HONOR
Meanwhile, two Monmouth women are getting recognized for their longtime com-mitment to Family & Children's Service, our county's oldest social service agency. Community partners Tracey Wolfman, CEO of We Care Adult Care, and Deb-bie O'Donoghue, former board chair of Church & Dwight Employee Giving Fund, are the honorees at FCS' annual Leading Lights Gala, to be held later this month at the Navesink Country Club. The Long Branch-based group helps at-risk popula-tions in various states of need. Learn more at fcsmonmouth.org.
IN THE NAVY
One Monmouth County naval officer is making us proud
back home in the states. Long Branch native Lt. Anthony Moretti currently serves as a submarine electronics officer on the Submarine Squadron 15, a forward deployed vessel in Guam, where he leads a team of technicians. The son of two Army veterans, Moretti grew up near Fort Monmouth while it was an active Army base. "I learned the importance of chain of command and discipline," says Moretti of his roots. "Knowing what's expected of you in the military makes the transition easier."
PARKING OF THE FUTURE
Some of Monmouth County's older parking meters are getting a 21st century overhaul. Beginning early next year, Red Bank will replace all of its parking meters with, you guessed it, "smart meters," interim parking director Tom Calu revealed at a recent town hall pre-sentation. In addition to being solar-powered, these meters will accept fares via the mPay2Park app and "contactless" payment methods, in addition to good ol' coins, debit cards and credit cards. But don't worry, as the $250K cost for these meters ultimately will be covered by parking utility revenue. There also won't be any change in Red Bank's parking pricing at the moment, so rest easy, residents—and enjoy your town's technologically advanced perks!
CULINARY CORNER OPEN FOR BUSINESS
Sea Bright's Nauti Bar is no longer just for Driftwood Cabana Club "members only." Begin-ning last month, the bistro by famed New Jersey chef and restaurateur David Burke has opened to the public, which means regular folk can too enjoy a craft beer, a fire-oven made pizza and/or Burke's trademark bacon-on-a-clothespin while taking in the panoramic views of the Atlantic Ocean. The casual, bar-style menu caters to vegetarians too, and the outside area is heated in the winter. Win/win for everyone.
Nauti Bar by David Burke, 1485 Ocean Ave., Sea Bright, 732.530.2047, nautibardb.com
A BETTER-FOR-YOU BURGER?
It's not always easy to fi nd a decent fast-casual meal that's organic, and that's where Hearthly Organic comes in. The new spot at The Grove in Shrewsbury has a vast offer-ing of hamburgers, chicken sandwiches, breaded chicken bites, french fries and more in-dulgences that are made from fresh, organic ingredients. Bonus: They even have organic milkshakes! Does this mean they're guilt-free?
Hearthly Organic, 520 Broad St., Shrewsbury, 732.704.3447
NOT YOUR AVERAGE JOE
Sure, there are already tons of yummy pizza spots along the main drag in Asbury Park, but Joe's Rotisseria is different. The Roselle Park-based spot opened its first Shore location last month and sets itself apart from the competition with its insane offerings. We're talking a pork roll slice, chicken parm sliders and their trademark "triple threat," a pie made of pizza, stromboli and garlic knots. We're basically in line already.
Joe's Rotisseria, 504 Main St., Asbury Park, joes-rotisseria.com