Buzz
Our guide to new ideas, tips, trends and things we love in our counties.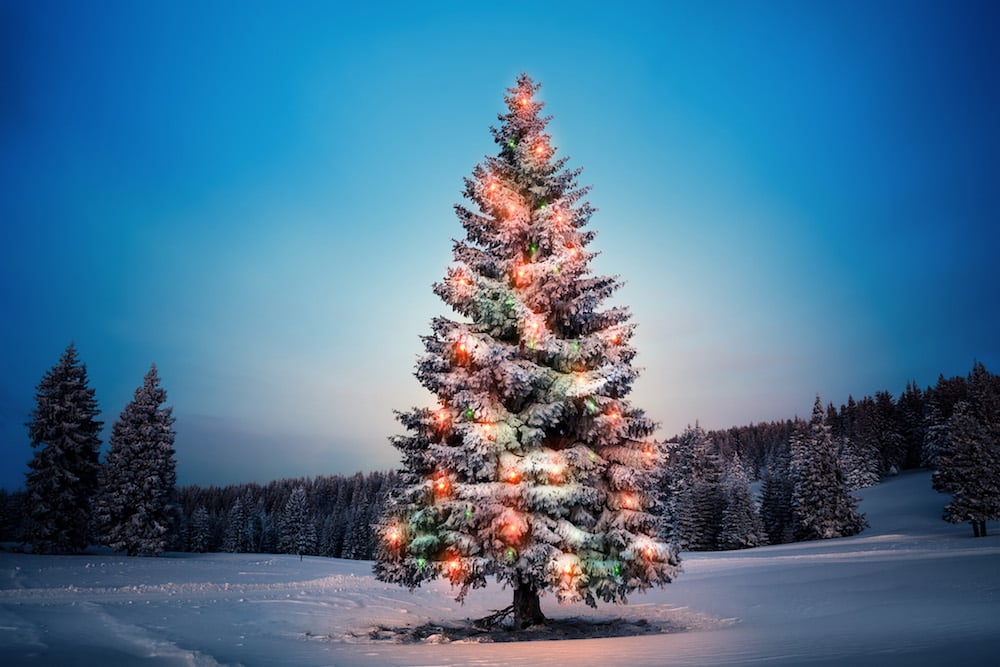 MERRY AND BRIGHT
Regardless of which holiday you celebrate in December, you can be merry with the stunning light installations that illuminate our counties' houses and businesses all month long. Here's a quick guide to some of the best and brightest light displays:
THE HOLIDAY LIGHT SPECTACULAR AT THE TURTLE BACK ZOO features dozens of animal and holiday- themed characters lit up for the holidays. The display is open daily from 5 to 9 p.m. throughout the holiday season but is closed on Christmas Eve, Christmas Day and New Year's Eve. Admission is FREE, but donations of nonperishable foods, new toys or gently used coats are always welcome.

Turtle Back Zoo, 560 Northfi eld Ave., West Orange, 973.731.5800, turtlebackzoo.com

THE CAMUSO FAMILY CHRISTMAS DISPLAY has been a holiday season staple in Livingston for more than 50 years, since Ernie Camuso of Burnet Hill Road, a toymaker by trade, began putting on the spectacle. Since his passing in 2010, the display has been "taken over" by the town and features thousands of lights, Santa and his reindeer and more at the Oval in the center of town. For the full schedule, check out camusodisplay. com.

7–9 Civic Center Rd., Livingston

THE MARINO PAZZINI CHRISTMAS ILLUMINATIONS is an over-the-top display at the Pazzini residence in Florham Park, featuring sparkling lights and lit-up fi gures that'll help the whole family get into the holiday spirit. The lights are turned on most evenings until New Year's from 5 to 11 p.m.

28 Deerfi eld Dr., Florham Park

GREATS OF THE GARDEN STATE
Let's hear it for the Morris and Essex County residents who were recently inducted into the New Jersey Hall of Fame. Held Oct. 27 at the Paramount Theatre in Asbury Park, the 11th induction ceremony honored three of our most famous neighbors for outstanding achievements in their fields: Seinfeld alum Jason Alexander, who hails from Livingston; lifestyle guru Martha Stewart, who grew up in Nutley; and Jerry Izenberg, a longtime sports columnist from Newark. Ticket sales benefi ted The Hall of Fame's fi rstever physical museum, set to be built in the American Dream mall a few miles north in East Rutherford and is scheduled to open in December 2020.

DIRECT FROM MILAN
Big shopping-related things are happening over in Short Hills, as Mountain Lakes designer Christina Lombardi has turned her Morris-County-based online store and temporary popup store for luxury women's shoes and handbags into a full-time brick-and-mortar operation. The Fashion Institute of Technology alum has set up shop in a retail space in The Mall at Short Hills that she may even turn into her business's permanent home. The shoes in her collections, from boots to sandals to pumps to mules, are hand-crafted at a factory in Milan and shipped directly to the Short Hills location. Check out her collections at christina-lombardi.com, or at her store at the mall on the upper level near Bloomingdale's.
Christina Lombardi, 1200 Morris Tpke., Short Hills, 212.658.0028; christina-lombardi.com

NEWARK'S NEW CHAPTER
Ladies and gentlemen, we'd like to introduce you to The Newark Museum of Art. After 110 years as The Newark Museum, the Washington Street institution and the Garden State's largest museum, offi cially rebranded itself last month in an attempt to put the emphasis on its nationally recognized art collection—while serving as a cultural hub in this vibrant New Jersey city. The museum features exhibits across the disciplines of art, science, technology and history, and plans to expand upon these offerings. It's open from noon to 5 p.m., Wednesdays through Sundays; admission is free for Newark residents.
The Newark Museum of Art, 49 Washington St., Newark, 973.596.6550; newarkmuseum.org

COMMUTERS ARE APPED TO APPROVE
As if commuting to Manhattan five days a week wasn't stressful enough, a shortage of parking spots near train stations in many North Jersey towns makes getting to work even more frustrating. Enter the Boxcar app, created by Cranford resident Joe Colangelo, which allows commuters to rent out nearby parking spaces from nonprofits, parking lots or personal residences without the hassle. Dubbed "the Airbnb of parking," Boxcar lets you book a spot in advance for the exact time and place that you need it, and 75 percent of the profits go to the property owners. Boxcar has offices in Chatham and Newark and currently operates in Chatham, Glen Ridge, Madison, Millburn, Montclair, Morristown and Summit—with more towns to come.

A PARSIPPANY FIRST
After years of talks, Parsippany Whole Foods is officially open for business. The Waterview Marketplace store that opened last month is the 21st Whole Foods location in New Jersey, but it's bringing its own set of firsts. It's the first to offer an in-store fast casual restaurant called Market Corner, as well as the first to have "make-your-own" stations for acai and poke bowls. Traditional offerings such as pizzas, sandwiches and sushi will be available for purchase too. Check out the new digs at Waterview Marketplace, alongside Paper Store, Ulta, DSW, Orangetheory Fitness, B.Good, MedFirst, Shake Shack and Homesense.
Whole Foods, 60 Waterview Blvd., Parsippany–Troy Hills, 862.286.2777
YOU CHOOSE THE AREA'S BEST
It's that time again! Online voting for next year's Readers' Choice Poll opens on Jan. 13. Visit msxhealthandlife. com/readerschoice2020 and let us know all of your favorite places and things in the county, from bars to boutiques, dinner spots to day spas. Winners will be revealed in our Sept. 2020 issue, so stay tuned!

CULINARY CORNER
NOODLE NEWS
Ani Ramen has opened its fifth New Jersey location—its third in Morris and Essex counties— right in the heart of Maplewood. Offering up its signature noodles, shrimp buns and glazed chicken wings made popular by the Montclair and Jersey City locations, the Maplewood spot provides an all-around great dining experience in its 1,550-square-foot, 75-seat restaurant. For an extra Jersey touch, the walls here are adorned with a mural by acclaimed artist Rich Tu, a proud Filipino-American and New Jersey native.
Ami Ramen, 149 Maplewood Ave., Maplewood, 973.996.2694; aniramen.com
MADISON ARTISAN
Got pizza on the brain? Try the area's newest Italian spot, Tino's Artisan Pizza Co., located in Madison. It specializes in artisanal pizzas, salads, sandwiches and pastas, all made with organic ingredients and without artificial preservatives, colors, sweeteners, flavors or hydrogenated fats. Finally, pizza you can feel good(ish) about.
Tino's Artisan Pizza Co., 6 Main St., Madison, 973.845.6330; osteriaprocaccini.com
A CAPITAL IDEA
Gastropub Capital Craft, one of the newest additions along Route 10, has a little something for every craving, from pizzas to steaks to burgers to fish entrees. But the biggest appeal here is the beer menu, with 24 brews on tap rotating out daily, along with happy hour specials and regular beer tastings and other events.
Capital Craft, 138 Route 10, East Hanover, 973.585.6929; capitalcraftnj.com

A RESTAURANT'S STAR TURN
If you noticed some, well, differences during a recent visit to Dante's Italian Cuisine in Rockaway, you're not imagining things. The familyowned pizzeria was featured on the Nov. 5 season premiere of CNBC series The Profit. Host Marcus Lemonis declared himself a big fan of the food, but offered the father-and-son owners some tough love about how to improve management skills. Lemonis also gave the Alario family a $30K interest-free loan to go toward upgrades such as a more functional kitchen, furniture and a more appealing exterior. The restaurant had its grand reopening in September; check it out to see what all the hype is about.
Dante's Italian Cuisine, 488 Mt. Hope Rd., 973.983.9393; dantesitaliancuisine.com