BUZZ
OUR GUIDE TO NEW IDEAS, TIPS, TRENDS AND THINGS WE LOVE IN OUR COUNTIES.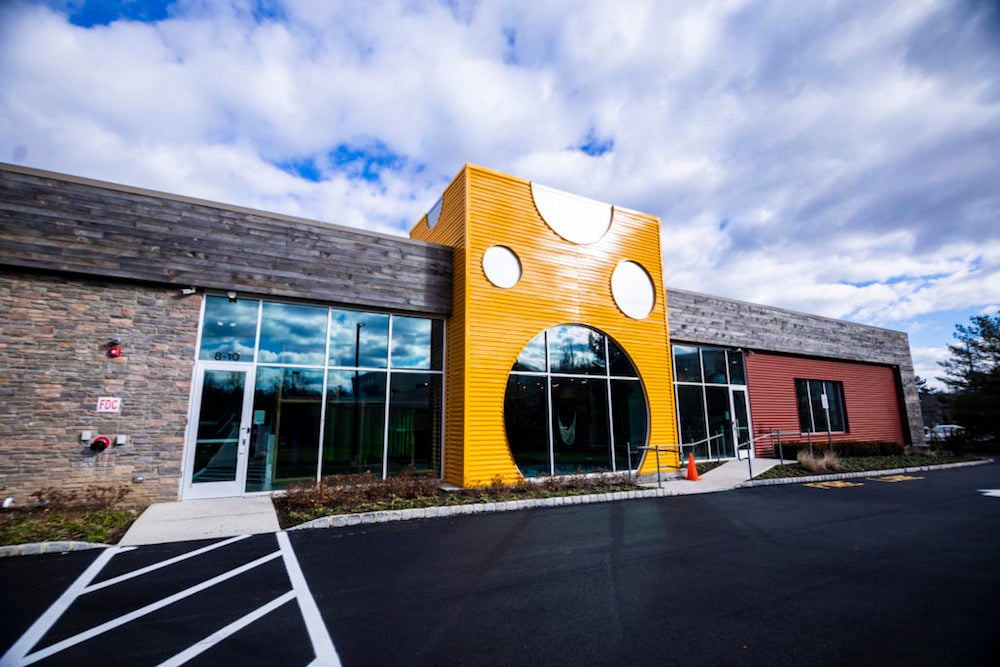 HIP, HIP, HOORHAYRIDES
Is it even really fall if you don't take at least a sip of a pumpkin spice latte or enjoy an Instagram-friendly day picking apples or taking hayrides? We can at least help you out with that last one as thankfully, many farms and nurseries in Essex and Morris counties are hosting hayrides for the whole family throughout the duration of the season. Here's where to go and when:
ALSTEDE FARMS: Enjoy a "Harvest Moon Hayride" at this Chester spot, where visitors take a hayride to the corn maze with a stop at the pumpkin patch along the way on Friday, Saturday and Sunday nights from 6 to 10 p.m. Fresh-pressed apple cider and live music are included in the experience; food, snacks and pumpkin picking are available for a nominal fee.

Alstede Farms, 1 Alstede Farms Ln., Chester, 908.879.7189, alstedefarms.com

BROOKHOLLOW'S BARNYARD: This Boonton farm puts a fun twist on a regular ol' ride through the orchards with zombie paintball hayrides Friday and Saturday nights throughout October. Riders have the chance to shoot 20 paintball guns mounted along the sides of the tractor at fixed targets, skeletons and pop-up zombies. Photo ops with "real" zombies and refreshments are also available.

Brookhollow's Barnyard, 301 Rockaway Valley Rd., Boonton, 201.917.3060, brookhollowsbarnyard.comn

CONKLIN FARM: This pick-your-own farm has regular hayrides as well as a Haunted Hayride on weekends from 11 a.m. to 6 p.m. where zombies and other spooky creatures will try to catch you off guard. The ride is recommended for the teen set, but everyone (except for kids under age 8) is welcome!

Conklin Farm, 65 River Rd., Montville, conklinfarmupick.com

FAIRFIELD FARMS & GREENHOUSES: Fall is the time to be at this farm in Fairfield, as now is when it pulls out all the stops—fruit and pumpkin picking, a kid-friendly corn maze, farm animals and of course, hayrides for the whole family. Weekend hayrides start at 10 a.m.; weekday hayrides run from 1 to 5:30 p.m. (with the mornings reserved for private parties).

Fairfield Farms & Greenhouses, 77 Big Piece Rd., Fairfield, 973.227.1011, fairfieldfarms.net

STONY HILL FARM: Take a hayride around the farm (available on weekends only), and while you're at it, partake in the Chester locale's other fall activities, like a trike race, rope maze, mini corn maze, a tile maze and pick-your-own.

Stony Hill Farm, 15 North Rd., Chester, 908.879.2908, stonyhillfarms.com

​CULINARY CORNER
A NEW NEIGHBORHOOD HANGOUT
Livingston has tons of retail stores and restaurants, but what it's been lacking is a decent coffee shop that's not a chain—until now. The grand opening of Twisted Tulip, a new cafe that's already becoming a popular hotspot, sells caffeinated drinks and snacks with locally sourced ingredients—they're partnering with local bakeries for baked goods, and the lavender used in their lavender syrup is picked from the manager's garden, for example. They also emphasize a sense of community, where the staff knows each customer by name and then some. We're in.
Twisted Tulip, 277 Eisenhower Pkwy., Livingston, 973.369.7142, twistedtulipnj.com
TO THE MOON
It's out with the old and in with the new at Highland Place in Maplewood—Italian restaurant Luna Stella has finally opened where the former Highland Place steakhouse used to be. In addition to an aesthetic overhaul, the menu also was redone—it now offers delicious bites such as seafood salad, roasted mushroom crostini and grilled octopus with a pancetta vinaigrette. Customers can also sub in gluten-free pasta for any pasta entrée. Pro tip: the "Stella Spritz" is one of the best cocktails on the menu.
Luna Stella, 5 Highland Pl., Maplewood, 973.761.7600, restaurantlunastella.com
SHE'S A SOUL WOMAN
What has the culinary community in Morristown been missing all these years? A soul food restaurant, that's what. Enter Sandi's. Sandra "Chef Sandi" Rogers has opened her self-titled soul food restaurant in downtown Morristown, where she instills the cooking traditions and techniques she learned from her grandmother. Menu items include classics such as collard greens, fried chicken, catfish, whiting, candied yams and grits, plus specials such as fried salmon, stewed chicken and chicken lasagna.
Sandi's, 82 Speedwell Ave., Morristown, 862.242.8088, sandissoulbites.com

A CELEBRITY IS COMING TO TOWN
Montclair native Stephen Colbert is a regular at the township's annual Film Festival, and this year he's bringing a very familiar face along. Julia Louis-Dreyfus, aka Elaine from Seinfeld and Selina from Veep, will be the comedian's special guest at the 9th Montclair Film Festival fundraiser. Both stars will bring their comedic brilliance to the stage at the New Jersey Performing Arts Center (NJPAC) in Newark at 8 p.m. on Saturday, Dec. 7. Tickets are available now at njpac. org and range in price from $79 to $250; funds go toward Montclair Film and its year-round community art and theater programs. See you there!
KUDOS
IN THE NAVY
With hopes of serving and starting a rewarding career, East Hanover native Warren Lee enlisted in the U.S. Navy. Lee, who graduated in 2015 from Oratory Preparatory High School in Summit, is currently based in San Diego, where he is learning leadership skills in the intensive Basic Division Officer Course and training to become a surface warfare officer. "Growing up, I learned the value of teamwork, being humble and leadership," Lee says of his Morris County beginnings. "Serving in the Navy means I am part of something that is bigger than myself and I'm able to contribute to the mission of the Navy."
GIRL BOSS
Talk about girl power. The Morris County Sheriff's Office has assigned Kelley Zienowicz as its new chief sheriff officer, the highest rank in the Sheriff's Office Bureau of Law Enforcement. In her new role, Zienowicz will be in charge of overseeing all four divisions within the Bureau of Law Enforcement: Support Services, Protective Services, Legal Services and Special Services. Zienowicz began as a clerkist intern, eventually making her way up to an investigator, sergeant and then detective lieutenant. She's won many accolades throughout her career, including the New Jersey Women in Law Enforcement Breaking the Glass Ceiling Award.
WELCOME TO TOWN, LIFETOWN!
Many New Jersey towns are building all-inclusive and accessible playgrounds so kids with special needs and disabilities can partake, but Livingston is going above and beyond. The town has unveiled LifeTown, a 53,000-square-foot indoor warehouse that helps special needs children and adults learn basic life and vocational skills. The $19 million facility, spearheaded by local nonprofit Friendship Circle, features a simulated and hands-on bank, grocery store, doctor's office, bookstore, salon and more, offering visitors training and experience they wouldn't get in the real world. Other amenities include an aquatic center, a bowling alley, a theater, a gym, a sensory lounge, a "therapeutic activity wing" that resembles a park and a parents' lounge, all of which are accessible. Mayor Al Anthony, representative Mikie Sherrill, U.S. Sen. Bob Menendez and various council members have already visited the facility that was years in the making, and now the public can enjoy it too.
LifeTown, 10 Microlab Rd., Livingston, 973.251.0200, lifetown.com.

THE SCOOP ON YOUR COMMUTE
Commuting from here to New York City isn't always great, but at least now we can have a heads-up about, well, just how not great it is. Governor Murphy stopped by Montclair's Bay Street Station in August to sign a new executive order requiring that NJ Transit become more transparent with customers about its performance. The first step: releasing easily accessible monthly reports to the public on its website that lists delays and cancellations and the reasoning behind them (manpower, trespassers, mechanical failures, etc.). October is the first month these reports are available, so check out your route on njtransit. com. Let's hope new transparency comes with better reliability.

STATE OF HAPPINESS
Complain as you will about the high cost of living and the traffic, but it turns out New Jersey is a pretty darn great place to live. In fact, WalletHub has ranked us as the fi fth happiest state in the U.S. in its official 2019 ranking. All 50 states were judged on criteria such as emotional and physical well-being, work and community environment, as well as things like adult depression rate, hours worked, divorce rate and income. New Jersey probably would've nabbed No. 1 if factors like beaches and pizzerias were also considered, but hey, there's always next year.

SETON HALL MAKES THE GRADE
U.S. News & World Report has released its 2020 rankings of Best Colleges, and South Orange's own Seton Hall University made the list. The private Catholic school placed No. 139 out of 400 universities, and we're in good Garden State company—New Jersey's Princeton University is No. 1, while Rutgers University in New Brunswick is No. 62.