Café Mobay
The flavor of the caribbean coe alive at the bloomfield's new Jamaican hot spot.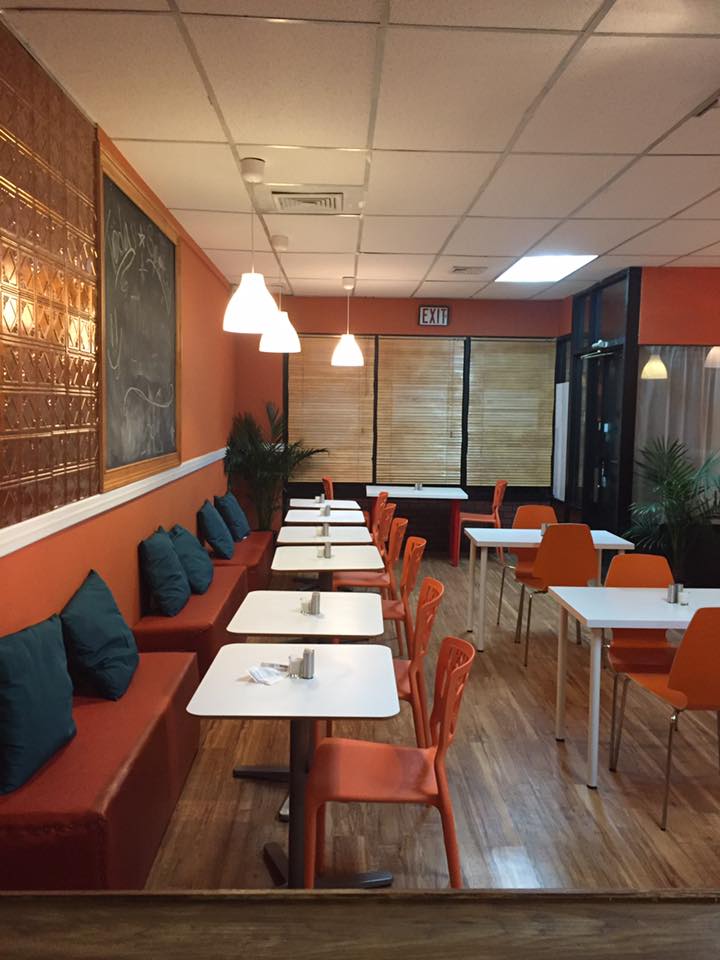 Café Mobay give off a subdued first impression, from its northern Bloomfield storefront (their signage is barely lit in the evening) to its simple launch page online. But that's about all that is understated at this Jamaican establishment: Once you walk inside, you'll discover that the restaurant does live up to its Montego Bay namesake.
The mood instantly changes indoors. Your eyes are blasted by iridescent tropical colors (think luminous oranges and blues), while a rotating medley of reggae fusion and Jamaican folk music boosts the ambience. And then there's the delightful menu, a curated selection of Caribbean comforts that, when served, are plated like a Michelinstarred establishment. My dining companion and I started with salt fish fritters, four lightly battered and fried cod cakes flavored lightly with West Indian spices and a zesty honey ginger sauce. Our second appetizer, mango shrimp, was just as palatable. Each of the five jumbo shrimp was cooked just right and dressed with a sweet Jamaican barbecue glaze, fresh mango, onion and parsley.
After wrestling with different entrée options (mostly the braised oxtail), I ordered the curry goat stew—and the dish didn't disappoint. While not as widely celebrated as beef and chicken in the U.S., goat is rising in popularity thanks to the influx of different cultures and restaurants in key neighborhoods (Montclair, for example). And Café Mobay's version of this classic Jamaican dish is an absolute must-try for all tastes: The slow-cooked goat is tender to the bone and picks up flavor from the peppers and mild curry sauce. Though delicious when forked on its own, the chunks of lean meat are played up even more when combined with the accompanying white rice and steamed cabbage.
Having never tried Jamaican cuisine in the past, my friend ordered jerk chicken at my suggestion. This fragrant and fiery dish is a staple on any Jamaican menu, and it's a memorable one at Café Mobay. A generous portion of smoky, sweet and savory (yes, all three!) chicken is served over two whole plantains and a side of coconut rice. "There are so many flavors, none of which overpowers the other," my companion said. Café Mobay can alter the level of spiciness for every plate, so she didn't need a glass of fresh pineapple juice for relief—but she ordered one (and savored it) anyway.
You won't find an expansive dessert menu here, but every diner should save room for a pair of gems: the hot bread pudding and homemade peach cobbler. Each was served with soft vanilla ice cream that quickly melted into the bowls, adding a rich, creamy flavor to the sweet treats. I gravitated toward the bread pudding, which got better with every bite. And the same could be said about the cobbler which, after every spoonful, drew very audible sighs of satisfaction from my companion.
The restaurant's overall cozy and friendly environment is matched only by the gourmet-style food that's served. Though Italian, Greek, Chinese, Japanese and Indian cuisines might have a stronghold on one's dining-out rotation, Café Mobay will make many consider adding it to the cycle. —Darius Amos
Café Mobay, 1039 Broad St., Bloomfield, 973.337.8460, cafemobaybloomfieldnj.com