Canadian Cool
You can count on Toronto to be clean, safe and orderly—now it's surprisingly hip too!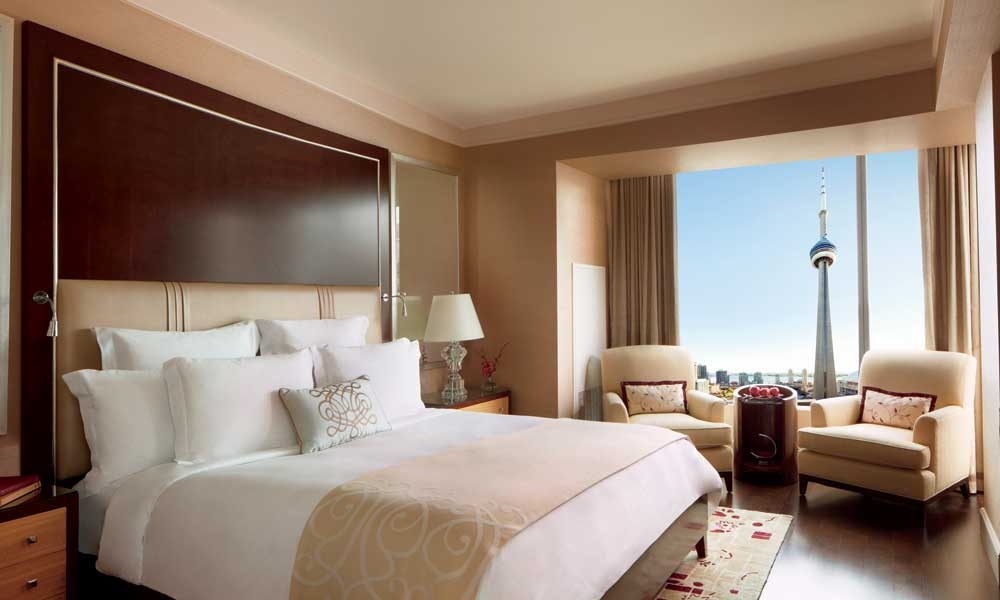 Tuhrrono, eh? That's what locals say on hearing that in recent years their modest city, long known for cleanliness, tolerance and safety, has become a hip hotspot — stylish and cosmopolitan. (For those who don't speak Canadian, that's a colloquial rendition of the name of the city followed by the trademark interjection of the great white north.) There's no better place to witness that evolution than at the Ritz-Carlton, a hotel that's a veritable poster child for genteel sophistication
Mixing the brand's famous service and style with native flourishes gives the R-C a unique appeal. Bronze maple leaves are embedded on the lobby floor, and more than 450 pieces by Canadian artists are displayed in guest rooms and public areas. gorgeous, one-of-a-kind chandeliers by Jeff Goodman, a native son, cast a welcoming glow on the lobby area. some 263 rooms feature a full-length wall of windows overlooking Lake Ontario or the city, tasteful décor (think subdued gold tones, grass-cloth wallpaper and comfy, contemporary furniture), plump bedding and pillows. huge bathrooms with heated marble floors and a TV embedded in the mirror provide the perfect excuse for morning dawdling
If you're a club-level guest, one assigned to rooms on floors 18–20, you'll check in privately at the lounge on the 20th floor, where you'll be assigned a personal concierge. There too you'll find complimentary food and drinks all through the day. we found ourselves stopping by several times during our visit for fresh fruit, just-baked goodies and Starbucks in the morning; cocktails and hors d'oeuvres before dinner; and dessert and a nightcap in the evening. The staff even saved the day by offering to stir up a Bloody Caesar—a Canadian concoction of vodka, Clamato juice, hot sauce and Worcestershire sauce served with ice in a celery salt-rimmed glass—when i realized I'd forgotten to try one
Make time for a meal at TOCA, where a staff trained by consulting chef Oliver Glowig (when in Rome, check out his eponymous Michelin two-star eatery) serves up Italian cuisine that combines foods from that nation with locally sourced ingredients. There's a friendly ruckus at this restaurant weekend nights, but the acoustics let you take it all in good fun, and the semi-circular banquettes ensure privacy- (George Clooney and Brad Pitt were spotted here during the Toronto international Film Festival.) if you're more of an exhibitionist, there's a chef's table in one of the kitchen's nooks. and the glass-encased cheese cave beckons diners to get a look at (and whiff of) a rotating selection of 200-plus cheeses from around the world (a Valencia goat cheese was scrumptious), though most of them are local. (Maple syrupand-whisky-infused cheddar? This is Canada, after all; and it's good!)
You can't leave the city without tasting Toronto's signature dish: peameal bacon on a bun. Basically, it's cured, trimmed, boneless pork loin rolled in ground yellow peas or cornmeal. Purists insist on eating it sans condiments, but others add mustard or ketchup for an extra zing.
Even if you don't believe the early bird catches the worm, do get an early start exploring the city by heading to the St. Lawrence Market (you can get peameal bacon here), ranked the world's best by National Geographic. Here you'll score fresh fruits and meats and locally made handicrafts. Also worth seeing is Kensington Market, really a bustling, bohemian neighborhood with cool cafes and stands selling organic everything.
It's Toronto's tree-lined neighborhoods, a rich patchwork of diverse cultures that reflect the large immigrant population (it's the second most immigrant-rich city in the world after Miami), that make the city feel like a string of villages, each with its own character. In addition to Chinese, Greeks, Italians and Portugese, there are large numbers of Indians, Pakistanis and West Indians adding to the melting pot.
Hit the heights by taking the iconic CN Tower's glass-bottom elevator more than a thousand feet up. Then change elevators and zoom up another 465 feet for stunning views of Lake Ontario. On a clear day, you can see Rochester. Not quite so high up is the dramatically curving sculptural staircase that rises through a glass ceiling from the second flor to the fith flor of the Art Gallery of Ontario, the brainchild of celebrity architect and Torontonian Frank Gehry. And the Distillery District, a well-preserved Victorian industrial site where half of Ontario's spirits were produced in the 1870s, is now home to high-end boutiques, galleries and bistros plus beer and sake breweries.
All that exploring might make you yearn for some pampering. (It did me.) Ah, the spa at the Ritz-Carlton. Called Spa My Blend by Clarins, it's a restorative sanctuary that blends seamlessly with the happenings downtown courtesy of floor-to-ceiling windows offering cityscapes. The locker room features digital key codes (bye-bye, telephone-cord wristlets), and the "relaxation lounge," where I waited for my therapist, boasts oversize chaises, a tea-bar full of exotic teas and a "tester" station of Clarins products. When the 90-minute Floating on a Cloud treatment started with a salt-and-sugar scrub for my tired tootsies, the perfectionist in me inwardly shouted hooray.
Soon after, Salvatore, an architect-turned-massage-therapist, gently but firmly untangled the knot in the left side of my cramped neck. The treatment was so relaxing, in fact, that I found myself drifting off to sleep. Thankfully, I only dozed for a few minutes—I wanted to savor every moment of this pampering. And who says all spa products are alike? I swear my skin felt nourished for the next few days.
Come to think of it, the rest of me felt nourished too. Tuhrrono, eh? Who knew?