Cancer Fighter
A radiation oncologist applies his field's cutting-edge technologies - when they're right for the patient.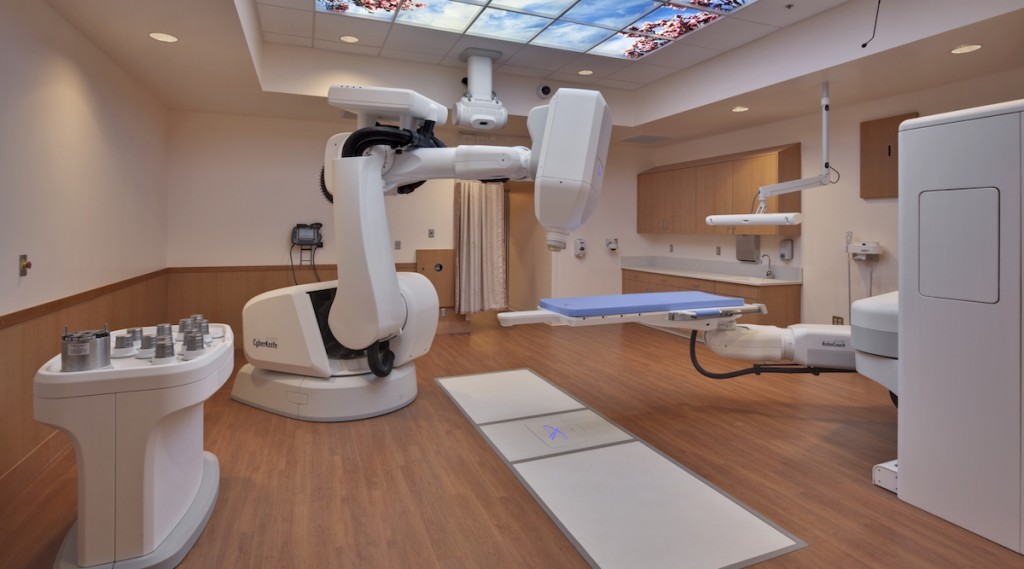 IF YOU THINK RADIATION TREATMENT IS always an adjunct or a follow-up to surgery, your thinking needs an update. For certain patients with early-stage lung cancer, says David Huang, M.D., a board-certified radiation oncologist at Saint Barnabas Medical Center, a treatment called stereotactic body radiation with an advanced tool called the CyberKnife "can offer an alternative to surgery with the intent to cure."
That's important, he says, because this approach may be a safer choice than surgery for patients with poor lung function or older patients who aren't likely to tolerate the anesthesia required for an operation. "Results are comparable," says the doctor.
When Dr. Huang, 48, joined the medical center's staff this year, he brought with him top-flight skills and deep experience in radiation oncology techniques. A graduate of the University of California–Berkeley with a major in molecular and cell biology and an emphasis on neurobiology, Dr. Huang earned his M.D. from Loyola University Chicago Stritch School of Medicine in 1996, then completed an internal medicine internship at California Pacific Medical Center in San Francisco and a residency in radiation oncology at the University of Southern California Medical Center in Los Angeles. He has also been a clinical instructor at the University of California–San Francisco, specializing in managing central nervous system tumors and disorders. Dr. Huang was in private practice in Los Angeles for 15 years, and before coming East he served as co-medical director of the Gamma Knife Center and medical director of the Department of Radiation Oncology, both at Good Samaritan Hospital in downtown Los Angeles. Dr. Huang is pleased that Saint Barnabas Medical Center offers state-of-the-art devices such as the CyberKnife. "The technology we have here is cutting-edge," he says.
But it isn't just the technology that impresses him. "The quality of care here is exemplary, and the staff has integrity and a great work ethic," he says. This is an environment in which clinicians collaborate to determine what treatment is best for each individual patient and to provide it when it's appropriate.
"We bring all the disciplines together in a Tumor Board to discuss each new patient with a cancer diagnosis," says Dr. Huang. "We review the images and the pathology and decide together—surgeons, oncologists and radiation oncologists, drawing on evidence-based guidelines whenever possible—whether we can offer a treatment, and if so, which treatment plan is best."
Radiation therapy has progressed dramatically in recent years. In the article below he explains some of the latest advances.

Morris/Essex Health & Life recently spoke with board-certified radiation oncologist David Huang, M.D., of Saint Barnabas Medical Center.
First, to be clear, what they call "stereotactic radiosurgery" isn't really surgery, right? The word is just a way of describing the precision of the radiation delivery.
That is correct. Stereotactic refers to a system that makes use of three-dimensional coordinates to locate small targets inside the body and to perform on them some action, such as focused radiation treatment.
What treatment do you provide most often?
At one time a stereotactic radiosurgeon dealt with mostly brain tumors, because only the skull could then be fixed firmly enough in place to prevent movement that might allow radiation beams to harm healthy tissue. Today, while we still treat brain tumors, we're also able to use tools like the CyberKnife on tumors of the lung, spine, prostate and other sites as well, because we can track and compensate for the body's movements—breathing, for example—and know that we're right on target. I'd say one-quarter to one-third of my practice today is lung cancer.
Your bio mentions "conformal radiation therapy." What's that?
As its name implies, it's an effort to make radiation beams conform to the shape of a tumor.
Computer technology has improved so that we can actually rotate these beams to different angles. Now we're able to shape the radiation beam so that it "paints" the radiation where we want it to be. With a technology called IMRT—intensity-modulated radiation therapy—we can use different angles, and the machine moves lead-like leaves in and out according to the computer plan to block a certain percentage of the beams from whatever structure we're trying to protect. It concentrates brightness in one area and darkness in another.
IMRT isn't new, is it?
It's been around for more than 15 years, and by now most every radiation oncology department in the country offers it. But IMRT has been improved, and there's a newer tool called IGRT—image-guided radiation therapy. Here we take a three-dimensional CAT scan picture each time of the area we're about to target. That's in place of marking the patient's skin as we once did. X-rays can tell us if the bones move, but the fact is that organs also move—if you eat or drink too much or pass gas, for example, the prostate can be in a slightly different position. IGRT helps us be sure we're pointing at the right place. And there's one more feature that is still newer, which we're very excited about.
What's that?
It's called surface-guided radiation therapy, and the brand name for the system Saint Barnabas Medical Center acquired just a few months ago is VisionRT. This tool actually tracks the surface of the skin in real time so that we know, for example, if the patient is breathing deeply. We use it in breast cancer cases to treat the left breast, which is close to the heart. It employs a special light tracking device with a 3-D camera, and it will only deliver radiation if the patient's breathing is such that the heart stays out of the radiation field. Soon we will probably begin using it for lung cancer patients too.
What about seed brachytherapy for prostate cancer?
We still offer it, and for some patients with high-risk, aggressive cancers we still recommend it, because implanting seeds can deliver a very high dose of radiation. But there has been less demand for this treatment in recent years because it is more invasive and tends to produce more side effects than newer technologies such as the CyberKnife.
What does the public need to understand better about radiation treatment for cancer?
Our treatment is more accurate than ever, thanks to tools like the IGRT. We provide the best care possible, following a multidisciplinary discussion on every patient. And when it comes to radiation therapy, we have the most sophisticated technologies to offer—as we work closely with our colleagues, the oncologists and surgeons.
TO LEARN MORE ABOUT RADIATION ONCOLOGY AT SAINT BARNABAS MEDICAL CENTER, CALL 973.322.5630, OR VISIT RWJBH.ORG/SBMCCANCER. TO SHARE THIS ARTICLE WITH A FRIEND OR TO RECOMMEND IT ON YOUR FACEBOOK PAGE, VISIT MSXHEALTHANDLIFE.COM.