Cancer-Fighting Team
In the battle against gynecologic tumors, two well-matched physicians combine skill with compassion.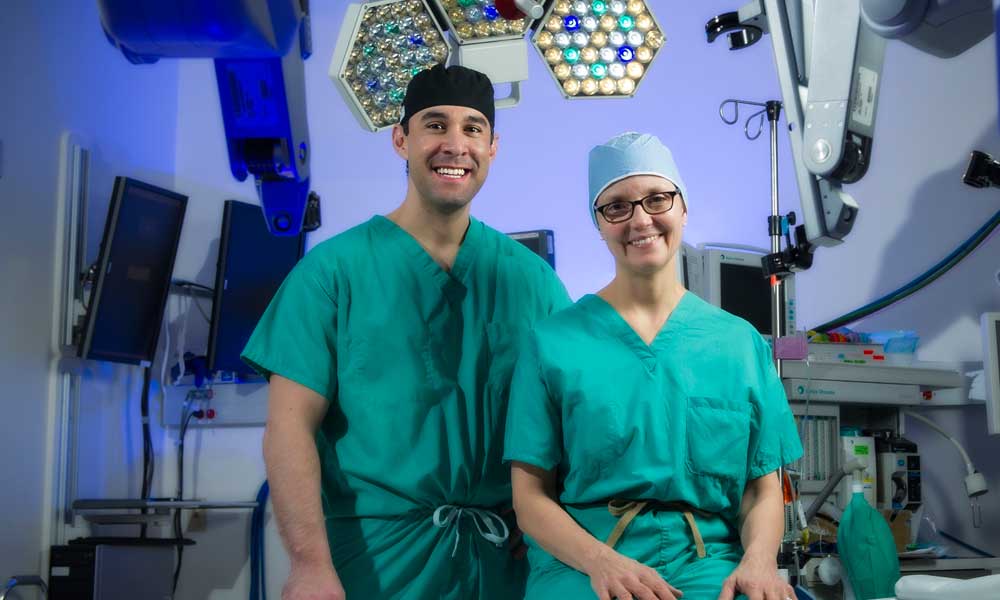 "You can't make the word 'cancer' less scary," says Marie Welshinger, M.D., a gynecologic oncologist with Saint Peter's Healthcare System. "But you can help women understand it and make them feel as comfortable as possible while treating it."
That sums up the philosophy she and her partner, Michael J. Worley, Jr., M.D., follow when caring for patients at their office on Easton Avenue in New Brunswick. The two doctors, leading experts in the treatment of female reproductive cancers, joined the healthcare system's network of Saint Peter's Physician Associates last August.
Dr. Welshinger, a former clinical and research fellow at Memorial Sloan-Kettering Cancer Center in Manhattan and formerly chief of gynecologic oncology at New York Hospital, Queens, is boardcertified in obstetrics and gynecology and gynecologic oncology. Dr. Worley completed a fellowship at Brigham and Women's Hospital/Harvard Medical School in Massachusetts and before that was a resident at New York Presbyterian Hospital/Weill Cornell Medical Center.
The two doctors have more than their initials in common. As a resident, Dr. Worley sometimes rotated at New York Hospital, Queens, where he often came into contact with with Dr. Welshinger.
"I love working with Dr. Worley," she says. "When he was a resident, he was the nurses' favorite. He's smart, he's a good surgeon and he never loses his temper. Patients love him."
Dr. Worley was hired by Saint Peter's first, and when the hospital began looking for a more senior physician to join him, he was thrilled to learn she was the choice. "She's wonderful," he says. "I enjoyed working with her as a resident, and I knew she would be an excellent senior mentor to me."
Both doctors have extensive experience in minimally invasive surgery, often using the da Vinci® Si™ Surgical System, with which surgeons perform complex and delicate robotically assisted procedures through small incisions just 1 to 2 centimeters in size. The benefits of laparoscopic and robotic surgery can include significantly less pain, blood loss and scarring, shorter recovery time and a faster return to normal daily activities.
Gynecologic cancers affect a woman's reproductive organs: cervix, fallopian tubes, uterus, ovaries, vagina and vulva. "We have several ways to treat these cancers and when choosing the appropriate technology—open, laparoscopic or robotic surgery—we tailor our approach to the cancer, the procedure and the patient," Dr. Welshinger says.
With endometrial cancer, on the other hand, "the biggest benefits are usually seen with minimally invasive surgery, either laparoscopic or robotic," Dr. Worley says. "When women have this cancer, they often have other medical problems too, and minimally invasive techniques limit complications and trauma to the body. We are both highly trained in all minimally invasive approaches."
Besides performing cancer surgery on the reproductive organs, the two gynecologic oncologists are also trained in procedures on the other organs of the pelvis and abdominal area. "We do complex, benign gynecologic cases that are outside the scope of general gynecologic surgery," Dr. Worley says. For such demanding surgeries, specialists like these two doctors have years of surgical training that general gynecologic surgeons lack.
Both doctors understand that their surgical skills are only part of the story. Bedside manner is also critically important. "There are often a lot of unknowns at the beginning, and it's especially important how you present information to patients," Dr. Worley says. "You always have to be optimistic but truthful, and it's essential to treat patients with compassion as you guide them through a tough time."
Dr. Welshinger concurs. "When patients come in they are anxious and nervous, whether they have a known cancer or a possibility of cancer or are not sure what they have," she says. "We treat every patient as if she were a member of our family. We always remember: It's not just an operation, it's a person."
Dr. Marie Welshinger, M.D., and Michael Worley Jr., M.D., are seeing patients at 78 Easton Ave., New Brunswick. They can be reached at 732.828.3300.