Care at Your Convenience
Facility for primary care and behavioral health services now open in Neptune.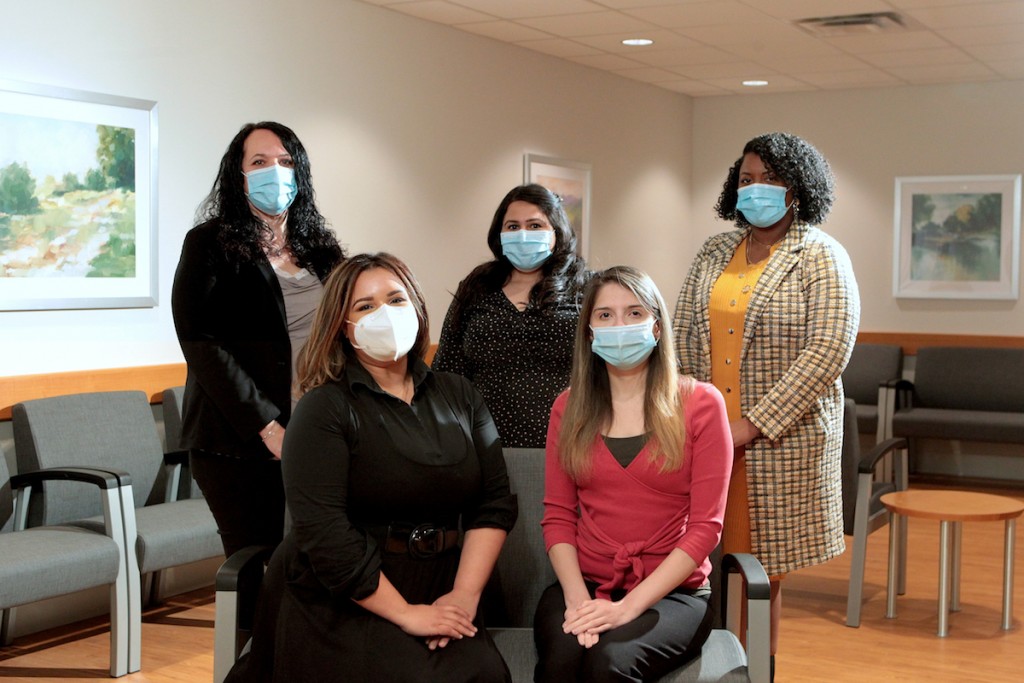 RWJBarnabas Health Medical Group, together with Monmouth Medical Center (MMC), has expanded comprehensive patient services by opening a new location at 3301 Rte. 66, suite 120, in Neptune. The site includes primary care, behavioral health services and onsite laboratory services.
"Building upon the high-quality care provided by RWJBarnabas Health Medical Group and Monmouth Medical Center, this new Neptune location offers convenient access to needed primary care and behavioral health services," says Eric Carney, president and CEO of Monmouth Medical Center and Monmouth Medical Center, Southern Campus. "We are committed to delivering highly compassionate and accessible care to our community."
Family medicine physicians Kathleen Carpio, D.O., and Melissa Gonzalez, M.D., both affiliated with MMC, will provide primary care services. Dr. Carpio has a special interest in diabetes, sleep medicine, depression, anxiety and musculoskeletal conditions. Dr. Gonzalez's clinical interests include family medicine and women's health.
"I was trained based on a philosophy of comprehensive care, where you are committed to the person, rather than to a body of knowledge or disease," says Dr. Gonzalez, who earned her medical degree at Ross University School of Medicine and completed residency training at Mountainside Medical Center Family Practice Group. "Each patient is an individual, with different needs and preferences, and understanding and relating to those needs is just as vital in my duties as it is to understand the context of the illness."
Dr. Carpio, who earned her Doctor of Osteopathic Medicine degree at Michigan State University College of Osteopathic Medicine and completed residency training in Family Medicine at Arnot Ogden Medical Center, notes that her philosophy of care is to apply the principles of prevention and well-being so that families and individuals can enjoy and share the benefits of the community.
Behavioral Health at Neptune will be co-located with the primary care practice to provide integrated care at this location, as well as telepsychiatry services to PCP offices across the state for the combined Medical Group of RWJBarnabas Health and Rutgers Health. The following Behavioral Health will work at the Neptune facility:
Avneet Madan, M.D., recently concluded a Psychiatry Consultation-Liaison Fellowship at the University of Pennsylvania, Department of Consultation-Liaison. Prior to this, she completed her psychiatry residency training at Virginia Commonwealth University, where she served as chief resident. Dr. Madan has a strong interest in women's health.
Ericka Sunnerville, APN, a family nurse practitioner with clinical experience in family and mental health. She received her Master of Science in Nursing (FNP) from Monmouth University.
Angela Gulla, LCSW, received her master's degree in social work specializing in direct practice from Rutgers University and is an experienced Integrated Behavioral Health Therapist/LCSW providing individual, group and family psychotherapy.
"The opening of this new specialty hub in Neptune reinforces our commitment to providing greater access to first-rate healthcare in all communities, in an effort to reduce health disparities across our state," says Andy Anderson, president and CEO of RWJBarnabas Health Medical Group.
---
To learn more or make an appointment for primary care, call 848.217.2700. To make an appointment with one of the behavioral health providers, call 848.217.2641.