Care Beyond Medicine
Caring community brings gifts of comfort and cheer to MMC oncology patients.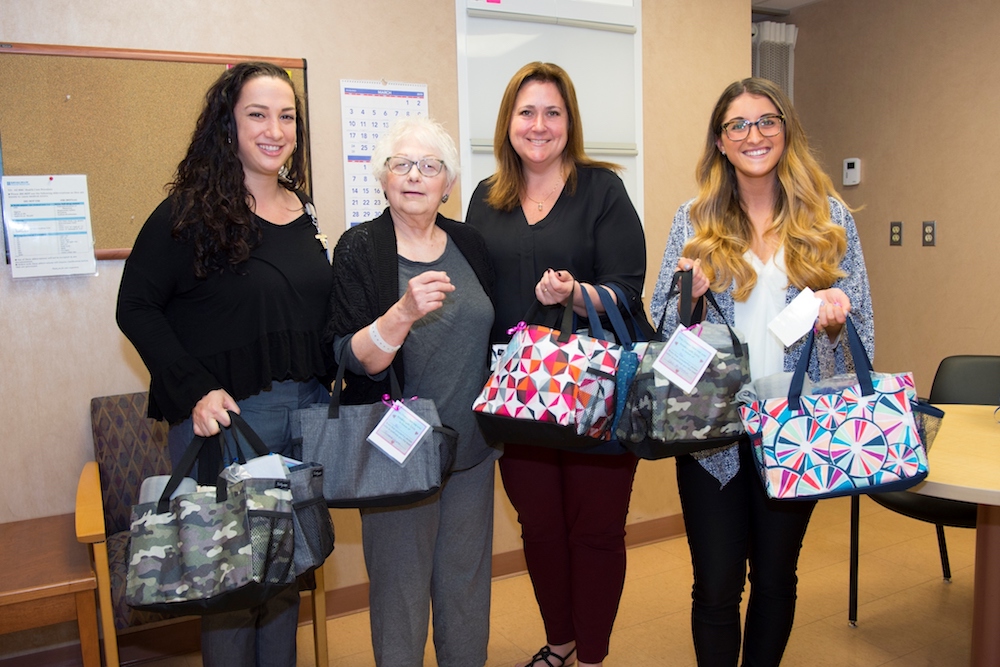 ALREADY RECEIVING THE BEST MEDICAL CARE, oncology patients at Monmouth Medical Center (MMC) also benefit from the support of the community. That support can come in the form of care packages and gifts, which are assembled and prepared especially for patients with cancer. The following are examples of the generosity seen at MMC.
RETURNING TO MMC WITH COMFORT IN TOTE
Heather Zrebiec, director of Thirty-One Gifts, an organization founded in 2003 that has become one of America's fastest-growing direct-selling companies, recently returned to MMC to deliver 200 "comfort" totes to benefit the hospital's adult and pediatric oncology patients.
"Heather hosts fundraisers where a $25 donation purchases a tote from Thirty-One Gifts and then she uses her commissions and stuffs the bags with comfort items for patients," says MMC oncology social worker Gabrielle Alvarez. "This is the third consecutive year that Heather has hosted this fundraiser for our infusion patients—through her first visit she brought more than 60 comfort bags for our patients, and her latest fundraiser reached 200 totes."
Heather delivered 40 bags for children receiving chemotherapy at the Valerie Fund Children's Center for Cancer and Blood Disorders. Each bag contained lotion, lip gloss, glow sticks, toys and crafts, a book, a blanket and candy. For adult infusion patients at Vantage Point and the hospital's infusion unit on BBR4, she brought 160 bags containing items such as blankets, books, Sudoku puzzles, a deck of cards, candy, tissues, hand sanitizer, lotion, a pen and notepad, tea, lip balm and a nail file. They also each had a unique, handmade card from a local Girl Scout troop.
Thirty-One Gifts is committed to helping women celebrate, encourage and reward themselves through running their own business as Thirty- One consultants and offering unique gift products to their customers. To learn more, visit mythirtyone.com.
GIVING PATIENTS A 'CINDERELLA' MOMENT
Operation Bling is an innovative program designed to bring cheer to patients along their cancer journey, one piece of jewelry at a time. MMC introduced Operation Bling in 2014 to provide gifts of jewelry commemorating treatment milestones for oncology patients. For every piece of jewelry sold, a gift of "bling" is given to a cancer patient at Monmouth Medical Center.
Currently, Operation Bling works with 11 hospitals in New Jersey, including Monmouth Medical Center, and has gifted items to more than 18,000 cancer patients. There are "bling angels" at each hospital to facilitate the "blinging" process. These angels are nurses, social workers and patient navigators who volunteer their time to help.
"When I explain the program to our patients, there's almost a disbelief that someone gives them a beautiful piece of jewelry," says Alvarez. "It's like every patient is a kid in a candy shop."
Patients may be approached at any point in their treatment.
Often after completion of their treatment, MMC oncology social workers or navigators surprise them with several cases of bling options to congratulate them. Women may choose from myriad of rings, earrings, pendants and bracelets; men select from watches, key rings and money clips.
"The more patients that we bling the better," Alvarez explains. "They are just so overwhelmed when presented with bling, as choosing is such a pleasurable decision for them."
To learn more, visit operationblingfoundation.org.
Howell resident Shannon Shoenemann recently visited Monmouth Medical Center's Outpatient Infusion Center and donated two bags of cozy knotted fleece blankets. Shannon volunteers for Jill's Blankets, a non-profit based out of Virginia that began in 2014 in memory of Jill Ward, who underwent chemotherapy for pancreatic cancer. Jill was given a fleece blanket during her treatment and decided to pay it forward. She began making fleece blankets to hand out to other patients during her treatment. After Jill passed in 2013, Jill's Blankets was created to continue her legacy of giving to others. To date, Jill's Blankets has donated more than 2,300 blankets to infusion centers. To learn more, visit jillsblankets.org.