Caring for the Poor and Uninsured
The Saint Peter's Family Health Center provides medical and social services to those in need.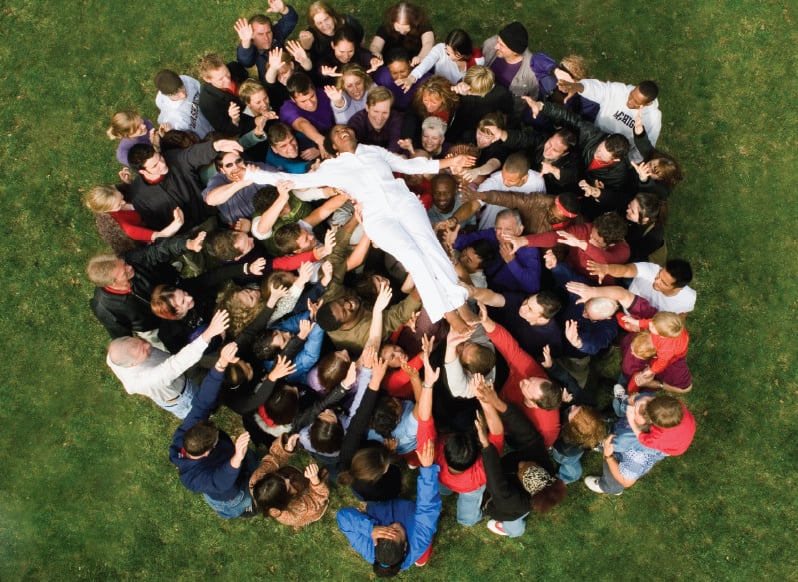 The Saint Peter's Health Care System likes to say it is a Catholic institution "with a capital C and a small c." The first, of course, describes its religious affiliation; the second, its mission of caring for people of all faiths and walks of life. There is no better example of the latter than Saint Peter's University Hospital's Family Health Center in New Brunswick.
The center offers numerous medical and psychosocial services to uninsured residents of New Brunswick and the Middlesex County region. It serves, among others, juvenile victims of sexual abuse, economically disadvantaged families and mentally disabled and/or violenceprone youth, often at little or no cost. It has also recently applied for status as a federally designated health center, which will enable it to procure federal funding for these much-needed services.
The Family Health Center comprises four separate programs, each serving a specific population of adult or pediatric patients:
The Adult Family Health Center
This program provides primary care in internal medicine and specialty services that include endocrinology, gastroenterology, infectious disease, nephrology and rheumatology. The center serves about 8,000 adults annually, says Marygrace Zetkulic, M.D., chief of general internal medicine and acting medical director.
"We serve not just the Medicaid population but also the working poor, those who make too much money to qualify for Medicaid but are still uninsured," she says. The professional staff includes attending physicians, resident physicians, advance-practice nurses, registered nurses, licensed practical nurses, registered dieticians and social workers. Patient care technicians, registration representatives and billing representatives are among the center's support staffers.
Patients are commonly referred to the center for treatment after discharge from Saint Peter's University Hospital. "Our goal is to start appropriate care to prevent a health issue that might send them back to the hospital," says Dr. Zetkulic. Others learn about the facility through outreach programs at community health fairs and free health screenings. "We are especially on the lookout for those with chronic disease, particularly diabetes and high blood pressure," the doctor adds.
All patients are taught to "Take Control of Your Health"—using a program of instruction bearing that name, created by Stanford University, that is designed to improve health literacy. "We teach patients how to take better care of themselves, how to get the most out of a doctor visit and how to understand and meet their health goals," she says.
The center is different from similar facilities, she says, in that physicians work both there and at the hospital. "I can see my patients in both places, which provides better continuity of care," says Dr. Zetkulic. The uninsured may apply for free or partial charity care, depending on income. Social workers help patients obtain charitable donations of medications from pharmaceutical companies to further control costs. And important preventive services such as colonoscopy, mammography and Pap screens are also provided at little or no cost.
The Dorothy B. Hersh Regional Child Protection Center
In the 1990s, the New Jersey Legislature established four regional centers for the diagnosis and treatment of child abuse and neglect. One of them is this center located on How Lane, which covers seven counties in central New Jersey.
"Last year we provided services to about 1,200 kids—and a few people older than 18," says Ray Wolfinger, program manager. "We help not just children, but also their parents."
Patients and their families are referred to the center by the state Division of Youth and Family Services (DYFS) or by county prosecutors. "We also have a few independent referrals from doctors or family members, but they must be referred to DYFS before they come here," he says.
Those in the program receive physical, emotional and sexual medical assessments from the pediatricians, psychologists and social workers on staff. Children who need placement in foster homes or inpatient care facilities are given a baseline medical evaluation under a Medicaid program called Comprehensive Health Evaluations for Children (CHEC ). This one-time screening, which takes several hours, identifies medical, developmental and mental health difficulties, coordinates follow-up care and makes treatment recommendations.
The center specializes in sexual abuse cases, which account for 70 percent of the patients it handles, Wolfinger says. "Not many pediatricians or emergency room staff really have that specialty," he says. Providers here are also mandated to testify in court in civil and criminal cases if necessary. "That's one of the reasons these centers were created because it's hard to find professionals willing to testify in these cases," he says.
The For KEEPS Program
For KEEPS is an acronym of For Kids Embraced and Empowered through Psychological Services. "It's designed for any child having difficulty managing behaviors in social environments," says Loretta Jantos, Psy.D., director. That includes children diagnosed with depression, attention disorders, behavioral problems, anger, sadness and other psychosocial issues.
The program provides group, individual and family therapy sessions for kids ages 5 to 17 and their families. They participate for six to eight weeks on average, Dr. Jantos says, and from 9 a.m. to 3 p.m. Monday through Friday they're at the center, where they receive therapy and medication management as well as academic instruction.
Since 2002, the For KEE PS program has offered services designed to maximize each child's potential for learning and growth and emotional/behavioral stability. With the support of the hospital administration and the tenacity of a committed staff the focus is always quality of care, says Dr. Jantos. Clear proof of success, she notes, is the fact that "90 percent of our children return to school with support services in place."
For KEEPS has been so successful that the Division of Medical Assistance and Health Services has recommended a model for statewide programs, says the doctor. It's effective partly because of the special services it offers, including pet therapy, humor therapy, an antibullying program, a garden for the kids to work to gain knowledge about good nutrition and physical exercise, and a reading project to encourage kids to use reading to diffuse anger.
At various times during the year, patients in the program take part in holiday programs such as an annual Thanksgiving project, in which they make and donate items to a nursing home, the Margaret McLaughlin McCarrick Care Center, also part of the Saint Peter's Healthcare System. "It teaches them to be grateful and give back," she says. "There are also Olympic-style competitions that help show youngsters how to be a good loser or a gracious winner, and an International Day to celebrate all the region's cultures and have a grand time." Along with the hard work of therapy, there are parties for birthdays and holidays and at discharge. "Kids need to be kids—they need to celebrate," Dr. Jantos says. "Once they feel good about themselves and their success, they will carry that good feeling with them."
LOUIS S. DAMIANO PEDIATRIC HEALTH CENTER
The Pediatric Faculty Group at this facility provides comprehensive primary and preventive health care to needy patients from birth to age 21. The center, part of the Children's Hospital at Saint Peter's University Hospital, is staffed by a team of pediatricians, nurses, social workers and nutritionists.
"We treat about 18,000 patients per year, more than half of whom are Hispanic," says William Bernstein, M.D., medical director. Like any pediatric practice, it provides both well-child and acute care for childhood illnesses and development, as well as counseling on behavior, nutrition and injury prevention. A bilingual telephone triage operator is available 24/7 to answer questions and direct appropriate care. The eight pediatricians on staff can also refer kids to specialty care if needed.
"We also train pediatric residents and medical students here, giving us the opportunity to showcase this care model to tomorrow's physicians," he says. That model strives to show patients the "medical home" concept, in which the primary care practice, not a hospital emergency room, becomes patients' and families' first choice for care. The center fosters a child-friendly approach, Dr. Bernstein says. "All the doctors and nurses are trained in pediatrics, the facility is bright and decorated for kids and we give books and stickers to youngsters to help comfort them during exams and immunizations." In fact, the center is a designated site for the Reach Out and Read program, a national program to promote literacy and cognitive skills.
Dr. Bernstein welcomed this assignment, he says, because "I was attracted to Saint Peter's and its mission of community service and care to medically underserved populations. It's so very important to kids, who have their whole lives ahead of them, to get the care they need early on. That is the most rewarding part of our job."
---
Related Article: Normal Fetal Growth for Different Ethnic Groups