Caring For the Smallest, Most Fragile Patients
Monmouth Medical Center's NICU treats newborns with life-threatening health issues.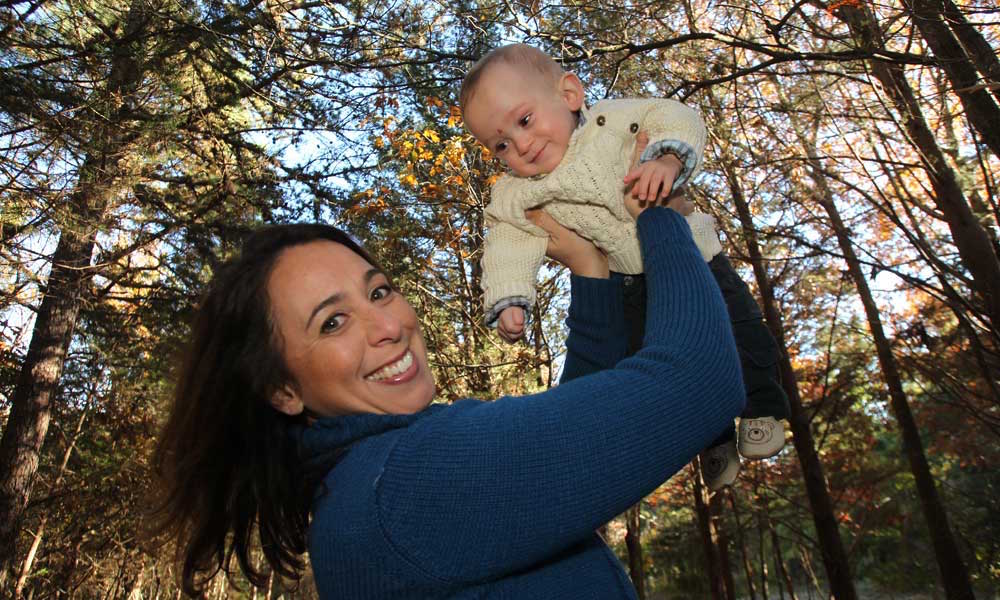 New Beginnings
Alexander Broome (pictured with mother Ginessa) weighed 1 pound, 9.75 ounces when he was born at just 26 weeks in December 2015. During his three-month stay at the Monmouth Medical cCenter NICU, he required a ventilator and CPAP, experienced digestive problems and underwent hernia surgery. With help and support from the NICU staff, Alexander, his mother and father, Greg, overcame all of the hurdles they faced. The family stayed in the parent transition room on three occasions while Alexander was at MMC and can't say enough how important that was for them. Finally, on March 25, 2016—99 days after his birth and weighing 5 pounds, 3 ounces—Alexander was able to go home.
A Neonatal Intensive Care Unit (NICU) is, according to Bonny Adler, MS,RNC-NIC, "a very busy place." She would know. As clinical director of the Hirair and Anna Hovnanian Foundation Regional Newborn Center, Monmouth Medical Center's NICU, Adler helps treat more than 500 of the hospital's tiniest and sickest patients a year. "these babies need constant monitoring and 24-hour care from a team of health care providers," Adler says, to treat conditions such as pre-maturity, low birth weight, acute life-threatening illnesses and congenital disorders, as well as for delicate surgeries.
This NICU was the first of its kind in New Jersey and among the first six offered at community hospitals nationally. Today, it remains among the best rated nationally, thanks to a combination of the most sophisticated technology and the expertise of a small army of highly trained caregivers.
That technology includes Giraffe Omnibed Isolettes, the most advanced technology available to monitor and control the babies' environment. They can serve as both a closed and open warming unit, says Susan Hudome, M.D., medical director of the NICU and chief of Neonatology. "We don't have to move the baby from an isolette to an open warmer if emergent procedures are needed. This is safer and less stressful for tiny, fragile infants," she says.
The NICU belongs to a national database called the Vermont Oxford Network, which helps track and improve outcomes. "The data allows us to assess and improve quality of care in real time, as advances in the field are implemented," Dr. Hudome says. "We remain consistently in the top quartile nationally for survival, and have lower complication rates than many comparable units."
The NICU, with the assistance of Michael's feat, renovated its parent transition room to give it a homier feel. The Michael's Feat Parent Suite allows parents to spend the night with their newborn and assume the responsibility for the care of their child, including mastering any special equipment needed. The room was built with the main renovation but decorated and funded last christmas by Michael's Feat, which previously decorated and supported the resource room in the main waiting area. "We use family-centered care that provides open visiting hours, which offer many opportunities for families to bond with the baby and prepare for the day when he or she can go home," Adler says.
Joining The Team
The department recently added two new neonatologists. Meera Kale, M.D., attended medical school in India and completed her pediatric residency at Brookdale University Hospital and Medical Center in Brooklyn. She then did fellowship training in neonatology at Robert Wood Johnson hospital. Erin Qualter, M.D., graduated from Albany Medical College, completed her residency in pediatrics at Columbia University medical center then did her fellowship in neonatology at mount sinai hospital. "These doctors have been trained specifically to handle the most complex and high-risk situations and are a great addition to the NICU team," Adler says.
Dr. Kale had worked at Monmouth Medical Center part time before joining the staff full time in January 2016. Dr. Qualter also has a master's degree in nursing.
Erin Qualter, M.D.
Meera Kale, M.D.
Not only do Dr. Kale and Dr. Qualter add more hands on deck as the practice grows in scope and in coverage, "people just out of training can help bring new ideas and help us grow," Dr. Hudome says.
Physicians, though, are only part of the equation when it comes to caring for premature babies. "It takes more than just one doctor or nurse," Adler says. "It takes a team of neonatologists, nurse practitioners, nurses, respiratory therapists, social workers and case managers who draw on their experience, advanced skills and compassion to provide the best care possible to the smallest patients."
To learn about the programs and services of Monmouth Medical Center, visitbarnabashealth.org/monmouth.
To share this article with a friend or to recommend it on your Facebook Page, visit monmouthhealthandlife.com.