Cellulite Begone!
There are a lot of ads out there that promise to zap away dimpled skin. But what really works?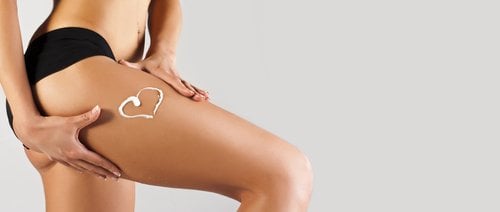 BANISHING CELLULITE— that dimpled skin that tends to show up on women's hips, thighs and buttocks—has long been a pipe dream for doctors and women alike. Over the years, everything from creams to massagers to injections has been touted as a possible cure, but none has offered lasting results. Now, for the first time, there's an effective, long-lasting treatment. It's called Cellulaze, and it was approved by the Food and Drug Administration (FDA) last January.
"There's been no long-term single treatment for cellulite, ever," says Barry DiBernardo, M.D., director of New Jersey Plastic Surgery in Montclair and clinical associate professor of surgery in the Division of Plastic Surgery at the University of Medicine and Dentistry of New Jersey. "All the other treatments to date have been temporary. Women who wouldn't put on shorts now have help."
About 88 million women have cellulite—fat that's located in pockets just beneath the skin. The condition primarily affects women because the anatomy of their skin is different from men's. In women, the fibrous bands that hold fat cells are vertical, whereas in men, fat is stored in a diamond pattern, says Dr. DiBernardo. Cellulite forms when fibers that connect fat to the skin stretch, break down or pull tight, allowing the fat cells to bulge. That leads to a dimpled appearance. Treatments, including Cellulaze, promise to smooth out those bulges. Morris/Essex Health & Life asked experts to evaluate Cellulaze and other commonly used cellulite treatments:
Cellulaze
How it works
A small tube (the size of the tip of a pen) containing a laser fiber is inserted underneath the skin. Light energy is delivered just under the skin, increasing its thickness while releasing the bands that pull it down. The laser also reduces the pockets of fat that protrude through the fibrous bands under your skin. Studies show that the treatment increases your skin's thickness by 25 percent and its elasticity by 29 percent. According to the manufacturer, the procedure is ideal for women who aren't significantly overweight but have mild to moderate cellulite on their thighs.
Pros
The results last for up to three years, according to a study of 10 women published in the Aesthetic Surgery Journal. Also, only one treatment is necessary. "This is the culmination of years of work," says Dr. DiBernardo. "I'm getting calls from all over the country from people who've tried everything."
Cons
It's expensive, plus it's a new procedure, so it will take time to determine its potential side effects. "It looks intriguing, but I'm waiting to see if it offers more than VelaShape [a less-invasive procedure], which I use in my practice," says Janet Neigel, M.D., owner of the Neigel Center for Cosmetic and Laser Surgery in West Orange. Also, although it's considered minimally invasive, you'll receive local anesthesia, and some recovery time is involved. You'll need to wear a compression garment for two to three weeks afterward to prevent fluid buildup. Plus, you'll have to be patient because it can take two to three months before you see the results.
Cost
Ranges from $5,000 to $7,000*, depending on the size of the area to be treated
SmoothShapes
How it works
A laser causes the pores in fat cells to open and release fat. As a result, the cells shrink. A mechanical roller and vacuum suction help the unwanted fat "drain." Researchers will soon begin a study in which they combine Cellulaze and Smooth- Shapes to see if the results are better than Cellulaze alone—and if healing might occur more quickly. "There could be synergistic results," says Dr. DiBernardo.
Pros
You won't need as many treatments as with the other noninvasive cellulite procedures. Plus, it produces longer-lasting results. The manufacturer claims the procedure feels like a deep-tissue massage. Although you may notice that the treated area is red for a few hours after the procedure, there's no recovery time. "This is the most effective noninvasive, temporary treatment," says Dr. DiBernardo.
Cons
The results are temporary, and the procedure is costly. Also, you'll need to be patient, since your skin will continue to improve for up to six months after your last treatment.
Cost
$350 per treatment (you'll need eight treatments, twice a week for four weeks)
Endermologie
How it works
This low-tech treatment uses mechanical rollers and vacuum suction to massage away cellulite. The procedure stretches out the fibrous tissue underneath the skin and squeezes fluid from fat cells to achieve a smooth look.
Pros
It's relatively inexpensive, and it's painless.
Cons
It's temporary. You'll need 10 to 20 treatments (once a week), then monthly maintenance.
Cost
$150 per treatment
VelaShape II
How it works
It uses the roller and suction technology from Endermologie and adds radiofrequency (RF) to heat fat cells and shrink them. A recent study found that after five sessions, there was an up to 60 percent overall improvement in skin texture.
Pros
It's noninvasive, so there's less discomfort. (The manufacturer claims the treatments feel like a deep-tissue massage.) Although your skin may appear flushed and warm for several hours after the treatment, you can resume your normal activities immediately. "It's great for treating problem areas that you can't get rid of at the gym or through dieting, such as love handles and saddlebags (the sides of thighs)," says Dr. Neigel.
Cons
The results don't last long. "Even after you're pleased with the results, you'll need maintenance treatments," says Dr. Neigel. Also, although the procedure is FDA-approved and considered safe, some doctors are concerned about patients' exposure to RF.
Cost
$200 per treatment (three to 10 are typically needed, then maintenance treatments once every six months, says Dr. Neigel)
Questions to ask your doctor
Before you undergo Cellulaze treatment, ask your physician:
Are you a board-certified surgeon?
Have you performed related procedures like liposuction? (Cellulaze is more difficult to perform than liposuction, say doctors.)
How many Cellulaze procedures have you done?
Are your patients happy with the results?
May I speak with them and see their before and after photos?
Next year, when the machine has been out longer, ask: How many of your patients have been re-treated?
How to steer clear of cellulite
Your genes, pregnancy and aging can weaken collagen fibers, causing cellulite to develop. Also to blame are eating poorly, yo-yo dieting and dehydration.
Take these simple steps, recommends the National Institutes of Health, to avoid the unsightly condition:
Follow a diet rich in fruits, vegetables and fiber
Drink plenty of fluids
Exercise regularly
Maintain a healthy weight
Don't smoke
A warning about cellulite injections
Some aesthetic medicine specialists claim that injections of drugs, vitamins, minerals or herbal extracts can chemically dissolve fat, improving cellulite. But the procedures—known as mesotherapy and lipodissolve—don't work well because they can cause an uneven reduction of fat, says H. William Song, M.D., owner of Omni Aesthetics in Oakland. Worse, "you don't know what you're getting," says Dr. Song. "They're not FDA-approved procedures." In fact, in 2010 the FDA issued warning letters to six U.S. medical spas and a company in Brazil for making false or misleading statements on their websites about lipodissolve products. Plus, the FDA has received reports of permanent scarring, skin deformities and deep, painful knots under the skin in the areas where the lipodissolve products were injected.
Related Read: Run for Your Health