Choosing the Best Hospital Care
"Report cards" from two organizations help consumers find where to get the safest, most effective treatment.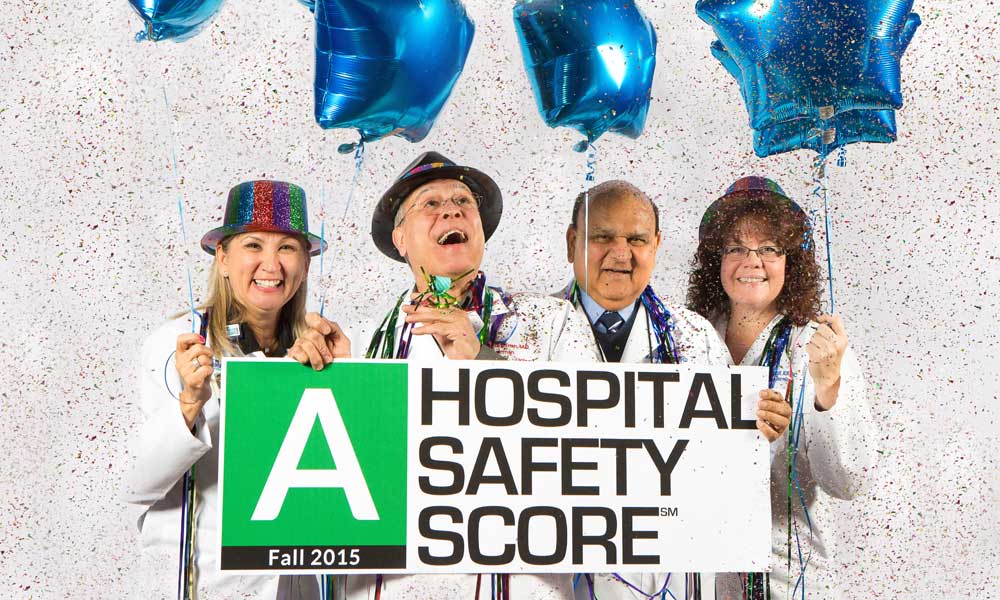 If you're looking for a well-regarded restaurant, you can turn to guides such as Zagat or Michelin. But where do you look for a reliable, informed review of the many hospitals you can choose from?
Perhaps the two most trusted sources for hospital quality assessment are the Joint Commission, the nation's leading healthcare accrediting agency, and the Leapfrog Group, an employer-funded watchdog organization. Each scrutinizes the nation's hospitals and assigns grades or ranks in a variety of categories. Neither makes it easy to score high. Yet Saint Peter's University Hospital recently earned both groups' highest honors for excellent performance.
Saint Peter's was recognized for the fourth year in a row as a national "Top Performer on Key Quality Measures" by the Joint Commission. The hospital also earned an A grade in the Fall 2015 Leapfrog Hospital Safety Score, which rates how well hospitals protect patients from accidents, errors, injuries and infections.
"Each of these prestigious honors recognizes the knowledge, teamwork and dedication of the entire hospital staff," said Ronald C. Rak, J.D., CEO of Saint Peter's Healthcare System. "We understand what matters most to patients at Saint Peter's is the quality and safety of the care they receive. That is why we have made it a top priority to improve positive patient outcomes through evidence-based care processes."
About the Joint Commission
An independent, not-for-profit organization, the Joint Commission accredits and certifies nearly 21,000 healthcare organizations and programs in the United States.
Mission Statement: "To continuously improve health care for the public, in collaboration with other stakeholders, by evaluating healthcare organizations and inspiring them to excel in providing safe and effective care of the highest quality and value."
For more information about the Top Performer program, visit jointcommission.org/accreditation/ top_performers.aspx.
About the Leapfrog Group
The Leapfrog Group mobilizes employer purchasing power to alert America's health industry that big leaps in healthcare safety, quality and customer value will be recognized and rewarded. Among other initiatives, Leapfrog works with its employer members to encourage transparency and easy access to healthcare information as well as rewards for hospitals that have a proven record of high-quality care.
Mission Statement: "To trigger giant leaps forward in the safety, quality and affordability of health care by supporting informed healthcare decisions by those who use and pay for health care and promoting high-value health care through incentives and rewards."
To see Saint Peter's University Hospital's scores as they compare nationally and locally, visit the Hospital Safety Score website at hospitalsafetyscore.org.
Assessing Care for Key Conditions
The Joint Commission released its findings in its 2015 annual report entitled America's Hospitals: Improving Quality and Safety, which measured quality clinical performance by U.S. hospitals during 2014. The Top Performer program recognizes hospitals for improving performance on evidence-based care for patients with certain health conditions. To be a Top Performer, hospitals had to be ranked in the 95th percentile or above in various performance measures. Saint Peter's was the only hospital in its region of central New Jersey—defined as Middlesex, Somerset, Hunterdon and Mercer counties—to be cited for excellence in all six disease categories in which all hospitals were measured: heart failure, heart attack, surgical care, pneumonia, childhood asthma and perinatal care. To take one example,
Saint Peter's was one of only two hospitals in New Jersey cited for excellence in the care of childhood asthma. (See page 18.) Nationally, Saint Peter's is among only 6 percent of Joint Commission-accredited hospitals to earn Top Performer status for clinical quality for four consecutive years.
The Leapfrog Group provides the only hospital safety rating to be analyzed in the peer-reviewed Journal of Patient Safety. Its Hospital Safety Score uses 28 measures of publicly available hospital safety data and is designed to give people information they can use to protect themselves and their families. Saint Peter's was the only hospital in New Brunswick and one of only two hospitals in Middlesex County to receive an A safety grade. Fewer than half of the state's hospitals earned an A, and just 31 percent of more than 2,500 hospitals nationally got one.
The Hospital Gathers Data
It takes a staff of nine fulltime employees at Saint Peter's to compile the data on care quality and safety and work with the grading organizations, says Robert MacFadyen, manager of performance improvement. "The Affordable Care Act (ACA ) has brought greater emphasis on transparency and empowering patients to make informed healthcare decisions," he says. "Our entire staff is dedicated to this, including nursing and physician leadership, because accreditation affects so many layers: medical records, human resources, lab work, environmental services, security, engineering—it's not just direct patient care."
Teresa Artz, manager of clinical effectiveness, is charged with collecting data and reviewing the latest research for best practices, and then working with providers and health insurance partners to ensure that Saint Peter's staff are well informed on best practices and are delivering the most up-to-date clinical care. "I run meetings that roll out any new treatments, then measure the outcomes of those treatments," she says. "I provide information and literature behind the new practices and educate staff about value-based care, which is essentially what the ACA is."
This collaboration comes into play most crucially on the patient floors. Take, for example, a patient with blood clots. "Staff from our quality unit will collaborate with the physicians and ask them to consider a certain type of medication or to review the chart for safety concerns that can arise with blood clots," MacFadyen says. "Every U.S. hospital is striving to improve care in these areas. But we have staff members who are ahead of the curve in knowing how to recognize these measures and correct any problems that exist. It is a point of pride that we are considered a Top Performer."
As another example of care improvement, the hospital enhanced its medication alert system, which lets physicians know if a certain type or dosage of prescribed medication is not in compliance with guidelines. "There may be an appropriate reason for that, and the physician can validate the decision, but the system provides checks and balances to prevent medication errors," says Linda Carroll, chief nursing officer and vice president of patient care services. "The IT department put a lot of effort into making this system work better."
Given the competitive nature of health care and the ACA's increasing requirements for transparency, all these measures are critical. "Being able to showcase your metrics is very important for a hospital's success," Carroll says. "We want patients to know we are providing the best possible care." The Joint Commission and the Leapfrog Group, she says, "are report cards on how well we are meeting those goals."
To find out more about services available for you or your family at Saint Peter's University Hospital, please call 732.745.8542 or visit saintpetershcs.com.