Closing the Gap in Cancer Treatment
A partnership between two exceptional teams helps assure that patients benefit from the latest research.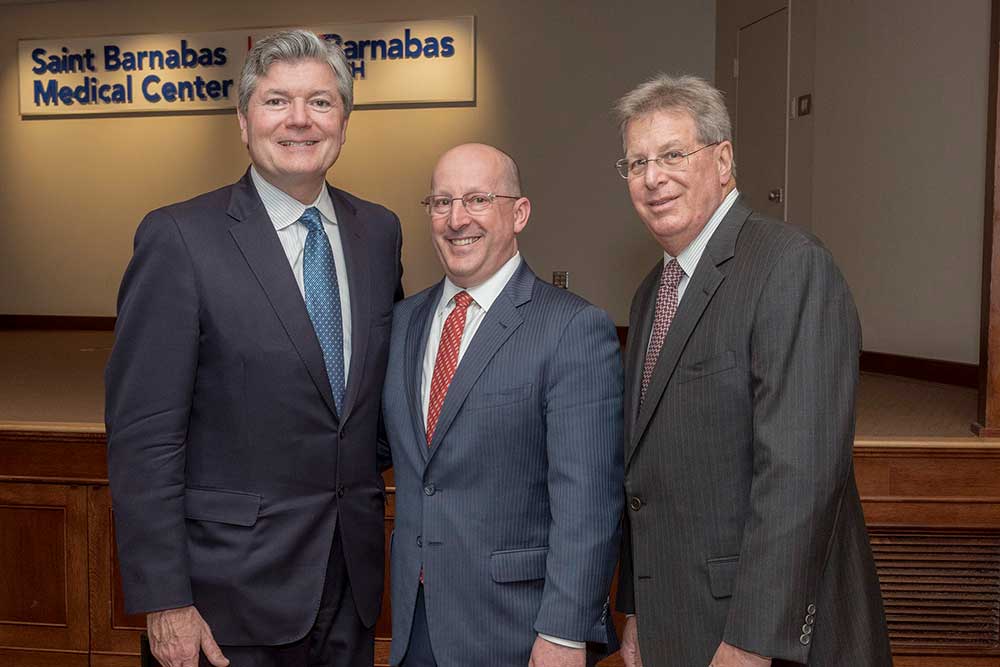 Medicine is always advancing, but these days the treatment of cancer is making unusually dramatic strides. Because of evolving research in how the disease develops and how to stop it, physicians and scientists around the world can now offer patients promising, highly precise therapies that were not available before. And new ones are developed regularly. For New Jersey residents, a new partnership brings this world-class care closer than ever.
Last summer, RWJBarnabas Health, including Saint Barnabas Medical Center, and Rutgers University announced plans to join together to create the state's largest academic health care system. Further enhancing patient access to cancer clinical trials in the region, the physicians and researchers at Saint Barnabas recently established a clinical research partnership with Rutgers Cancer Institute of New Jersey (RCINJ).
"We are proud to partner with Rutgers Cancer Institute of New Jersey," says Saint Barnabas Medical Center President and Chief Executive Officer Stephen P. Zieniewicz, FACHE. "This relationship will further expand the availability of clinical trials to residents throughout New Jersey. It also serves as a catalyst for clinical system integrations that benefit both organizations."
"Rutgers Cancer Institute is the cancer research hub for New Jersey," adds Steven K. Libutti, M.D., FACS, who in early 2017 became director of Rutgers Cancer Institute. An internationally acclaimed researcher and surgeon, he also serves as senior vice president of Oncology Services for RWJBH. "The system encompasses six major hospitals that span New Jersey," he says. "So our collaborations will allow us to take new discoveries from the research laboratories of Rutgers Cancer Institute to patients throughout the state."
This means that the majority of people served by RWJBH will not have to travel more than 30 minutes to reach the most innovative cancer care available, he says.
"For the people in these communities, this is a significant relationship," Dr. Libutti says. "It helps us accomplish an important vision: to ensure that patients get the right care at the right facility, and that the care is close to home."
The clinicians and researchers at Rutgers Cancer Institute to patients are international leaders in the field of cancer research and care. The institute is the only one in the state to earn the National Cancer Institute's (NCI's) designation as a Comprehensive Cancer Center, and it is one of only 49 such facilities nationwide. NCI reports that these centers form the backbone of their programs for studying and controlling cancer.
"For Saint Barnabas Medical Center, the relationship raises the bar of research higher than ever before, and it gives our physicians and patients direct access to more expansive treatment for a broader range of cancers," says Michael Scoppetuolo, M.D., chief medical officer of The Cancer Center at Saint Barnabas Medical Center.
The new partnership with RWJBH also offers important benefits for Rutgers' clinicians and researchers. The relationship gives them the opportunity to bring information and treatment directly to a large number of patients, and information about treatment successes back to researchers, Dr. Libutti says. "Ultimately, the partnership between Rutgers and RWJBH will benefit the international medical community as well as the people here in the communities we serve."
Cancer Treatment Designed With the Individual in Mind
An important aspect of current cancer research involves "precision" medicine, says Michael Scoppetuolo, M.D., chief medical officer of The Cancer Center at Saint Barnabas Medical Center. "The Rutgers Cancer Institute of New Jersey has a strong research program in this area. So the new partnership between our organizations will bring our patients new and innovative therapies that are not necessarily available outside of clinical trials." (See main article.)
Clinical trials are research studies to find ways to prevent and cure diseases. Such trials are often an option for cancer patients, according to the National Cancer Institute (NCI). Some of these trials are only offered through NCI-designated centers such as Rutgers Cancer Institute.
Through research at Rutgers and elsewhere, physicians are beginning to identify why and where cancer forms, with the goal of developing precise treatments for each person. This field of study has advanced rapidly in recent years, Dr. Scoppetuolo says, due to techniques to find single genetic mutations (undesirable changes in genes) and combinations of mutations that lead to cancer. With this information, clinicians have a better target for experimenting with prevention and treatment.
"Precision medicine is a subject of research for all cancers today," Dr. Scoppetuolo says. "Our research partnership with Rutgers will connect our exceptional physicians with experienced researchers, so we can bring the most advanced, cutting-edge personalized treatments to patients."
Adds Stephen P. Zieniewicz, FACHE, president and chief executive officer: "This partnership is one more sign of our continuing commitment to provide the latest and finest care at Saint Barnabas Medical Center."
To make an appointment with the Cancer Center At Saint Barnabas, please call 973.322.5200 or visit rwjbh.org/sbmccancer.