Color Therapy
A bright, sunny Jersey Shore house uplifts with a palette that pops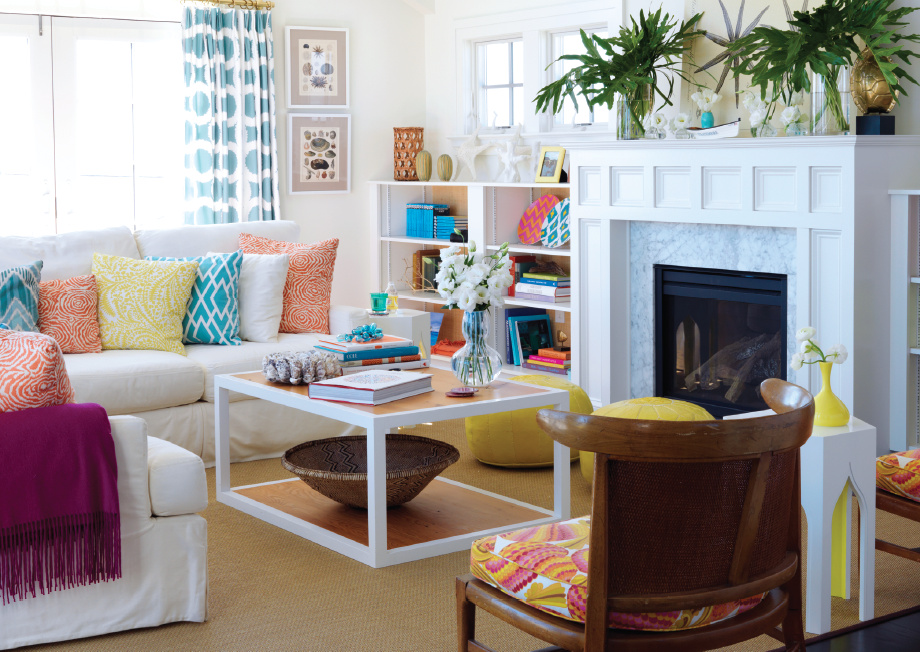 As the owner of two high-end women's clothing stores, Maureen Doron is surrounded by color. Her stores, called Skirt, carry lines like Milly, Trina Turk, Diane von Furstenberg and Tory Burch—classics with a modern twist that deliver vibrant hues and interesting patterns. When one of Doron's best customers "who always purchased my own personal favorites" mentioned one day that she was an interior designer, Doron knew they were drawn to the same colors and styles. That customer was Philadelphia-based designer Mona Ross Berman.
"I had never used an interior designer before," says Doron, "but I knew that we had the same taste and that I liked her." Berman eased Doron into decorating, helping her with her home in Bryn Mawr, Pa., and some remodeling of one of her stores. When Doron and her husband decided to build a beach house on the Jersey Shore in Strathmere, Doron commissioned Berman to decorate it "soup to nuts," Doron explains. "Mona says it was fun because I let her run with it."
And run she did, with a high-energy palette of orange, yellow and turquoise against a white background, a design based on a 1960s table that Berman found on a trip to Miami. "When she showed me a picture of the table, she had me hook, line and sinker," says Doron. Berman's plan was to give the home a "1960s- California-surfer-chic vibe," she explains. "I wanted to do something fresh and different and show that there was more than one way to do a beach house.
Even though this home is at the Jersey Shore, it feels like it could be in Malibu or somewhere else." And thankfully, Berman's client was the sort who is willing to take risks. "I love color," says Doron. "I own a women's clothing store. I'm not afraid of it.
But Mona was smart in that if you really look at the house, the base pieces are all white or neutral. We layered on the color with fabrics and accessories so in case I get sick of it, I'm not locked into it for 30 years." But for now, Berman's dynamic design is perfect for this active young family. "I have three kids who get up at the crack of dawn, and I'm always tired," says Doron. "But when I walk up the stairs to the kitchen and living room in the morning all bleary-eyed and I see the light streaming in and all the color, I instantly feel uplifted, and a smile breaks out on my face. It's a fun house to be in."
"A beach house is fun to do because people tend to take themselves less seriously," says Berman.