Comfort for Cancer Patients
As clinic facilities are renovated, a volunteer group adds amenities—and wellness programs—that make a big difference.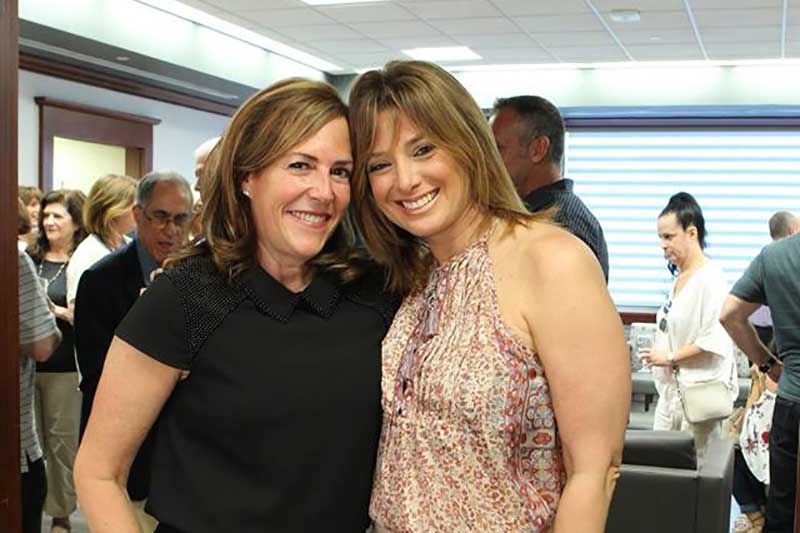 Being treated for cancer can be overwhelming experience. Hyla Weiss learned that back in 2011 as she was battling breast cancer. She knew that the treatment she was receiving from Saint Barnabas Medical Center was excellent, but she was convinced the treatment environment could be even more soothing and supportive for patients and their families. And she thought it was time to bring new fashion to the traditional hospital gown.
So after she finished treatments, she vowed to take action. She enlisted her friend Suzanne Unger, whose mother had died of breast cancer, and the two created an organization called Comfort Project 360. Its mission: to create a supportive, comforting environment for patients and their loved ones in the Department of Radiation Oncology. Thanks to the Flo Okin Cancer Relief Foundation, Saint Barnabas Medical Center already had the initial funding for a physical remodeling, but Weiss and Unger wanted to take that project "360 degrees" to add better aesthetics, provide "simple comforts" to patients and families and offer wellness programs to help heal mind, body and spirit.
The new radiation oncology unit opened in 2013 to great reviews, but Weiss and Unger weren't finished. "It was well received by patients, families, doctors and hospital staff, so we said, 'Let's complete the circle and go on to medical oncology,' where patients spend a lot of long, hard hours getting chemotherapy infusions," Unger explains.
That unit "hadn't had a true makeover since it first opened about 20 years ago," says Michael Scoppetuolo, M.D., chief medical officer for the Saint Barnabas Cancer Center. "Things were getting outdated and needed freshening up." Before starting, Weiss and Unger also assembled focus groups and interviewed those who would use the space— patients, nurses and doctors—to better understand what they wanted and needed.
Work began about 18 months ago. The two waiting areas, hallways and reception areas were completely redesigned and decorated. They include artwork, with inspirational quotes and nature photography provided by the AP photography class at Livingston High School, the Livingston Camera Club and local photographers. "The goal is to change the environment so that it is helping body, mind and spirit," Unger says. "And the photos are one of the most appreciated features."
The hospital has 23 individual infusion rooms, facilitating comfort and privacy. "Most hospitals just divide the spaces with curtains," Unger says. The next phase of the project is to enhance those rooms by adding more comfortable treatment chairs and guest chairs, nature artwork, motivational quotations, new TVs, cellphone and laptop charging stations and other amenities. That's the goal of their upcoming fundraising efforts. (See "Raising Funds for the Cause," at right.)
Besides the physical improvements, Comfort Project 360 continues to provide and expand on its patient-focused services. "One of the most beloved is the Comfort Cart," Unger says. A throwback to the days of hospital candy stripers, the cart is wheeled around the center by volunteers who offer beverages and snacks. "The snacks were chosen based on suggestions by patients and staff of what people would want, and sometimes a piece of chocolate is just what you need," she says. Snacks are supported by monetary donations, community snack drives and, beginning this summer, ShopRite supermarkets, which are partnering with Comfort Project 360 to help fill the cart.
Another program gives all patients a Welcome Bag that includes a blanket to keep them warm during infusion sessions, a deck of cards, fuzzy socks, a word search puzzle book and other items. The hospital gowns have been replaced with plush, comfortable robes. Finally, a program called It's a Wrap gives scarves to women and hats to men in celebration of the end of their treatment.
The changes have had a real effect on patients and staff, Dr. Scoppetuolo says. "I think they make the whole process more comforting and relaxing. Hyla and Suzanne are very motivated women, and they have been nothing but fantastic helping us. They have done a tremendous job—I don't know how they pull it all together."
From that initial idea, Weiss and Unger and their team have helped raise about $1.6 million in their four years of work. "Both of us are so proud to be at this point," Weiss says. "But without the community's support—through donations and volunteering at all age levels—we couldn't do this."
"The artwork is beautiful," adds Weiss. "These newly renovated spaces don't feel like a hospital. They're very uplifting. And we hope that the work of Comfort Project 360 has made the cancer journey a little easier."
To learn more about cancer services at Saint Barnabas Medical Center, please call 973.322.2929 or got to RWJBH.ORG/SBMC. to share this article with a friend or to recommend it on your facebook page, visit MSXHEALTHANDLIFE.COM.