Comfy, not Clinical
A serene design to promote wellness.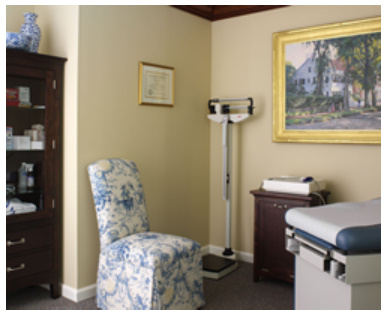 A doctor's office is often described with adjectives like cold, unfriendly and bland. But Kathryn Peper, M.D. (973.539.3388, kathrynpepermd.com) an internist in Morristown, wanted her clients to feel relaxed and at home during their visits, so she set out to make her office different. Decorating with antiques like 18th-century French mirrors and 19th-century French side tables, Dr. Peper believes that a pleasing atmosphere is crucial to feeling better. "A huge component for not feeling well is emotional," she says. "When you come into an office that reflects the caring side of medicine, you feel better instantly."
Dr. Peper put careful thought into the décor of her office. Fresh flowers, porcelain vases and scenic paintings accent the inviting, chestnut-colored rooms. Armless accent chairs replace the traditional wheeled doctor's stool, and hardwood furniture can be found where you'd traditionally expect metal cabinetry. The warm environment nets Dr. Peper positive feedback from clients almost every day. "Patients have told me they enjoy being here, which you don't often hear about a doctor's office. I've noticed they tend to show up very early for their appointments," says Dr. Peper.
Considered a micro-practice, Dr. Peper's office only has two employees, which she believes adds to the caring atmosphere. "One of my goals of medicine was to be the 'small town doc,'" she says. "I wanted to know my patients beyond their asthma or heart problems. This office and this environment has allowed me to do that."
---
Related Read: Physical Therapy Meets Pilates