Connecting the Community
New program at Saint Peter's University Hospital reaches out to others about diabetes, hypertension.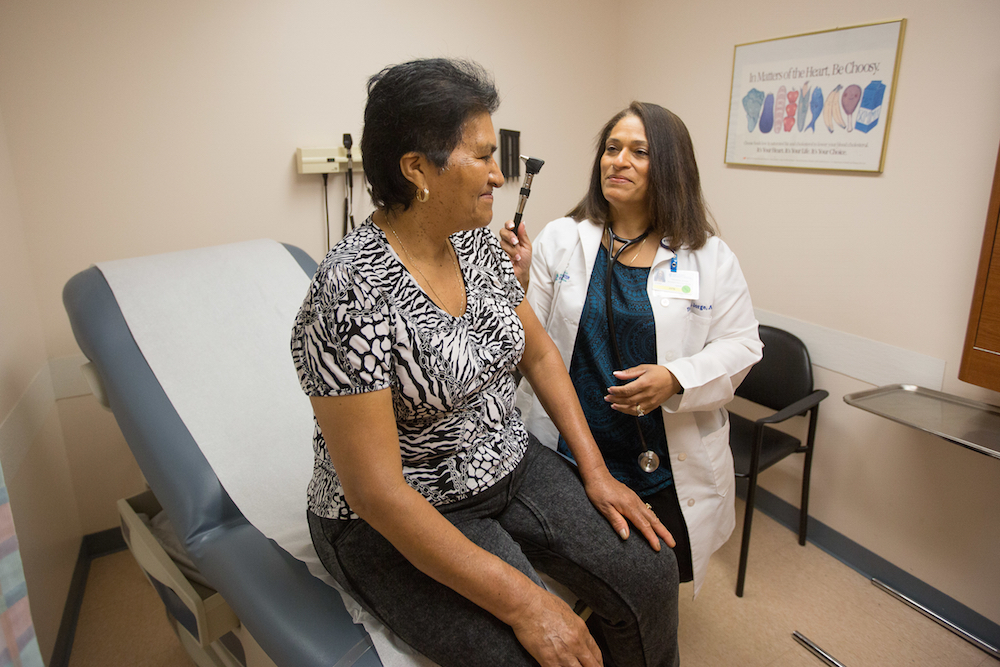 Here's knowledge that can save a life: Anda sakit! Kami akan membantu Anda! Do you understand? Can you make sense of the phrases?
If you don't understand the language, you can relate to the thousands of people in central Jersey who don't understand much of the health information around them—much less how to find care. For those who don't speak English, a minor health ailment can result in serious, lifelong health issues and even death. The Indonesian words above translate to: "You're getting sick! We'll help you!"
But even for people who know the language, barriers to getting the right care include knowing who to see, where to go, how to pay and even how to find transportation.
"With all these barriers, many people end up in the emergency room or admitted to the hospital, when a simple office visit could have kept them healthy," says Lorraine Nelson, PhD, and manager of a new outreach effort at Saint Peter's University Hospital. "Breaking down barriers is a trend we've been changing over the last four years. And the results have been amazing."
As part of a five-year, $20.5 million program funded by a grant, a dedicated team of health experts at Saint Peter's has been focusing its attention on people with high blood pressure and diabetes. The goal: to provide them with the care, education and support they need to take charge of their health. Saint Peter's has put in place a broad spectrum of successful programs to reach those who have no insurance or who do not have enough to cover the care they need. Called the Delivery System Reform Incentive Payment Program (DSRIP ), it began in 2012 with funding from the state of New Jersey. Patients will be referred into the program via outpatient services, the emergency department, inpatient services, same-day service locations and community health screenings conducted by Saint Peter's clinical staff.
"We reach out to people through our mobile van, through the mail, at events here at the center and in the emergency room," says Elizabeth Ramirez, R.N., BSN, the full-time community health nurse and medical interpreter at Saint Peter's Diabetes and Hypertension Center. "We follow up with them over weeks and months by phone, through visits here to the center and at their homes."
Services range from offering medical tests and specialty care to helping patients find insurance.
The center began with 30 patients and now works with more than 700 adults of all ages. Staff members talk about how very appreciative their clients are for how this program helps them change their lives. "You can see how excited they are when their diabetes or blood pressure tests improve dramatically over time," Ramirez says.
"And when you're here at the center and see them reach out to others, sharing what has worked to help them, that's powerful," Nelson says. "It's encouraging to our clients and it's encouraging to our staff."
Ever watchful for new ways to reach people with diabetes or high blood pressure, the staff at Saint Peter's is likely to get busier in the coming months. They have launched a door-to-door campaign to reach 900 more families.
To find out more about services available for you or your family at Saint Peter's University Hospital, please call 732.745.8600 or visit saintpetershcs.com.