Cool Pools
Some pool possibilities.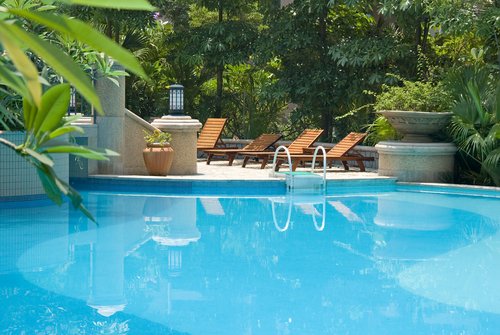 Ever dreamed of having your own swimming pool so you could splash your cares away on a whim? You can make that dream come true—and with today's "green" pool options you needn't fear that energy-sucking cleaning and heating equipment and harsh chemicals will make you an environmental bad guy.
A new backyard in-ground pool will cost from $30,000 to upwards of $100,000, contractors say. Choose durable equipment and pick a reliable contractor (you can find one through the Better Business Bureau of New Jersey or NESPA, the Northeast Spa and Pool Association), advises Bruce Bagin, partner at B&B Pool & Spa Center in Chestnut Ridge, N.Y., just across the New Jersey border. And beware moneysaving shortcuts (such as going with less durable materials, older equipment models or a less-established contractor) that could end up costing you more in the long run. "It's a mistake to put price before everything else because you might sacrifice quality," says Bagin. If you decide you're ready to take the plunge, it's time to consider the kind of pool you want.
Eco-friendly pools
Those looking to go green should consider a saltwater pool. Increasingly popular in the last decade, these pools rely less than conventional pools on abrasive chlorine, which leaves a pungent odor and can damage skin and hair. An electronic box conducts small amounts of electricity, which reacts with saline to make chlorine that is then distributed to the water. You needn't add chemicals, only regulate pH levels, explains Bagin.
Solar heating systems, including solar panels and covers, are another environmentally friendly option. The solar approach is less energy-wasteful than electric heaters, says Bagin. An added bonus: If you use a solar cover, it holds in heat and keeps your pool debris-free, making its whole cleaning system run more smoothly.
These days, automatic controls are available for heating systems and other equipment, such as covers, lighting and spas. Some can even be controlled by your smartphone from afar. That adds convenience—and efficiency too. Variable-speed water-cleaning pumps can be programmed at different speeds or flow rates so pool owners can set them at the slowest setting necessary to accomplish a task, says Mitchell Knapp, owner of Scenic Landscaping LLC in Haskell. "A variable-speed pump will cost you more up front, but it will save you money in the future and it will last longer than other pumps," he adds.
Another eco-friendly option is a mineral pool, which uses minerals such as silver and copper for cleaning, greatly reducing the amount of chlorine needed in the pool, says Bagin. Perhaps in another 10 years they will enter the mainstream. For now, they are not as popular as saltwater pools because the technology has not been perfected yet, say contractors.
Other trends in pool design
"More people are seeing their backyard as a vacation getaway," says Bagin. And nothing says retreat quite like a pool that looks as if it belongs in the woods. To achieve this natural appearance, many clients use stone and slate tile rather than ceramic and opt for colors that are found in nature. Popular features include grottoes, waterfalls and elevated spas, and the pool or spa may have a vanishing edge or overflowing water that makes it look like an ocean or river with no end, says Lisa Mierop, owner of Mierop Design in Montclair. "The sight of falling water is tranquilizing, just as the sound of moving water is soothing," she says.
Do you have young children? Are you into water polo or water volleyball? For these reasons, some families are choosing pools with a consistent shallow depth instead of the usual deep end. Of course, even a conventional pool is cool. "Clients are consistently asking for 'a simple rectangle,'" says Mierop. Traditionalists can turn to the comparatively economical vinyl pools or to ceramic-tile pools that come in a variety of colors.
What else to consider
Whatever pool you choose, give thought to its surroundings, including decks and landscaping. A fence for safety is a priority, especially for those with young children or young neighbors. Pool decks in New Jersey are often made of quartzite, which is light in color and tends to be cooler on bare feet, or bluestone, which provides a classic look but can be hot underfoot, says Isaac Keselman, president of The Aqua Doctor in Florham Park.
Make sure surrounding trees don't provide excessive shade, says James Robyn, president and CEO of Rin Robyn Pools in Bernardsville and Hackettstown, especially if you're using solar panels that need to soak up the sun's energy. And avoid having leaf-shedding plants and trees too near because their leaves can clog your filtering system and dirty the water.
If you'd like to create the look of a mini-pond in your backyard, Robyn suggests using aquatic plants in the pool as an alternative to chlorine or saltwater cleaning systems; the plants clarify the water naturally in what is called a regeneration zone, a special part of the pool just for them. The pond effect adds to the landscaping, too, he says.
Most important, become an educated consumer before investing in a backyard swimming pool. If you're not sure what you'd like your pool to look like, you can see images of all sorts of pools on the websites of pool contractors and landscapers, and a Google images search will bring up countless more. Do your research on cleaning systems and materials, and obtain quotes from three to four contractors before you proceed. "Get the best education you can," says Keselman. "People tend to do their research after the fact and then wish they'd done things differently.