Cutting Edge Surgery For Women
With Robotic Technology, Gynecologic Procedures Can Be Performed More Effectively Than Ever.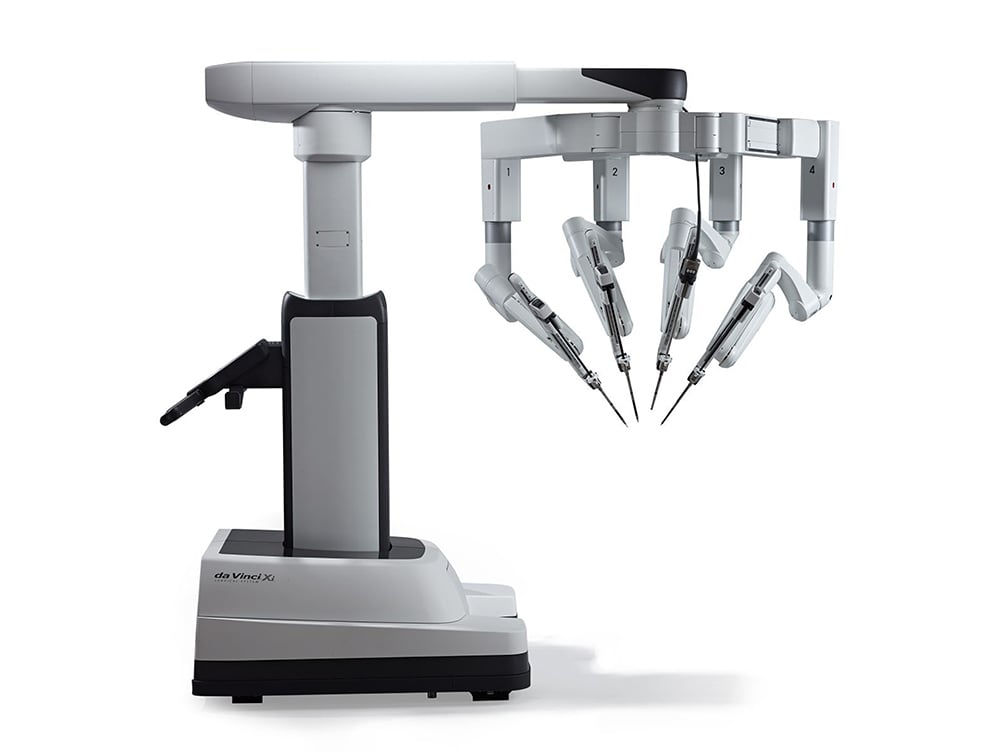 Robotic surgery doesn't mean that a machine is taking the place of a surgeon's skills. Instead, it puts those skills to more effective use than ever before. So it's good news for women that Monmouth Medical Center offers the region's most highly experienced team of surgeons in using the da Vinci robotic surgical system. And now that team includes two new robotic surgeons: gynecologic oncologist Nonna V. Kolomeyevskaya, M.D., and minimally invasive gynecologic/pelvic surgeon Christopher Eswar, M.D. Besides treating patients, both will be involved in the training of the medical center's residents in obstetrics and gynecology.
NONNA V. KOLOMEYEVSKAYA, M.D.
Dr. Kolomeyevskaya is a gynecologic oncologist who recently joined Chief of Gynecologic Oncology Thomas E. Hackett, D.O., in practice. She provides diagnosis, treatment and follow-up care for women with gynecologic malignancies. Her expertise involves radical abdominal pelvic surgery and chemotherapy for patients with cancers of the ovary, uterus, cervix, vulva and vagina.
During her fellowship training, Dr. Kolomeyevskaya performed more than 500 surgeries. Understanding the critical role of surgery in the treatment of these diseases, Dr. Kolomeyevskaya utilizes minimally invasive laparoscopic and robotic techniques involving the da Vinci Surgical System whenever feasible. She advocates this approach for patients with uterine cancer, early-stage ovarian and cervical cancer—including women interested in fertility-sparing surgery.
"It is a true privilege to care for women during this challenging time of their lives and to provide individualized state-of-the-art care in a compassionate environment, treating every patient as a close friend or relative. The advent of robotic technology allows us to enhance cosmetic results and expedite postoperative recovery with quicker return to daily activities by minimizing blood loss, postoperative pain and the length of the hospital stay."
Dr. Kolomeyevskaya collaborates with radiation oncologists and medical oncologists at Monmouth's Leon Hess Cancer Center. "I am very excited to join Barnabas Health Medical Group—an exceptional team of medical professionals," she says. "My goal is to provide personalized cancer care to optimize clinical outcomes and quality of life for our patients."
CHRISTOPHER ESWAR, M.D.
After completing his obstetrics and gynecology residency at Monmouth Medical Center in 2013, Dr. Eswar left for Phoenix to pursue a two-year fellowship in minimally invasive gynecologic surgery at St. Joseph's Hospital and Medical Center under his mentor, Robert Hibner, M.D. He returned to Monmouth in 2015 with advanced laparoscopic and robotic expertise and more than 500 robotic surgeries per-formed to treat a host of pelvic and gynecologic disorders and conditions, including pelvic pain, benign pelvic masses, endometriosis, uterine fibroids, benign ovarian tumors, complex pelvic scarring, tubal ligations, single-site hysterectomies and pelvic mesh removals.
Almost 100 percent of the surgeries he performs are robotic. Today's da Vinci Surgical System, he says, expands the number of patients who meet the criteria for successful robotic gynecologic surgery.
"The robot's suturing abilities and wrist dexterity allow me to operate confidently within narrow spaces and small incisions," says Dr. Eswar. "Almost all of my patients go home the same day or the next morning, typically within 23 hours."
Dr. Eswar hails from a family of physicians; his twin brother is also a minimally invasive gynecologic surgeon, practicing in Buffalo, N.Y. He says he was drawn to women's health care in medical school and to minimally invasive gynecologic surgery in residency.
"Coming back to Monmouth means joining an amazing team that has no parallel anywhere else," he says. "I can always count on a fellow surgeon to assist me when needed and on OR nurses and staff who all work together to attain superior patient comfort and outcomes."
The medical center has a tradition of adopting the latest surgical innovations. It was the first facility in the region to offer patients the minimally invasive option of robotic surgery, and it remains the region's only hospital to employ two da Vinci surgical robots and the latest technology for minimally invasive complex procedures in adult and pediatric urology, gynecology and general surgery.
Milestones in Robotic Surgery
Recently surgeons at Monmouth Medical Center performed the hospital's 3,000th robotic surgery. This technology has been used in procedures in gynecology, adult and pediatric urology and general surgery. One of the first was performed by Robert A. Graebe, M.D., a specialist in reproductive endocrinology and infertility who is Monmouth's chairman of obstetrics and gynecology and medical director of its Institute for Robotic Surgery.
"The advent of robotic gynecologic surgery brought psycho-logical as well as medical benefits to women, as it allowed us to discharge patients sooner, with small incisions covered with Band-Aids," recalls Dr. Graebe. As director of Monmouth's OB/gyn residency program, he has trained hundreds of residents to use the robot.
Chief of Gynecologic Oncology Thomas E. Hackett, D.O., has more than 900 robotic procedures to his credit and not too long ago performed the medical center's 2,000th, a hysterectomy to treat uterine cancer. He notes that the robot's superior technological capabilities mean a skilled robotic surgeon rarely has to convert a procedure to a traditional open surgery.
"So far, research shows that cure rates for gynecologic cancers remain the same for robotic or open surgery, but almost all women choose the robotic procedure when they learn of its benefits," he says.
Martin P. Michalewski, M.D., director of minimally invasive urogynecology and gynecologic surgery, does more than 300 robotic urogynecologic and pelvic reconstruction surgeries each year to treat pelvic pain and bleeding, incontinence, pelvic floor disorders and prolapses of the uterus, bladder and rectum. He teaches robotic surgery to Monmouth's residents and proctors da Vinci surgeons all over the country.
"All of our urogynecologic robotic cases are performed as outpatient procedures," he says. "Recovery is better, satisfaction higher and inconvenience much less when patients can sleep in their own bed, eat food from their kitchen and use their own bathroom, as opposed to even the best hospital environment. Robotic surgery has given us 3D vision, superior dexterity and precision, but there's another '3D': the human surgeon's drive, determination and discipline—drive to embrace new technologies, discipline to do meticulous testing and preparation, and determination to work harder and longer hours."
The introduction of minimally invasive laparoscopic surgery in 1985 initiated a seismic shift in how the medical center's gynecologists performed diagnostic and treatment procedures. In the next two decades, Monmouth's specially trained gynecologists, gynecologic oncologists, urogynecologists and reproductive endocrinology and infertility specialists used minimally invasive laparoscopic and hysteroscopic techniques to diagnose and treat uterine growths, pelvic pain and prolapses, endometriosis, cervical and uterine cancers and a host of other gynecologic disorders.
Monmouth Medical Center's acquisition of the region's first robotic da Vinci Surgical System in 2006, followed by a second one several years later, further advanced gynecologists' ability to treat gynecologic diseases and disorders with a minimally invasive approach. Today the medical center is the region's only facility to employ two of the latest generation da Vinci Surgical Systems, allowing gynecologic robotic surgeons to introduce innovations, broaden the scope of robotic procedures and continue to benefit their patients with better surgical experiences and outcomes.
TO LEARN MORE ABOUT SERVICES AVAILABLE FOR YOU OR YOUR FAMILY AT MONMOUTH MEDICAL CENTER, PLEASE CALL 888.724.7123.