CyberKnife Treatment for Lung Cancer
This high-tech tool precisely delivers high doses of radiation to kill tumors and protect surrounding tissue, potentially saving lives.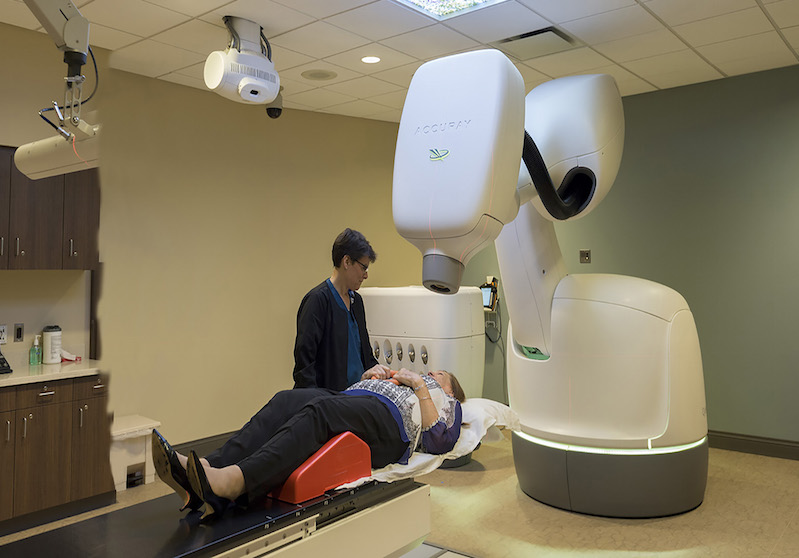 ABOUT 15 YEARS AGO, HEAVY SMOKER LINDA ARZINGER of Little Ferry had part of her cancerous left lung removed. She quit smoking after the surgery, but in April 2016 a follow-up imaging scan revealed a spot on the remaining part of the lung. The cancer had returned. At 78, with compromised breathing ability, the widowed mother of two and grandmother of four was not a good candidate for more surgery.
Another treatment, however, was just right. Stereotactic body radiation therapy (SBRT) uses high doses of precisely targeted radiation to remove cancerous tumors. A state-ofthe- art radiation system called CyberKnife, available at Saint Barnabas Medical Center, delivers this therapy to hard-toreach tumors anywhere in the body, including the lung but also the brain, spine, liver, pancreas and kidney and the prostate in men.
This device can employ higher doses of radiation, thanks to advanced computer guidance software that locks onto a cancerous lesion and follows it as it naturally moves, even slightly. Because of the movements of breathing, this is especially useful in treating lung cancer.
"The machine takes images every 15 to 30 seconds and tracks the respiration cycle," says Alison Grann, M.D., chair of the Department of Radiation Oncology at Saint Barnabas. "As you would imagine, whenever you take a breath the lung tumor moves." CyberKnife monitors the location of the tumor in real time to ensure that high doses of radiation go to the tumor and avoid critical nearby structures such as the esophagus and the spinal cord. "This minimizes the chance of irradiating surrounding healthy tissue," she says.
CyberKnife is able to deliver radiation at maximum strength and accuracy thanks to another technological advantage it has over traditional delivery systems. Most systems can rotate only 180 degrees in one plane around the patient, but CyberKnife is situated on a robotic arm, which can rotate a full 360 degrees and along any plane. It can therefore deliver the radiation from any direction and at any angle.
Alison Grann, M.D.
Because of these features, radiation can be delivered in higher doses. That means each session is longer—from 30 to 60 minutes, as opposed to about 10 minutes for traditional treatment—but fewer sessions are required. Typically, patients need 30 treatments over six weeks, but CyberKnife delivers the same amount of radiation in three to five sessions. "It is much more effective and less disruptive of the patient's life," Dr. Grann says. This treatment is also chosen in place of surgery for patients who either cannot have surgery or choose not to.
SBRT has been used to treat earlystage lung cancer for the past half-dozen years or so, she says. "Traditional types and dosages of radiation were ineffective at curing or controlling early-stage lung cancer. In addition, many of these patients have comorbid conditions that rule out surgery. CyberKnife has been shown to have survival rates above 90 percent, and that's really oustanding."
Linda Arzinger
Arzinger received five CyberKnife treatments in July 2016. "They showed me the machine before I started," she recalls. "It's a very interesting procedure. You're in this big room all by yourself, and you lie on a table, fully dressed. It was scary only because I was all by myself, but they play music and talk to you, and you look up and see nice flowers painted on the ceiling." She says each of her sessions took exactly 49 minutes.
"I timed them," she says. "You have to try to lie still, but it doesn't hurt at all. It goes over you and keeps moving and you hear some beeps."
"She handled her treatment very well and was doing great when we saw her nine months after treatment," Dr. Grann says. "I would say there is a high probability she is cured."
Arzinger couldn't be happier. "They say the machine did what they wanted it to do," she says. "It stopped the cancer. I'm fine." She continues to work one day a week as a payroll specialist for a dentist who employed her for 28 years.
She is grateful for the care she received at Saint Barnabas. "The staff couldn't be nicer," she says. "They worked to schedule my treatments around a family trip to Bermuda. I finished on a Wednesday and drove to Boston on Thursday to go on the cruise."
Arzinger was advised that the treatments might leave her feeling fatigued on her trip. "But I was fine," she says. "I did almost everything the kids did. I didn't go cliff jumping, but I Alison Grann, M.D. did everything else."
To find out more about the CyberKnife please call 973.322.5630 or visit rwjbh.org/sbmccyberknife.