Dancing With a Star
One of our staff members took a class with Dancing With the Stars', Louie Van Amstel.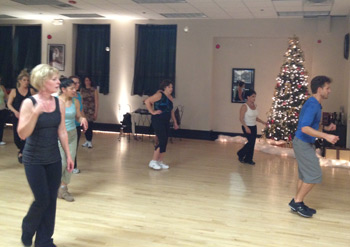 As a loyal fan of the ABC mega-hit, Dancing With the Stars, and a lover of dancing, when I heard that one of the show's stars, Louie Van Amstel, was going to be teaching at Red Bank's Fred Astaire Dance Studio I knew I had to try it for myself. Van Amstel had created the workout—aptly titled LABLAST—that mixes popular Latin dances with a professional cardio workout, and I couldn't wait to see what it had to offer.
When I arrived at the studio on January 7th, Van Amstel had already started introducing himself to the packed house at Fred Astaire Dance Studios. From the start, his pleasant personality and humble demeanor made it easy to forget that some of his more recent dance partners have included superstars, such as Kelly Osbourne, Priscilla Presley and reality-star Kendra Wilkinson.
While the draw of having Van Amstel lead the class had initially intrigued me to join, it was easy to see why LABLAST has become such a hit! As a former Division 1 athlete I have had my share of tough workout sessions, and typically dancing wouldn't compare–that is until I got to the part of the class where you twist your hips for more than a minute straight. My insides felt like they may have stayed tangled together and I definitely felt the effects for the next few days.
In between the dance instructions, Van Amstel offered words of encouragement to help dancers let go of their inhibitions and focus on the moves.
"Everyone wants to be like the sexy people in the commercials," he said," you just got to let loose! And when you get out of your head and into your body you remember to let loose and you start to realize you're worth it!"
Overall, in LABLAST Van Amstel takes the classic dance steps of Salsa, Cha-Cha and Jive and works it into a workout routine that any man or woman (and yes, there were male dancers in attendance) of any age can adapt to.
I loved the experience of taking the class and would recommend it to anyone! LABLAST is currently being taught by the talented instructors at Fred Astaire Dace Studio while Van Amstel is off pursuing his other adventures. Perhaps what's most exciting though, is that you never know when he will be back to teach a class — and trust me there's nothing more exciting than being taught by Louie!
Think you have what it takes to Dance with the Stars? Well you actually might have the opportunity to! At the very least you will be able to dance "like a star." Visit www.fredastaireredbank.com for more details.