Dental Technology Today
Digital sensors and 3D imaging are making dentist visits faster and more comfortable.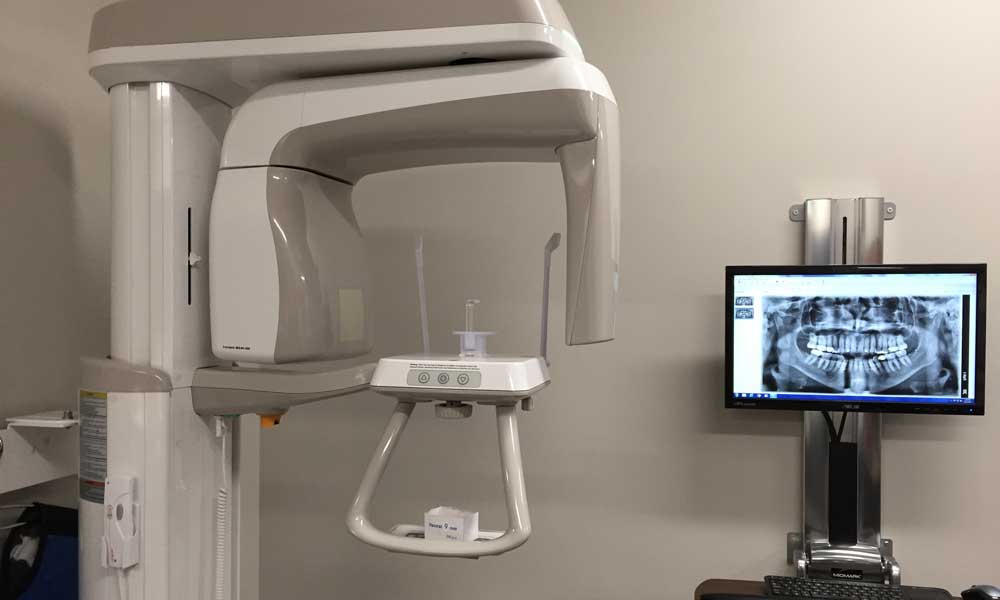 Technology makes our lives better in many ways. One of those ways is at the dentist's office.
Advances in dental technology have made common procedures safer and more efficient, so patients can spend less time in the dentist's chair. Some of the most important innovations in modern dentistry are the advent of digital sensors and 3D modeling.
Until recently, dental X-rays used film, and developing them required toxic chemicals. The process took about seven minutes and exposed patients to a dose of radiation. Now, digital sensors placed in the mouth can create a viewable image instantaneously and reduce the amount of radiation a patient receives, explains Dr. Menon D.D.S. of Smiles R Us.
While digital sensors are the most common digital x-ray method, Dr. Wallerstein D.M.D. has discovered that phosphor plates are more ideal for his practice. They're a bit smaller and less rigid than digital sensors, creating a more comfortable experience for his patients.
Even though she's been in practice for more than fifteen years, Dr. Menon stresses the importance of technology: "You have to constantly keep up with computer assisted technology—every year, make sure you're updated." Dr. Sita Kulkarni of KK Dental has similar feelings about the influx of new technology. "Technology will always be an aid which makes everything we do more predictable and standardized," she says, noting that some tasks take a fraction of the time that they used to.
Crowns are one example. In the past, creating them was a lengthy and involved affair. Today, models are generated digitally, and crowns can be created and installed in a single day. Dr. Wallerstein uses 3D technology to take 3D impressions, which are then used to mill a cube of zirconia and create a crown in as little as two hours. The quick turnaround means less to worry about at once and a more fulfilling workflow. "I like the immediate satisfaction of fixing a patient's smile," Dr. Kulkarni adds.
Dr. Amit Vora D.D.S. of Edison Periodontics & Implantology says that 3D technology also enables dentists to get an advanced look at the bone, sinus cavity and nerves surrounding the bone, which are all important factors in oral surgery. For receding gums and grafting, bone density determines the rate at which the gums will grow back. By examining a 3D image of the bone, Dr. Vora is able to provide patients with feedback before surgery so they know roughly what to expect. "I want to make sure what I'm doing is right and precise," Dr. Vora explains. "3D technology and recent software advances are not only helpful for planning purposes but also for educational purposes to show our patients what's going on in their mouths more clearly."
Dentists can even use 3D scans to make physical surgery guides out of acrylic. Each guide has holes that are precision made to fit the drill and several metal "sleeves" that are removed in turn when another drill is needed, so that the guide gets broader as each sleeve is removed. "It gets done in a fraction of the time that it used to. 3D scanning takes the mystery away from placing implants," says Dr. Kulkarni. The scans and the virtual spaces they create can reduce the amount of unforeseen variable factors.
Besides increasing the speed of procedures, digitization has also helped with clutter. Digital record keeping provides a huge boost in convenience for both dentists and patients. Combining digital record keeping with digital sensors and modeling creates a more fluid experience for dentists, who can then convey information more clearly to patients.
"Patients can call me at home at night, I can check their medication— what's been done and transmit information and x-rays to specialists much faster," says Dr. Wallerstein. Of course, it's not always about getting things done as quickly as possible: "Technology is only good when it benefits the patient. You have to be willing to sacrifice time for comfort."