Difference Makers
When it comes to giving the best care, nurses at saint Peter's raise the bar.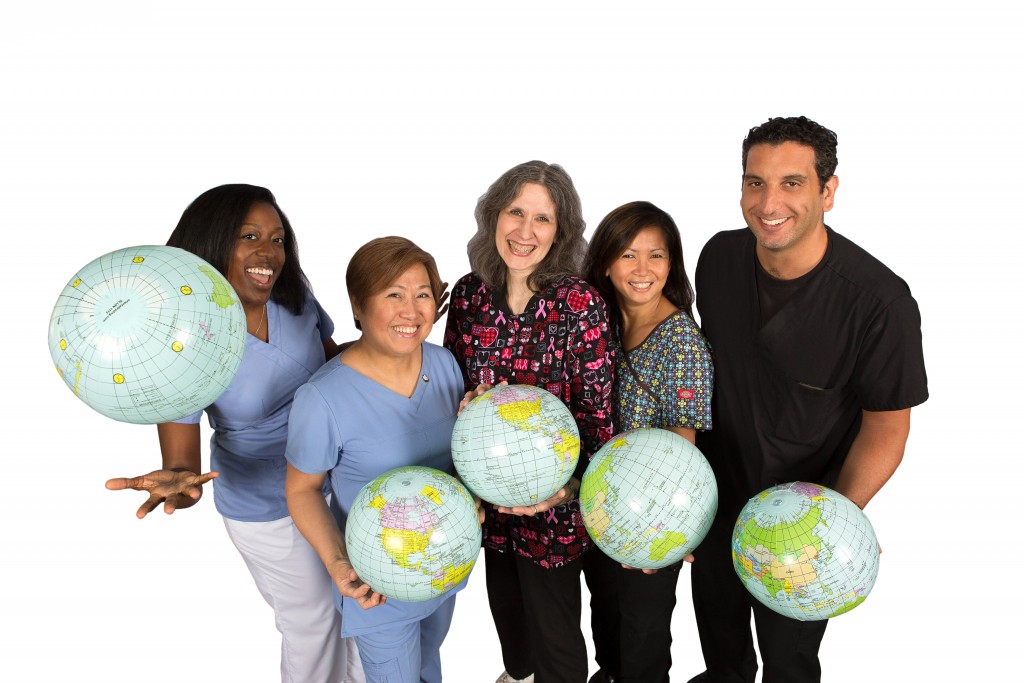 Think back to the last time you visited a hospital—whether you or a loved one was the one lying in bed. What caregivers did you see most often? For most of us, the winners, hands down, are nurses.
So you might not be surprised to learn that national research into hospital care now connects the dots between good patient care and a focus on high-quality nurses.
"We put a great amount of effort into making sure we are building a very professional, qualified nursing force," says Linda Carroll, RNC, MSN, chief nursing officer and vice president of patient care services at Saint Peter's University Hospital. "Not only does that help us improve patient care, it helps us attract more high-quality nurses. That results in even better care."
As an example of their successful focus on nursing, Saint Peter's recently became only the fifth hospital out of 430 hospitals in the world to have earned recognition as a Magnet® hospital from the American Nurses Credentialing Center (see sidebar) five times in a row. Saint Peter's first received Magnet designation in 1998.
"The Magnet program is very intense," Carroll says. "And over the 18 years we've been a part of it, it's gotten more and more detailed. But each time, our nurses demonstrate with both examples and statistics why we deserve this recognition. It's important to us, because it's important to our patients."
The Magnet survey covers more than 90 topics and includes an on-site visit by nursing experts. It also focuses on all levels of nursing, including the nurse at the bedside and those in leadership positions. With such a wide focus, patients at Magnet hospitals gain important health benefits, compared to other hospitals, according to published research. These benefits include fewer falls, fewer bed sores (pressure ulcers) that can get infected and even fewer deaths. This research should not be surprising, professionals say.
Staff nurses work very closely with patients and their families, physicians and other caregivers. "When you're a patient, nurses are right by your side many times every hour during their 12-hour shifts," says Shannel Kane, R.N., staff nurse at Saint Peter's. "They're the ones to track changes in your health and ask you aboutyour comfort. They're also the ones who circle back to your doctor when there's a change, to share updates and recommend next steps based on their training and their personal knowledge of you."
So bedside nurses are likely to first notice issues with their specific patients and develop solutions for the variety of challenges that can affect patients throughout the hospital. At Saint Peter's, for example, nurses worked to help anxious mothers who were too ill to visit their newborns in the Neonatal Intensive Care Unit (NICU ). Their simple idea: Use nursery computers to Skype live video to moms. Initially dubbed Peekaboo NICU, the service now called NicView reaches family all over the world, who can visit with newborns using a password-protected website.
The Magnet survey also encourages nurses to share innovations with others. Nurses at Saint Peter's accomplish this by hosting education sessions every week, to focus on the latest procedures and equipment. "We love learning about these options because it ensures that we have the latest information for our patients," Kane says. "We see what a difference these can make for their care and comfort." For example, staff recently introduced an automatic alarm that alerts nurses when patients get out of bed. "So if a patient who might be at risk for a fall starts to get up, we go to them to help, even if they forget to call us," Kane says. "They're delighted to know how in touch we are."
Staff also trains each other on new products and technology. This might include sharing information about something as simple as high-protein ice cream— which can be important for cancer patients who have trouble getting enough nutrition from regular foods. Or training could introduce new medicines and procedures.
"What we do every day affects patient care on so many levels, and the Magnet program recognizes that," Kane says. "It's not just a symbol we hang on the wall. It's a reminder that every nurse in the hospital is held to high standards of care and that these standards are important for our patients and their families."
Saint Peter's achieves rare feat
Earlier this year, Saint Peter's University Hospital learned that it has again been granted recognition as a Magnet® hospital from the American Nurses Credentialing Center. Only about 7 percent of hospitals worldwide have earned this honor. But with this recent recognition, Saint Peter's has set an international record: It is only the fifth in the world to be named a Magnet hospital five times in a row.
What does this mean for you? The Magnet designation signifies that a hospital focuses on excellence in nursing. This designation, in turn, gives patients an easy way to identify where they are more likely to get good care. And it has become the gold standard for hospitals. As an example of why, research shows that patients who receive care in Magnet facilities are more likely to have a shorter hospital stay, are less likely to need intensive care, and rate their satisfaction with care much higher than patients at other hospitals. Recent reports also show that patients who receive surgery in hospitals with better nursing care also have much better results, according to JAMA Surgery, a specialty journal of the American Medical Association.
Hospitals volunteer to undergo the regular, intense surveys related to the Magnet program. And at Saint Peter's, this translates to specific and significant improvements in care as well as in staff satisfaction.
To find out more about services available for you or your family at Saint Peter's University Hospital, please call 732.745.8600 or visit saintpetershcs.com.