Dine With Us
Just like you, we love all things in Morris and Essex Counties —especially the food! And when a specific craving hits, we know exactly where to go. Here are some of our favorites.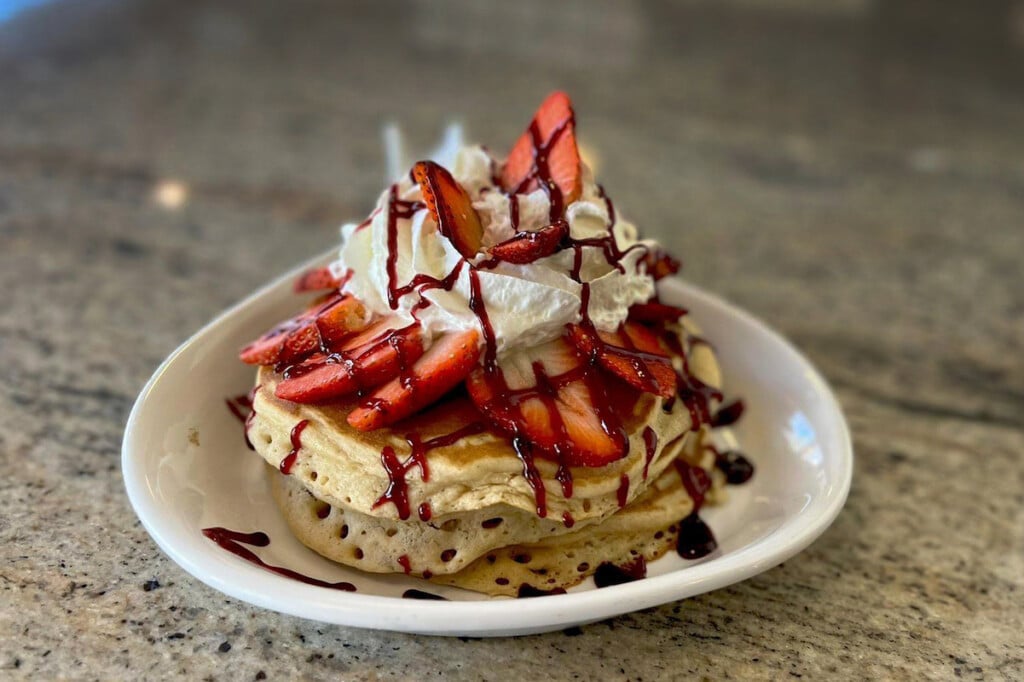 We may not be first-class chefs or social media influencers, but the Morris & Essex staff knows a little something about good food. Not only do we work in the counties and dine out often, many of us live in the towns we cover—so we're always striving to try the next best thing while also enjoying our familiar stomping grounds. So where will you catch us with an ice cream cone, plate of fries or cup of coffee? Read on to find out our picks!
MARK DOWDEN, PRESIDENT AND CEO
Favorite pizza: Coniglio's in Morristown
Favorite restaurant vibe: 1776 by David Burke in Morristown
Favorite butcher: Chester Meat Market is our go-to butcher, and the line is always out the door, especially on weekends.
RITA GUARNA, SENIOR VICE PRESIDENT, EDITOR IN CHIEF
Favorite French restaurant/ Essex County: Reminiscent of a French brasserie, Faubourg in Montclair is the perfect spot for a special occasion (but be sure to book well in advance as this place books up quickly). Start with one of their creative craft cocktails. I'm partial to Fizz Bizz, a blend of tequila, aperol and cantaloupe lemongrass with a splash of club. I've never been disappointed in anything I've tasted here. Favorites include the beet & fig salad, orecchiette and lamb ragout and coq au vin. And if you're dining with a vegan companion, no need to worry: There's a plant-based menu as well, with equally delicious offerings.
Favorite French restaurant/ Morris County: I love the four-course tasting menu at Serenade in Chatham. It's a great way to excite my taste buds without having to make any decisions. Of course, if you're in the mood to choose for yourself, the octopus is always tender and tasty. And I love the halibut served with roasted fennel and lobster risotto.
TOM FLANNERY, VICE PRESIDENT, PUBLISHER
Favorite diner: Pompton Queen Diner in Pompton Plains is easily the most popular and crowded—no matter what time of day—in the entire area. It does all the old standbys well. I'm usually there at breakfast time, and I don't mix it up much, but no matter what my family members and I order we are always satisfied.
Favorite coffeehouse: Boonton Coffee Co. in Boonton moved from an intimate spot on Main Street a couple of years ago to much bigger quarters where an old men's clothing store used to be. It has a great atmosphere, cool vibe and they let you linger. I'm a tea drinker but am always content with whatever I order, food[1]and drink-wise.
Favorite ice cream: It's a tie between Scoops in Boonton and Sundae's Ice Cream Parlor in Towaco. Ice cream is probably my favorite food, and chocolate chip—my favorite flavor but tough to find these days—is available at both these shops. They both have old-time charm and character, and both serve up generous portions.
Favorite sushi: Yuki Hana in Butler offers great food, an intimate atmosphere and cordial service. It's my family's go-to sushi place for eating in or taking out. I was recently there with my son, Chris, and the new robot "waiter" caught us off guard. It's a bit too techie for my tastes, but the kids at a nearby table loved it.
Favorite Indian restaurant: My family and I have never dined at Rivaaz Indian Cuisine and Gastro Bar in Pompton Plains, but when COVID hit, and ever since, we have regularly ordered takeout from Rivaaz. We're not super daring, but the tikka masala and chicken korma are two favorites. Oh, and the naan, try the naan!
Favorite brunch: Hapgood's in Mountain Lakes is casual with a simple menu and a throwback kind of atmosphere. It's been cozy, comfortable and bustling at lunchtime when we've been there in a beautiful town close to the train station.
MARY LIMA, ASSOCIATE PUBLISHER
Favorite barbecue: I have a penchant for anything served at Fossil Farms in Boonton, and I love their sustainable farming mission. I've been checking out their Game Changer Food Truck, which in addition to barbecue options has some exotic items like rabbit enchilada and duck fat fries.
Favorite Chinese restaurant: In addition to their fresh[1]tasting favorites like vegetable moo shu and a very nice whole sea bass when I'm craving seafood, Hunan Taste in Denville and Montclair touts the most sublime vegetable dumplings. In fact, lately my husband and I go straight to double ordering them…they are that good!
Favorite coffeehouse: Boonton Coffee Co. hands down. I love to grab a seat with a book by the window and take in the Rockaway River while drinking a wonderful cup of Joe with steamed milk. It's always a vibrant, young scene in a comfortable lounge-like atmosphere.
Favorite craft beer: Diamond Spring Brewing Company in Denville is a great place to gather friends. I have a penchant for wheat beers, so their Summertime Shandy is true perfection. They also have ciders as well as cornhole, picnic tables and Adirondack chairs for everyone to enjoy.
Favorite diner: The Randolph Diner in Randolph on Route 10 boasts great takes on the classics and features comfortable outdoor dining and great service.
Favorite donuts: The newly opened Chocolatine in Denville offers an array of authentic French goodies. I never leave without buying a dozen raspberry and hazelnut mini beignets dusted with a light sugar coating—that's my kind of donut.
Favorite Greek restaurant: Stamna's in Bloomfield was introduced to my husband a few years back, and after visiting Greece and being enchanted by the food, it's now our spot for authentic Greek fare. Everyone on staff is Greek and super friendly.
Favorite ice cream: Denville Dairy checks all the boxes as a classic ice cream destination. There's always a line to try the array of creative combinations and flavors.
Favorite seafood: Faubourg in Montclair changes up their menu seasonally, but this cool French brasserie always has an inspired take on branzino, my favorite.
Favorite sushi: My sushi splurge lately is the house special roll at 1776 by David Burke, which features spicy tuna, cucumber, avocado, seared sashimi, tempura flakes, eel sauce, house sweet and a spicy sauce.
DARIUS AMOS, SENIOR ASSOCIATE EDITOR
Favorite barbecue: The meats don't get any better than those prepped and served at KB's BBQ Smokehouse in Irvington. They're well known for showstopping brisket and ribs, but the Southern-inspired meats are must-tries too. I can eat the jerk chicken for breakfast, lunch and dinner!
Favorite craft beer: I love the overall vibe at Magnify Brewing in Fairfield. There's a big drink menu, which is never short of IPAs and sours—my favorites! I also appreciate that there are no TVs, just board games and brews, "forcing" people to have conversations with one another just like in the good old days.
Favorite Indian restaurant: There's something special about i2i Indian Italian Fusion in Boonton. Don't let the name fool you: There are great Indian dishes on the menu, such as lamb vindaloo and saag paneer. But you can also try something new and different, like chicken tikka masala pizza or paneer makhana penne.
Favorite Thai restaurant: I had the pleasure of reviewing Up Thai in Morris Plains for Morris/Essex Health & Life when it first opened in 2018, and I think the quality of the food is even better than it was on Day 1. They have all the typical noodle and rice dishes, but their curries and house specials like mango papaya snapper are to die for. If you've never tried sweet black sticky rice for dessert, be sure to order it from Up Thai. You can thank me later!