DIY Project: How to Make a Kaftan Dress or Beach Coverup from Two Scarves
An easy do-it-yourself project for the summer, even if you don't like to sew.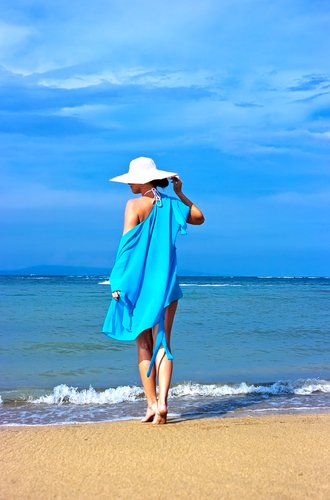 I love everything about kaftans- their shape, freedom of movement and bold colors and patterns. Wearing one is almost as comfortable as walking around naked. I bought three kaftans the first time I went to Bali five years ago, and I had to retire the last one just this year. I wore them to fancy dinners, to the beach and even sometimes to sleep.
I don't own a sewing machine and I seldom sew. I usually hem with stich witchery. But after figuring out how to make this beach cover-up kaftan, I managed to sew four of these dresses with very little fuss. It's straight seams.
You will need:
2 long scarves (at least 66 inches long and 14 inches wide). The kaftan or cover-up will be half the length of one scarf, so plan accordingly. If you want a bit of a sleeve, then you need to have a wide scarf. If you have only shorter scarves, you can make a flowy shirt or tunic. The scarves don't have to be the same color, but they should complement each other.
Needle and thread or sewing machine
Instructions:
1. Lay the scarves down lengthwise and next to each other. You need a 14-18" hole between the two scarves for the opening which will go over your head and neck. Drape the scarves over yourself to see how much of an opening you want- it will depend on how tall you are and how low you like it in the front and beach. I don't normally do low-cut and I'm petite, so my openings are around 14 inches.
2. Pin the center seam where you will sew the scarves together, leaving the gap for your head.
3. Sew what will be the front and back of the dress.
4. Fold the caftan in half now that it's sewn and pin the sides, leaving a space at the very top for your armholes. Depending on how large you want your sleeve to be, the hole for your sleeves should be 4 to 8 inches wide. * If you don't want sleeves for a beach cover-up, then you can skip this step and leaves the sides open.
4. Sew the sides closed.
5. Your kaftan dress is finished. You can dress it up or dress it down and wear it with belt, heels, jewelry or flip flops.