Don't Shoulder the Pain
Two sports medicine/orthopedic surgeons from SBMC explain how to get relief from rotator cuff injuries and discuss muscle and joint issues that present in youth athletes.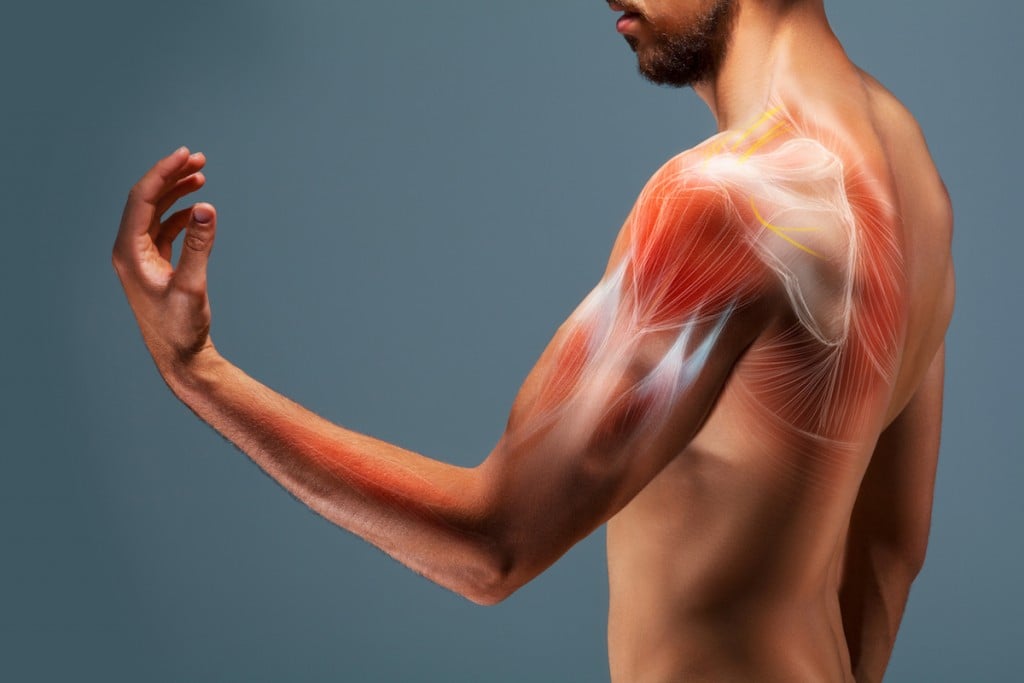 Orthopedic injuries are common for athletes who play at the high school, collegiate or professional levels—many young men and women suffer from ACL tears, hip labral tears, meniscus tears, shoulder dislocation, elbow ligament tears and the like. But sports medicine doctors, including those at Saint Barnabas Medical Center (SBMC), treat not only these athletically-inclined patients, but also those who have shoulder and rotator cuff injuries, which are sometimes found in athletes but, due to their degenerative nature, more frequently occur in the older population.
"The rotator cuff is a group of tendons that attach to the ball and socket joint in the shoulder and lives between the ball and the shoulder blades," says John Feldman, M.D, orthopedic surgeon at Saint Barnabas Medical Center. "Over time, they get recessed between those structures and tear and once torn they will not heal, which can cause pain and dysfunction."
Louis Rizio, M.D., orthopedic surgery, sports medicine at Saint Barnabas Medical Center, adds that every decade we advance in age starting at age 50 or 60, the chance of a tear increases even without trauma or injury because the tendons degenerate. "Treating this condition earlier than later means we have higher healing rates and we prevent deteriorations that can't be fixed," he says.
However, rotator cuff injuries can and do present in athletes as well, and that is typically due not necessarily to contact sports, but more so to overuse of the shoulder. "Baseball pitchers, volleyball players, swimmers and tennis players are at risk here," says Dr. Rizio. "since these athletes have repetitive upper extremity use where it's high force and high velocity."
There is no way to prevent rotator cuff injury either in the older population or in athletes: You can't avoid a significant fall, for example. But many athletes are put on a regular program of rotator cuff strengthening and stretching of the shoulder, and also have trainers that are in tune to therapeutic exercises that help keep the rotator cuff in tip-top shape.
Dr. Rizio and Dr. Feldman, both RWJBarnabas Health Medical Group and fellowship-trained physicians, treat rotator cuff injuries with minimally-invasive techniques rather than open surgery. Dr. Rizio says this makes for a recovery that is "less painful, there is less scar tissue and patients have a smoother course and lower narcotic usage after surgery."
This arthroscopic approach involves repairing the injured tendon by inserting a narrow tube attached to a fiber-optic video camera through a series of smaller incisions.
Additionally, for certain cases, Dr. Rizio performs PRP therapy, platelet rich plasma, which involves taking blood from the arm, spinning the blood and then concentrating the platelets to stimulate a healing response on the injured tendon, ligament or muscle. "There is no evidence that it works for a complete tear without surgery," Dr. Rizio says, "but PRP might enhance or augment healing of a repair."
Still, regardless of the surgical technique, full recovery from rotator cuff surgery is extensive and takes time, both doctors warn. With the appropriate time, data shows that surgery is extremely successful at returning function to the joints.
Are You at Risk?
Many rotator cuff patients, especially those over the age of 70, are asymptomatic, says Dr. Feldman. "However, rotator cuff problems are the most common reason for someone over the age of 50 to have shoulder pain and dysfunction." Dr. Rizio suggests getting evaluated by a doctor if you're over the age of 50 and have a new onset of symptoms—pain, weakness or loss of motion—or if you've had an injury or fall that has caused a sudden onset of shoulder pain.
---
To make an appointment to see an orthopedic surgeon at Saint Barnabas Medical Center, call 973.322.7005 or go to rwjbh.org/ortho.